NAVA's Aboriginal and Torres Strait Islander work
History of NAVA's Aboriginal and Torres Strait Islander work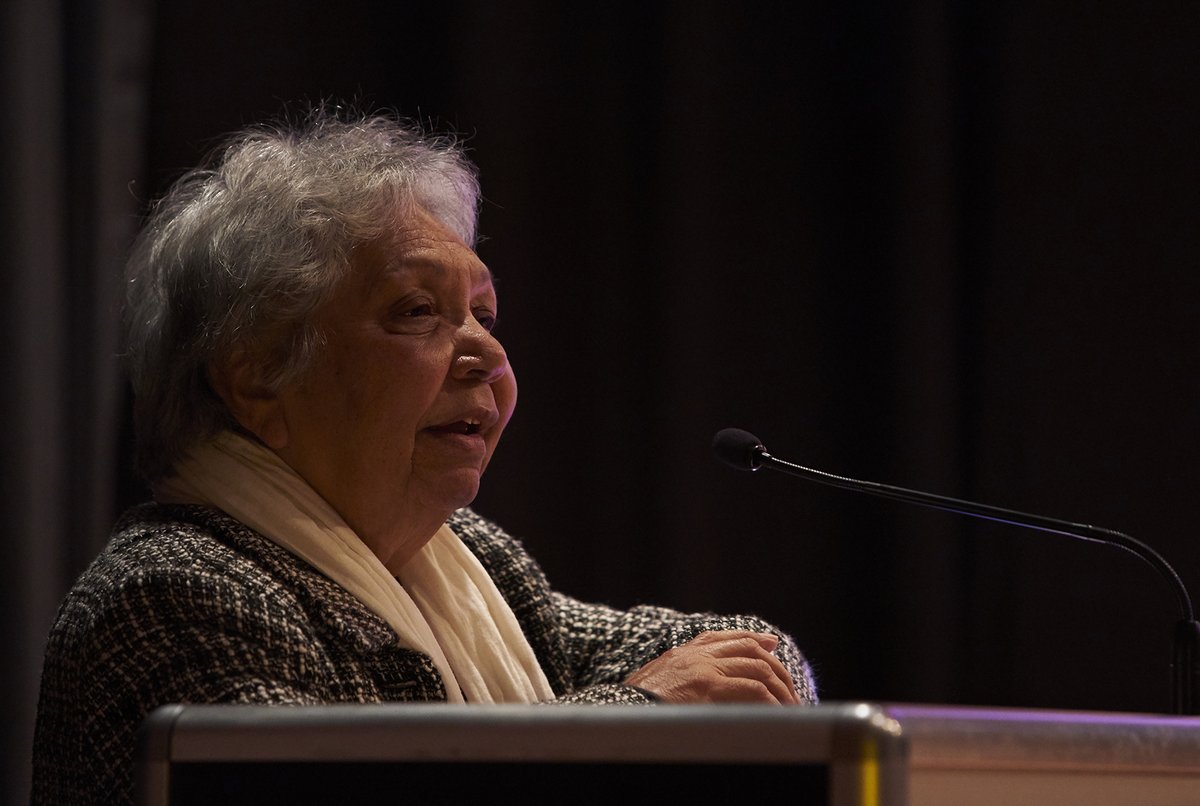 2019:
Genevieve Grieves, Worimi, elected as Aboriginal or Torres Strait Islander Visual Arts Representative Director on the Board.
Wesley Enoch, Noonuccal Nuugi, co-opted to the NAVA Board.
Georgia Mokak, Djugun, employed as NAVA's First Nations Engagement Coordinator.
Wesley Shaw, Yuin/Dharawal/Ngarigo, employed as NAVA's Professional Development Coordinator.
NAVA co-hosted First Nations visual arts consultation with AAO and RDOs at Casula Powerhouse, NSW.
NAVA made a submission to the National Indigenous Arts and Cultural Authority (NIACA) consultation.
Began conversations with AACHWA, KU Arts, Desart, ANKAA, IACA and the Indigenous Art Code to discuss collaborative resources for First Nations artists as part of the Code of Practice.
2018:
Launched NAVA's Strategic Plan 2018-20 making a commitment to collaborate on self-determined First Nations policy and protocol for the contemporary arts industry.
Peter White and Richard Bell facilitated Let's Listen at NAVA's Future/Forward in Canberra.
Peter White, Gamilaroi Murri man from north-west NSW, was elected unopposed as Organisation Representative on the NAVA board.
NAVA signed the Uluru Statement from the Heart.
NAVA made a submission to the Joint Select Committee on Constitutional Recognition relating to Aboriginal and Torres Strait Islander Peoples.
NAVA appeared at the public hearing into inauthentic Aboriginal and Torres Strait Islander 'style' art and craft products at Parliament House, Sydney.
2017:
2016:
NAVA began hosting series of ATSI network meetings and consultation about First Nations representation.
2010:
Artists' Resale Royalty was legislated after over 20 years of campaigning by NAVA in alliance with other members of the Campaign for an Australian Resale Royalty.
2009:
2008:
Our Art, Our Art Industry Indigenous art business project with Desart and ANKAAA distributed in 2009.
Garry Jones, Gamilaroi and Ngemba on the NAVA board.
2005/7:
NAVA commissioned foundation research on an Indigenous Australian Art Commercial Code of Conduct with funding from ATSIA Board of Australia Council.
Following the 2007 Senate Inquiry 'Indigenous Art: Securing the Future, Australia's Indigenous visual arts and craft sector', OzCo then took over to make the Code comply with ACCC requirements.
2004/6
Larrakia, Bardi, Wardaman and Yanuwa woman, Franscesca Cubillo on the NAVA board 2004-2006
2002:
The Australia Council adopted the Valuing Art, Respecting Culture protocols model to produce a series of booklets for all artforms.
NAVA lobbying secured Myer Inquiry. Result included increased Indigenous arts organisations funding.
2000/2:
Worked with Senator Aden Ridgeway, Arts Law and Terri Janke to try to achieve Indigenous Communal Moral Rights legislation but unsuccessful.
2000/1:
2000:
In collaboration with others, NAVA secured Moral Rights legislation.
1998/2001:
1998:
Angeline Hurley in the role of NAVA's Indigenous Arts Officer, followed by Lydia Miller.
Doreen Mellor and Wesley Enoch on NAVA's Indigenous Reference Group.
1997/2002:
Doreen Mellor, Mamu/Ngadjan heritage (Atherton Tablelands, North Queensland) on the NAVA board
1997:
NAVA Indigenous Reference Group was formed to advise and guide NAVA's Indigenous Arts Officer, Chris Bonney, Narrunga & Gunditjmara. Members were Doreen Mellor, Christine Christopherson and Wesley Enoch.
1996/7:
NAVA Indigenous Arts Officer appointed
Established National Indigenous Arts and Cultural Alliance (NIACA)
In both 1996 and 1997 lobbied ATSIC successfully to retain its arts & cultural budget allocation
1995/6:
NAVA CEO appointed as member of an Aboriginal and Torres Strait Islander Commission (ATSIC) committee overseeing work on an Aboriginal and Torres Strait Islander cultural industry strategy.
Stella Wheildon, Kamilaroi, regional Queensland on the NAVA board
1994:
Indigenous Arts Officer appointed.
1993/4:
NAVA was represented on the Arts Industry Advisory Committee to the Aboriginal and Torres Strait Islander Commission, which was established to develop and consult on a national strategy for the arts industry and to establish criteria for ATSIC funding of community-based income generating projects. One of the main objectives of the committee was to link Aboriginal and Torres Strait Islander communities with industry organisations and advisory services.
1993:
Patricia Leverett joined NAVA for a short time in February as Aboriginal Project Officer with the assistance of the Aboriginal and Torres Strait Islander Arts Unit of the Australia Council.
A NAVA representative attended The Pacific Arts Association Fifth International Symposium and the parallel event the Aboriginal, Torres Trait and Pacific Islander Visual Arts week in Adelaide. Both forums aimed at enabling discussion about copyright for Indigenous people in Australia and the setting up of NAVA's visual artists' copyright collection agency.
1991-3:
Trainee Arts Administrator Joanne Brown was employed under the TAP scheme since May 1991 in a networking and communication role. Brown liaised with Aboriginal Arts organisations and artists and coordinated a representation of Aboriginal artists, performers and arts administrators at Arts Advocacy Day in Canberra. She also contributed the Indigenous Art Column to the NAVA Newsletter.
Banduk Marika, Yirrkala, North-east Arnhem Land on State Management Sub-Committee of the NAVA board 1992.
1990:
Aboriginal Arts Management Association (AAMA) was set up to assist Aboriginal artists with the management of their copyright interests. This included assisting artists to pursue litigation, making agreements for reproduction of their work, and providing management of Aboriginal arts projects both nationally and internationally.
1989:
The NAVA Newsletter published 'Aboriginal Wear' by Martin Hardie of the Assoc. Northern Central Australian Aboriginal Artists (ANCAAA) - a response to Johnson's article which he prepared for the Kimberly Crafts Conference held in Broome in 1988. Hardie disputes the effectiveness of the Agency as a centralised system protecting Aboriginal artists' rights. He cites issues relating to the mass production of T-Shirts and the Johnny Bulun Bulun case in support of his argument, then outlines ANCAAA's role.
1988:
The NAVA Newsletter published Vivien Johnson's article 'Have we the right to Appropriate aboriginal imagery?'