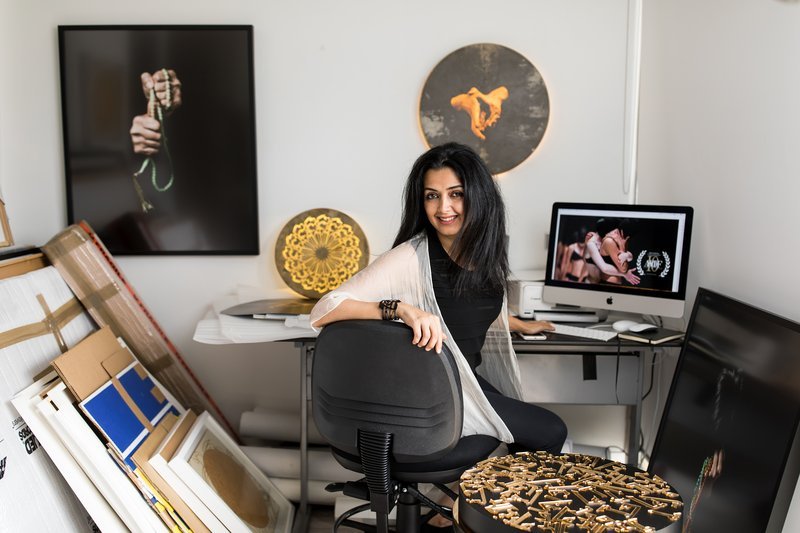 In NAVA's latest Artist File, internationally renowned artist Nasim Nasr describes the ongoing challenges of being an artist – in particular, a female and a migrant artist who is too often exoticised by the broader Australian culture. "Art is important," she says, "because it always lasts. And it stays with us. Humans won't last but art will."
Sustaining a career as an artist in Australia is becoming more and more difficult, as evidenced in David Throsby and Katya Peteskaya's report Making Art Work: An Economic Study of Professional Artists in Australia – the sixth in a thirty-year series of independent research reports by Macquarie University's Prof. Throsby with funding from the Australia Council. Despite working longer, harder, and across more disciplinary areas than ever before, and more and more artists are living precariously, it's taking longer for artists to become established, and the gender pay gap is worse in the arts than in any other industry. Unsurprisingly then, practitioner numbers in the visual arts and crafts are declining and so are their incomes: artists' overall incomes are 21% below the average wage, and those living on earnings from their creative work alone are living below the poverty line, those incomes having dropped 19% in the seven years since the previous Australia Council research reports.
Changes in arts policy effected without evidence nor consultation across the past four years have devastated the arts sector, hitting individual artists and the S2M sector hardest. Grants to individual artists fell 70% within that first year alone, and the Australia Council's submission to the 2015 Parliamentary Inquiry illustrated damaging cuts to programs for young and emerging artists, residencies, fellowships, community partnerships and other targeted sector development initiatives. The politicised memory loss that prevents responsible cultural policy has generated what Julian Meyrick and Tully Barnett identify as the "never-ending reinvention of the evidentiary wheel" that burdens under-resourced arts professionals whose primary focus is artist support and development.
Researchers continue to ask important questions on the impacts of such damaging policy approaches, such as Emily Gilfillan and Guy Morrow's work on the impact of damaging policy on sustaining artistic practice and on visual artists' careers and on the impact on individual artists' creative processes, and Jo Caust's research into the relationship between arts funding cuts and the culture wars. Culture wars also inform Gilfillan and Morrow's work, noting how abrupt "policy shift continues a pattern of state intervention in the arts in Australia" – one that, as with climate policy, refuses to respect the expertise of practitioners and industry leaders.
Humans won't last, but for art to last – for art to continue to guide and inspire us with rigour and courage – we need artists who are able to sustain healthy, productive careers.
NAVA's regular artist profiles – our brief Artist Files videos and our extended NAVA: In Conversation podcasts – offer deep insights into the practice of individual artists.