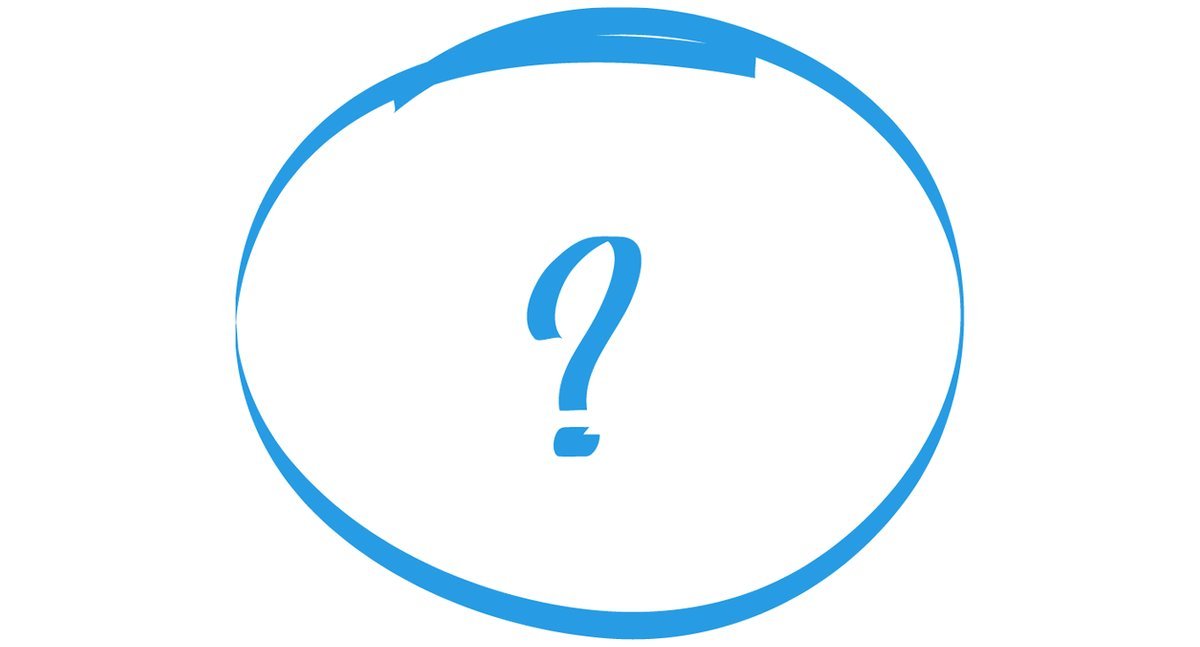 What is the Code of Practice?
The Code of Practice for the Professional Visual Arts, Craft and Design Sector provides a set of practice and ethical guidelines for the conduct of business between artists and galleries, retailers, commissioners, residency organisers, award/prize organisers, festival organisers, studios, funders, philanthropists etc.
Launched in 2001, the Code aims to set standards of best practice to be endorsed and adopted across the whole of the Australian visual arts sector, and redress the lack of regulation, legislation and agreed best practice standards operating in many parts of the sector.
Why is NAVA revising the Code?
The Code of Practice has undergone numerous minor revisions across its two-decade history. However, over as many years, a great deal has changed within the legal, social, virtual and economic environment that the Code is applied. As a result, we have identified several gaps in this document that need to be redressed. There are sections that need updating, there are sections that are no longer helpful, and there are sections that just aren't there at all.
In the meantime, recent research shows:
Culturally and Linguistically Diverse (CALD) Australians are under-represented in board member and executive leadership roles across all leading Australian creative sector organisations. – Shifting the Balance, Diversity Arts Australia 2019
Three quarters of not-for-profit arts and culture organisations are in a good financial position or are at least breaking even, while 24% say they are struggling financially. Arts and culture organisations are doing it tougher than others, recording the highest percentage of struggling organisations of any sector, and the lowest percentage of organisations saying they are in good financial health. – Arts and Culture Governance Spotlight Report, Australia Council 2020
These increased pressures have seen declining numbers of full-time arts professionals and the casualisation of the sector's workforce. Arts professionals are paid a fraction of average earnings, generally well below recommended industry rates. – NAVA's S2M Report, 2017
Average incomes earned by artists have declined markedly, with a 19% drop on the previous study. – Making Art Work, Australia Council 2017.
This makes the need for revising the Code a matter of urgency.
What will the revised Code of Practice look like?
NAVA is committed to creating a Code of Practice that's valuable both in content and in form. This means we're not quite sure yet what it will look like, and how best we'll use communications and online technologies – our consultations will yield that.
This diagram shows how best practice currently applies when we look at the specific interactions and transactions that make up our sector. We're using this as a guide on how to approach the overall structure of our consultations.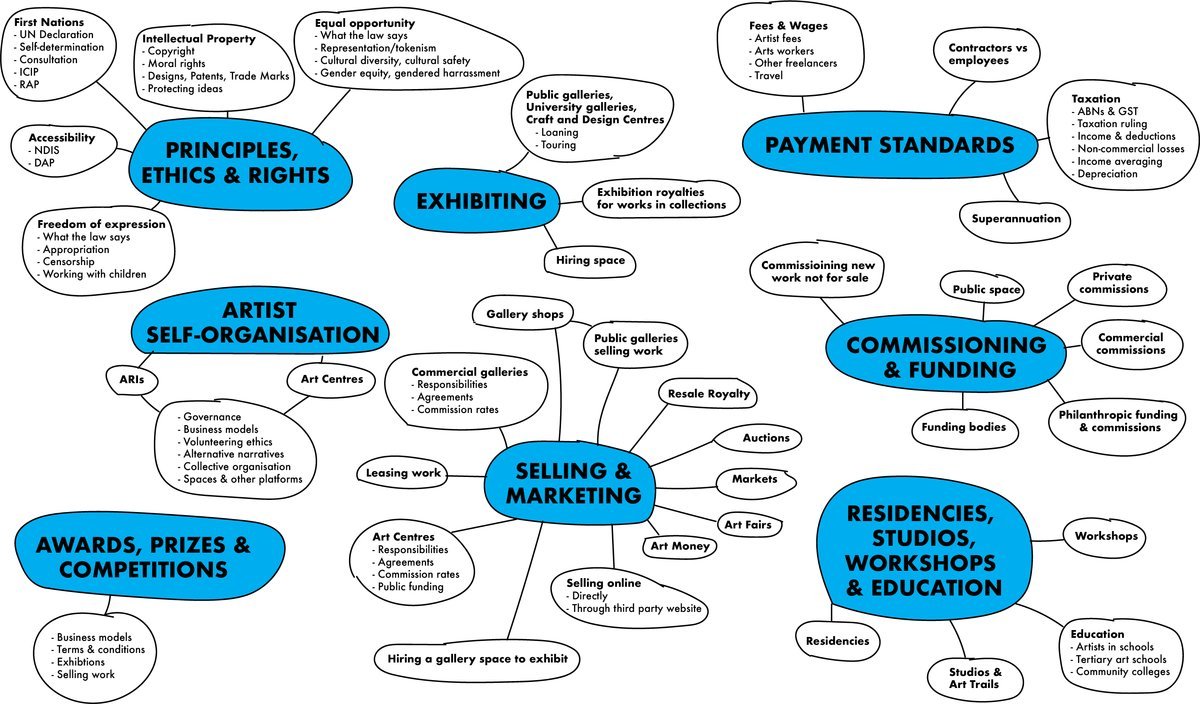 A substantial part of the work of the Code involves distilling this complexity into useful, usable guidelines. To create the overall structure for the Code, we need to make sure that we've covered the full range of activities and dealings at a high level. As our work develops, so too will this diagram.
This diagram isn't about representing specific sub-sectors of our sector, specific networks or specific organisations; that's the work of our consultation.
What is likely to change in the Code?
The Code of Practice was released in 2001 – that's two decades ago. While there have been small updates, as a whole content the Code has never been revised since that time.
Through this revision, some parts of the Code may remain unchanged or just explained more succinctly. The majority of the Code will need bits and pieces added to help answer the common questions we receive every day at the NAVA office, and better serve the current and future arts sector. Other parts will need to be added – there is currently no section on artist self-organisation, for example. The format will also change to make the Code more user friendly and easier to understand.
How will my organisation's work be featured in the Code?
The purpose of the Code of Practice is to be the best practice resource for the entire sector across Australia. We appreciate that some will be looking for their own organisation in the Code. However, providing operating guidelines for every different type of organisation or arts practice is beyond the scope of the Code – indeed, that level of detail would be unhelpful as a national resource. Rather, its focus is to provide guidelines on the interactions and transactions between artists, arts workers and arts organisations.
What's the process for consultation?
Consultation is being implemented through extensive research, partnerships, roundtables and workshops with public and private organisations, visual arts businesses and professions, academics, industry leaders, working groups and feedback sessions. Organisations, networks or groups will be approached with questions and drafts about multiple things that relate to what they do. NAVA will consolidate this work to achieve multiple outcomes at once, rather than making multiple approaches about only one aspect of your work at a time, to make this process as efficient as it can be. Drafts will be circulated and made publicly available for feedback at different stages.
When are you working on the bit about ______ [insert specific organisation type]?
The new structure of the Code is divided up by activity, rather than by organisation type, to acknowledge that most arts organisations work across so many different areas, and each organisation is unique. We illustrate this in the diagram above. For example, in the current Code, Chapter 2 which covers public galleries only includes state and national galleries, regional galleries, ACDC and CAOA, and only recognises that public galleries hold non-selling exhibitions and very rarely may sell work. It does not acknowledge that they commission work, might have studios, might run residencies etc. So rather than dividing up the Code by organisation type, and repeat information where organisations undertake similar activity, it makes more sense to divide by activity type. A map of these different activities can be found above.
How do I register for updates on the revision or to be contacted for consultation on a particular section?
The Code of Practice cannot be developed and cannot be applied without close sector consultation. Since 2001, that's what's made the Code the nationally trusted resource for our sector.
In order to make this process as efficient as possible, NAVA is consolidating the consultation work for the various stakeholder groups as much as possible. This will help minimise the number of times we call upon your advice. Your assistance is imperative to the success of this project.
For updates on the Code revision make sure you subscribe to our newsletter.
To be involved in consultation please email Holly Morrison, NAVA's Best Practice and Finance Coordinator via hmorrison@visualarts.net.au with your name, contact details, area/s of expertise and what areas of the Code you would like be involved with. These may include:
Accessibility
Australian Craft and Design Centres
ARIs
Art centres
Art fairs and markets
Artists
Contemporary Art Organisations of Australia
Commercial galleries
Education
Festivals
First Peoples
Funding bodies
Independent art workers
Independent non-profit publicly funded sector
Legal
Local government
National Public Galleries Alliance
Principles and ethics
Publications
State / territory galleries & National Gallery
Touring networks
University Art Museums Association
Will the Code be most focused on or most helpful for artists or organisations?
As with all of NAVA's work, both are equally as important. The Code of Practice outlines best practice for both sides of an interaction between artists, arts workers and arts organisations. It aims to give some standards around the rights and responsibilities of both parties to help ensure that both are entering into a fair arrangement.
Will peak bodies and service organisations be consulted?
Yes. Peak bodies and service organisations will be consulted in their areas of expertise. As the new Code is organised by activities rather than organisation type, a service organisation undertaking a particular activity such as a commission for example, then they would just go to the commissioning section.
How do the research partners at RMIT fit into this work?
NAVA is partnering with the School of Art at RMIT University to undertake a major research project on incomes and conditions for the visual arts sector. This work sits alongside the Code of Practice Revision Plan and will be of tremendous value. The revision of the Code is independent of this research work.
Are you taking into account the current arts funding environment when revising the Code?
Yes. This is constantly a primary consideration across all of NAVA's work. Australia's arts industry is already in a precarious condition as the result of public investment not having kept apace with industry growth and public policy not aligning with industry needs. The shrinking of funding continues to have a catastrophic impact on the sector and the people working super hard to keep it afloat. The weight of this is a really important part of the dialogue we will have as part of the revision of the Code.
Will you be releasing the Code all at once or in sections? When?
The final version of the revised Code of Practice will be released all at once. As the work proceeds, however, sections will be made publicly available on the NAVA website for comment before the final release as part of the consultation process. The final release of the Code is scheduled for 2022. The release date will be set in consultation with the sector.
In what format will the updated Code be presented?
As part of our consultations, NAVA will also be researching different ways to present the information contained in the Code to make it more user-friendly and accessible, including to areas without internet access. The ability to find what you are looking for and understand the content is vitally important in maintaining best practice across Australia. The Code will be available online and some sections will most likely also be available in hard copy and as downloadable content. We're also keen to explore the formats we haven't thought of yet.
How will the Code be implemented?
In unregulated industries, codes of practice are voluntary instruments, upheld via widely accepted convention and industry ethics. The more we commit ourselves and our organisations to the development of a code, the better it will serve the entire sector, and the more confidence we can have that we are upholding best practice.

Within the Code of Practice, the only legal requirements relate to copyright, moral rights and taxation. NAVA is exploring a range of legislative and regulatory alignments for other aspects of the Code, such as wages for arts workers and superannuation for artists. NAVA is also exploring the formalisation of sector partnerships, public commitments and endorsements of the Code.
Once it's released, when will the revised Code of Practice begin to apply?
NAVA understands that there will be a transitional period once the new Code is released. No one within the arts sector would expect others to start implementing the revised Code straight away. The goal of our consultations and revisions is to collectively acknowledge and work towards best practice. Once released, NAVA will apply a transitional period to relevant sections of the Code, and we will offer more specific guidance on those in the consultation processes and in the lead-up to release.
Will there be workshops and webinars to help the sector build their knowledge on best practice and the content of the new Code?
Yes! Lots. NAVA will host workshops and webinars on different sections of the Code for artists, arts workers and organisation staff to help build their knowledge on best practice and how the new Code can be implemented in their processes within their business.