There Are More Important Things In The World Than Art Right Now
1-2pm Monday 4 May, Zoom meeting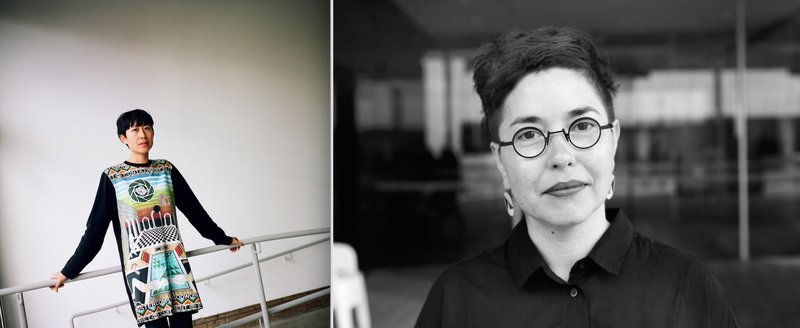 Images (L to R): Eugenia Lim, photo by Leah Jing, 2018, Esther Anatolitis, photo by Alex Frayne.
Event Information
Monday 4 May, 1-2pm
Zoom meeting

What's the best way to change the cultural practices of an entire planet so that we'll willingly separate ourselves from one another to protect lives? Isolated in lockdown, how is it that people are craving creative experiences and rediscovering creative skills? Why won't our governments focus first and foremost on what stimulates and inspires us? Ah, but we're told: 'There are more important things in the world than art right now.' Meanwhile, our economy is in freefall, mental health is in crisis, and economic stimulus measures exclude the arts and education sectors whose work creates our future.
RMIT's School of Art welcomes its newest Adjunct Associate Professor Esther Anatolitis, Executive Director of NAVA, in conversation with it new Senior Industry Fellow, artist/lecturer Eugenia Lim, and Professor Daniel Palmer.


About the speakers
Esther Anatolitis fosters local, regional, national and international perspectives on contemporary arts issues as one of the nation's leading advocates for the arts. Her practice rigorously integrates professional and artistic modes of working to create collaborations, projects and workplaces that promote a critical reflection on practice. With a strong background in visual arts, design, architecture and media, Esther has held leadership roles including Craft Victoria, Melbourne Fringe, SBS and Express Media, and most recently with Regional Arts Victoria. She is Deputy Chair of Contemporary Arts Precincts and has served numerous board, policy, advisory and juror roles. Esther is a former curator of Architecture+Philosophy, Digital Publics and Independent Convergence, and has taught into the studio program at RMIT Architecture, as well as at UNSW and the University of Sydney.
Eugenia Lim is an Australian artist of Chinese–Singaporean descent who works across video, performance and installation to explore how national identities and capital flows cut, divide and bond our globalised world. Lim has exhibited, screened or performed at the Tate Modern, LOOP Barcelona, FIVA (Buenos Aires), Recontemporary (Turin), Kassel Dokfest, Museum of Contemporary art (Syd), Dark MOFO, ACCA, Asia TOPA, Melbourne Festival, Next Wave, ACMI, FACT Liverpool and EXiS (Seoul). She has been artist-in-residence with the Experimental Television Centre (NY), Bundanon Trust, the Robin Boyd Foundation and 4A Beijing Studio. She is a 2018–20 Gertrude Contemporary studio artist and since 2019, is co-director (with Lara Thoms and Mish Grigor) of 25-yr-old artistic company APHIDS. In 2019–21, a major touring exhibition Eugenia Lim: the Ambassador will travel to eight museums across Australia, presented by Museums and Galleries of NSW and 4A Centre for Contemporary Asian Art. Lim co-founded CHANNELS Festival, co-wrote/hosts 'Video Becomes Us' (ABC iView) and is represented by STATION.
Professor Daniel Palmer is Associate Dean of Research and Innovation in the School of Art at RMIT University. He writes regularly on photography and contemporary art. His most recent book is Photography and Collaboration: From Conceptual Art to Crowdsourcing (Bloomsbury, 2017).