Focus on NSW
Chloé Wolifson on key upcoming exhibitions in NSW over the next four months.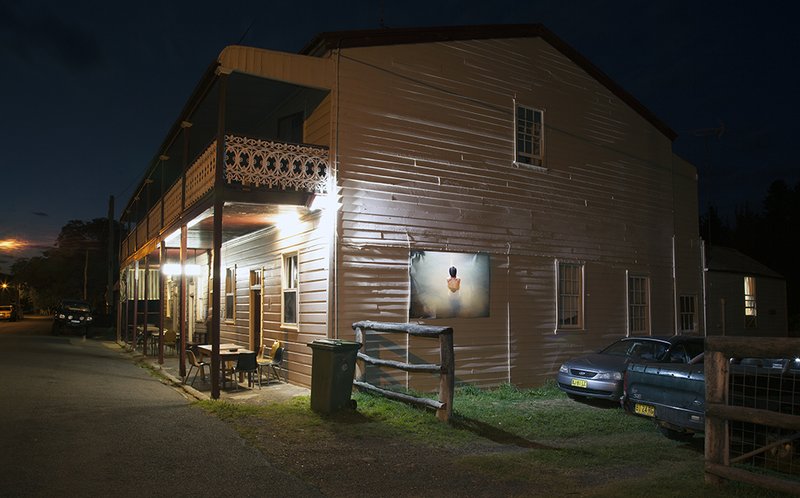 Image: Ren Hang, untitled (installation view: Royal Hotel, Sofala, New South Wales, Australia), 2015, digital print, 300 x 200 cm. Bathurst Regional Art Gallery Commission. Courtesy the artist. Photo: David Collins.
From Old Ground
2015 marked the Bicentenary Celebrations of the colonial settlement of Bathurst. Curator Joanna Bayndrian has invited Australian and Chinese artists Jess Bradford, Jason Phu, Ren Hang and Louise Zhang to respond to the region's Chinese migrant history. The artists have investigated local narratives, archives and landscapes and the resulting works use a variety of media to explore themes from gold mining to bushranging. From Old Ground at Bathurst Regional Art Gallery until 24 January 2016.
Scoring Patti Smith
For one year, artist-run initiative Affiliated Text is occupying Cross Art + Books in Kings Cross in an investigation of the visual representations of language and text. Scoring Patti Smith celebrates the punk icon's performative use of language. The exhibition features the work of over a dozen artists working across experimental music, concrete poetry and performance, including Danius Kesminas, Hissy Fit, India Zegan, Julian Day, Luke Parker, Tina Havelock Stevens and Tricky Walsh.Scoring Patti Smithat Affiliated Text until 15 January 2016.


Sydney Festival
2016 marks four decades of the Sydney Festival and will see local and international artists of all stripes converge on the harbour city. London-based photographer Eva Vermandel's installation 40 Portraits will be scattered throughout the city to mark the anniversary, while the recently unveiled Cutaway at Barangaroo Reserve will play host to French artist Olivier Grosssetête's The Ephemeral City as well as the premiere of a new work Skateboarders vs Minimalism by Australian artist Shaun Gladwell. It's not just about the visual arts of course, with events (many of them free) taking place across the art forms. Sydney Festival is on from 7 January to 26 January 2016.
Destination Sydney
Three galleries, nine artists, 140 artworks, one exhibition: Three Sydney galleries have banded together for Destination Sydney, an exhibition of the work of nine prominent Australian artists celebrating the spirit of the city. Manly Art Gallery & Museum will feature the work of Lloyd Rees, Brett Whiteley and Elisabeth Cummings, Mosman Art Gallery will showcase John Olsen, Kevin Connor and Peter Kingston, while at the National Trust S.H. Ervin Gallery visitors will encounter the work of Margaret Preston, Grace Cossington Smith, and Cressida Campbell. With works drawn from public and private collections, expect some old favourites and new surprises. Destination Sydney is on at Manly Art Gallery & Museum, Mosman Art Gallery, and National Trust S.H. Ervin Gallery until February 2016.
Art Month Sydney
Art Month Sydney is back in 2016, with exhibitions, talks, tours and precinct nights. The much-loved Redfern Biennale returns on 19 March as part of Art Month, including artwork by local NSW Housing Commission residents. Art Month is on from 1 March to 20 March 2016.
Grayson Perry: My pretty little art career
While major institutions including the Art Gallery of NSW and the National Gallery of Australia have taken a more conservative route with their summer blockbusters, Sydney's Museum of Contemporary Art is luring visitors with the frank and fun work of Grayson Perry. Perry is internationally recognised as much for his transvestism as for his Turner Prize-winning work which is credited with spearheading the current ceramics trend in international contemporary art. His first major survey show in the Southern Hemisphere will also include sculpture, works on paper and tapestry, delving into personal and political themes via high and pop culture. At the Museum of Contemporary Art, Australia until 1 May 2016.