Focus On Qld
Louise Martin-Chew on key upcoming exhibitions in Queensland over the Summer.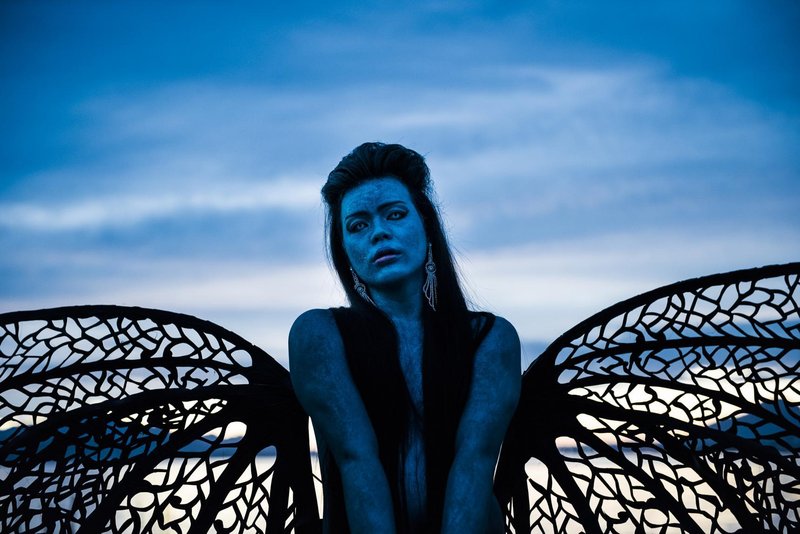 Image: Justin Shoulder & Bhenji Ra in collaboration with Jai Jai, Ex Nilalang: Balud (production still) 2015. Single-channel HD digital video, 16:9, colour, sound. Photograph: Gregory Lorenzutti. This project was assisted by a grant from Arts NSW, an agency of the New South Wales Government and supported by the Visual Arts and Craft Strategy, an initiative of the Australian State and Territory Governments. The program is administered by NAVA. Developed for APT8. Image courtesy: the artists.


Bugs and Butterflies

With news of bombing attacks dominating the media in the days prior to the opening of APT8, QAGOMA director Chris Saines's earlier description of this exhibition's "urgency and currency" seems plucked from the global atmosphere. Art is not an antidote for grief and fear, but celebrating culture from our region affirms the imperative to create. APT8 has a performance focus, returns the academic conference, with an integrated cinema program that traverses "Pop Islam", "Filipino Indie" and films by Lav Diaz. Opening weekend performances by Justin Shoulder and Bhenji Ra saw butterfly-like creatures rove across APT spaces as "spectral apparitions", evoking Filipino mythology and the necessity of different cultural spaces, and Anida Yoeu Ali's The Buddhist Bug, Into the Night (2015), swathed in an orange tube, is a Cambodian artist's restrained gestural intervention. APT8's influx of visitors also means that other venues have their best Asia-Pacific foot forward making for a vibrant summer of culture in Brisbane. APT8 at QAGOMA until 10 April 2016.


Life Begins (again) at 40

The Institute of Modern Art completes its milestone of 40 years in 2015 with events both national and international, including a tribute, curated by directors Johan Lundh and Aileen Burn, to the work of Gordon Bennett (1955–2014). "Be Polite" is a maxim which Bennett never heeded and the exhibition focuses on works on paper, the artist's sketches, notes and journals, in an intimate and telling interaction with the artist, through his scathing and scarifying images. Gordon Bennett: Be Polite, Institute of Modern Art until 20 December 2015.


Familiar Figures

Dadang Christanto, whose work was seen in APT1 and APT3, has just had a first major survey exhibition open at QUT Art Museum. Nineteen Sixty-Five focuses on the event that fuelled Christanto's career, the trauma of the abduction of his father from his home in Yogyakarta in 1965 when Dadang was only eight years old. He has made it his life's work to draw attention to the ongoing violence in Indonesia and atrocities throughout the globe. Confronting new works, include a major new installation called Cart from the North (2014), an aluminium horse and Indonesian rural cart carrying 65 heads, and audience participation making origami objects from joss paper for prayer, memorial or offering to victims of systematic global violence. In another exhibition at commercial gallery, Jan Manton Art until 19 December, Christanto focuses on the Wuku, or Javanese zodiac, where animals and elements from nature combine for each day of the year. Their evocative touch is a sympathetic counterbalance to the QUT survey. Nineteen Sixty-Five: Dadang Christanto at QUT Art Museum until 28 February 2016.


Bringing it Home

The APT8 focus on the body and performance is extended coincidently in the UQ Art Museum's National Self Portraiture Prize. This year's theme chosen by curator Michael Desmond, "becoming - existing between entropy and transcendence" has elicited strong work from invited artists. The prize won by Fiona McMonagle with a short film composed from 100 watercolour portraits of her face drawn daily at 7 pm, takes us straight to the heart of the theme, and echoes the discipline, self examination and drive necessary to craft an existence as a maker. At QUT Art Museum until 13 March 2016.


Turning Tables

Design collective Quench looks at the possibilities of discarded macadamia timber, homegrown (in Queensland), and transformed into design artefacts. Quench | Table Stories At Artisan until 20 February 2015.