Wired In: May 2015
Find out who's coming and going in the arts for May 2015.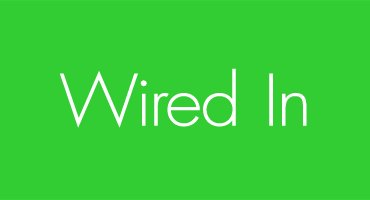 Of interest to artists will be the new moves by the Government and the courts to try to tackle on-line copyright infringement. In December 2014 industry leaders were asked to develop an industry code establishing a process for Internet Service Providers (ISPs) to notify consumers when a copyright breach had occurred. Under the Code the ISP would issue up to three warning notices intended to educate offending users about their copyright obligations. NAVA sent a response to the draft Copyright Notice Scheme Code which had been released for public comment. In early April 2015, the Code was submitted by the Communications Alliance for registration with the Australian Communications and Media Authority.
A positive sign is the Government's interest in passing the Copyright Amendment (Online Infringement) Bill 2015 which would enable rights holders to seek an injunction from the Federal Court to require ISPs to block access to infringing websites, including those based overseas. After consultation with the industry on this proposed bill, the Senate Legal and Constitutional Affairs
Committee is due to report by 13 May 2015.

The 2015-16 Victorian State Budget has provided $202 million over four years to support initiatives for the creative industries across the arts, culture, screen and design sectors. This is in addition to core portfolio spending of more than $470 million in 2015-16. Louise Adler, CEO of Melbourne University Publishing, has been appointed the Chair of the Creative Victoria Expert Reference Group and Ministerial Taskforce to oversee development of the Creative Industries Strategy. The Strategy aims to increase the public value of the creative industries to Victoria - culturally, socially and economically - and guide future Victorian Government investment. Visual arts members of the Taskforce are Professor Callum Morton, artist and Head of the Department of Fine Arts at the Faculty of Art, Design and Architecture at Monash University and Karen Quinlan, Director of the Bendigo Art Gallery. Expert Reference Group members with visual arts experience are Kay Campbell, Executive Director, Australian Centre for Contemporary Art, Ken Cato AO, Chairman, of the design company Cato Brand Partners whose work is represented in museums and galleries internationally and lawyer Tom Mosby, CEO of the Koorie Heritage Trust, art conservator and curator and director of the Cairns Indigenous Art Fair.
Wrong Way Time, the solo exhibition by one of Australia's most respected artists, Fiona Hall has just opened in the new Australian Pavilion at the 56th Venice Biennale. The opening was attended by Arts Minister George Brandis, Venice Commissioner Simon Mordant and donor to the pavilion, Australian actor Cate Blanchett.
At the end of May, Deputy Director of the Art Gallery of New South Wales, Anne Flanagan will retire after a very successful 23 years. She has held the positions of Head of Exhibitions, Head of Building overseeing many renovation projects and Acting Director while the gallery was seeking a successor to Edmund Capon. She will be replaced by Suhanya Raffel, Director of Collections.
Angela Goddard, Curator, Australian Art at Queensland Art Gallery | Gallery of Modern Art (QAGOMA) will become the new Director at Griffith Artworks, the gallery at the Queensland College of Art, Griffith University. The gallery not only stages curated exhibitions but also owns a substantial and valuable collection. Goddard takes over from Naomi Evans who has been Acting Director for two years since the resignation of Simon Wright.
The new Chair of the board of Melbourne's Gertrude Contemporary is well known media personality and journalist Virginia Trioli, who was involved in the foundation days of the organisation in the 1980s. This is an important moment of change as the organisation relocates to new premises in Collingwood as part of a new arts precinct.
Patrice Sharkey, Monash University Museum of Art's Assistant Curator has been announced as the incoming Director of West Space, Melbourne. Over the last five years Patrice has been a key member in MUMA's curatorial team and maintained an independent writing and curatorial practice.


Experienced independent curator and writer Melissa Keys will be returning to Melbourne to take up the role of Senior Exhibitions Manager at National Exhibitions Touring Support (NETS) Victoria. Melissa was previously Associate Curator at the Embassy of Australia in Washington DC and Curator at the Perth Institute of Contemporary Arts. She has also held positions at Monash University Museum of Art and Heide Museum of Modern Art in Melbourne.
Invitation have been sent by Steve Pozel, Director of Object: Australian Design Centre proudly announcing the grand opening on May 25th of the organisation's new home at 101-115 William St, Darlinghurst, Sydney. This also provides the opportunity for a celebration of the organisations's 50th anniversary.
The Australian Institute of Architects' has appointed Nicolette Di Lernia as its new South Australian Chapter Manager. A registered architect Di Lernia is an Associate at Grieve Gillett Dimitty Andersen Architects with more than 20 years of experience dealing with major projects. She also has been very involved in tertiary education as a teacher, as Visiting Fellow of the Faculty of Architecture at the University of Adelaide, a member of accreditation panels and as Chair of the SA Education Committee.
NAVA's Executive Director, Tamara Winikoff has been travelling on her national tour to give talks in arts schools and meet with Ministerial advisers, senior people in state arts departments and heads of arts organisation. The purpose is to consult with the sector and provide expert advice on policy matters. Late in April Tamara was in Brisbane and later this week she will travel to Darwin.