Wired In: October 2015
Find out who's coming and going in the arts for October 2015.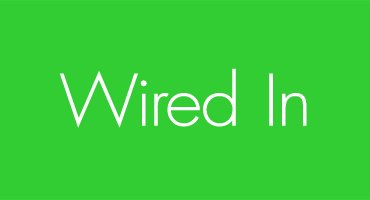 Canadian Government boosts investment in cultural and creative industries
The Canadian Government has announced a major boost to funding for its cultural and creative industries doubling its investment to the Canada Council for the Arts to $360million per year from $180million. This is in recognition of the sector's contribution to growing local economies, job creation, tourism, promoting a sense of community and improving the overall quality of life of Canadians. The government has announced the following initiatives:
To invest $150 million in new annual funding for CBC/Radio-Canada, a commitment that reverses the former Prime Minister Stephen Harper's cuts and goes even further to ensure that the Canadian national broadcaster is able to fulfill its mandate – promoting Canadian culture, identity, bilingualism, and minority voices across the country.

To double investment to the Canada Council for the Arts to $360 million per year from $180 million.

To increase funding for Telefilm Canada and the National Film Board, with a new investment totalling $25 million per year.

To restore the Promart and Trade Routes international cultural promotion programs that Harper cut, and increase funding to $25 milllion per year.

To increase funding for the Young Canada Works program to help prepare the next generation of Canadians working in the heritage sector, as part of a renewed Youth Employment Strategy.
As part of their historic new investment in social infrastructure of nearly $6 billion over the next four years and almost $20 billion over ten years, the Canadian Government will invest significantly more in cultural infrastructure. These investments will include facilities used by communities to express and promote their culture.
Read the official media statement here.
National Arts Sector Roundtable

Free the Arts is organising a National Arts Sector Roundtable in Sydney on 6th November from 10.00am - 4.00pm at Performance Space, Carriageworks. The Roundtable will bring together 50 arts sector leaders from across the country representing each of the states and territories, all artforms and individual artists, small to medium and major companies. This event is the culmination of a series of public sector gatherings in each of the states and territories and will focus on planning for the future and in particular, the three big whole of sector agenda items emerging from the meetings so far:
•money - creative solutions to funding challenges
•vision - building a shared, non-partisan, evidence-driven policy platform
•advocacy - bringing the whole sector together with one voice.
The proceedings will be streamed online with an opportunities to contribute and feedback during the day.
This event will be live-streamed. Check NAVA's Facebook page on the day for the live-stream link here.
CLIMARTE is a finalist in the 2015 Melbourne Awards as part of the for the ART+CLIMATE =CHANGE 2015 festival (now in its thirteenth year) for the Contribution to Environmental Sustainability by a Community Organisation. The city's most prestigious awards ceremony recognises organisations and individuals across a range of sectors that have dedicated themselves to Melbourne.
After 8 years, contemporary art dealer Anna Schwartz is closing her Sydney gallery and going into partnership with Carriageworks to present special exhibitions by local and international artists. Her next Sydney show of work by video artist Shaun Gladwell will be her last at the Sydney venue but she will continue to run her commercial gallery in Melbourne, where she has operated for 33 years. Under the Carriageworks partnership, Schwartz will support an exhibition program in the Sydney gallery, now to be called Schwartz at Carriageworks, and in the adjacent industrial spaces of the arts centre. She has donated $500,000 over five years to the project. The first exhibition in January will be a series of installations by the Ghanaian artist El Anatsui, whose large-scale sculptural works are made with recycled materials such as wire and aluminium cans.
Warwick Hemsley has stepped down after three years as chair of the WA arts industry council, the Chamber of Arts and Culture WA. He has handed on the mantle to former Art Gallery of WA chair and former KPMG partner Helen Cook. Ms Cook is also deputy chair of Fremantle Ports, a non-executive director of RAC Holdings, a director of the Minerals Research Institute of WA, the Cruthers Foundation for Women's Art and a member of the Major Performing Arts Panel of the Australia Council.
The Chamber has also conferred life membership on board member Professor Margaret SearesAO, who has been chair of Australia Council for the Arts and the Perth International Arts Festival and Chief Executive of the Western Australian Department for the Arts (now the Department of Culture and the Arts).
Young People and the Arts, Australia, (YPAA) is changing the way it works for and with the sector. Theatre Network Victoria (TNV) has offered to host YPAA acting as its secretariat and providing the infrastructure of its office to help YPAA to reach its members with opportunities and news, manage campaigns and link to its website and Facebook. YPAA shortly will be changing to a free membership for interested people – an alliance of those passionate about the arts for, with and by young people in Australia and beyond.
Arts ACT has appointed Adam Stankevicius as its new Director, artsACT succeeding David Whitney who served in the role for 8 years. Stankevicius will also be director of Events ACT. He was previously the General Manager of the Centenary of Canberra and has held other senior executive positions in the ACT over the last 20 years across a wide range of social, governance and economic policy and program areas. He has also been a senior policy and media adviser to parliamentarians across the political spectrum. Stankevicius has been involved with a range of national and ACT community organisations in the housing, health, youth, consumer and arts sectors, including the Board of Ausdance ACT in 2006 and the ACT Council of Cultural and Community Organisations in the 1990s.
NAVA sends its condolences to the family and friends of Andrew Sayers AM, who sadly died young aged 58 of pancreatic cancer. Sayers originally migrated from the UK as a child and grew up in NSW becoming an artist, art historian, curator, writer and arts administrator. He initially worked at the Art Gallery of NSW, subsequently serving as assistant director at the Newcastle Region Art Gallery, then becoming curator and assistant director of collections at the National Gallery of Australia. He was best known for his pioneering work as the inaugural director of the National Portrait Gallery from 1998 to 2010, He wrote many books during his career, including an Oxford history of Australian art and a book on Aboriginal artists of the 19th century. After directing the National Museum of Australia for three years, Sayers reverted to painting, his first love and had exhibitions in Melbourne and Bermagui in NSW. He entered a self-portrait in the Doug Moran National Portrait Prize and was a finalist in the Archibald prize for his portrait of environmental lawyer, Tim Bonyhady. In 2014 he was awarded an Order of Australia for his services to arts administration.