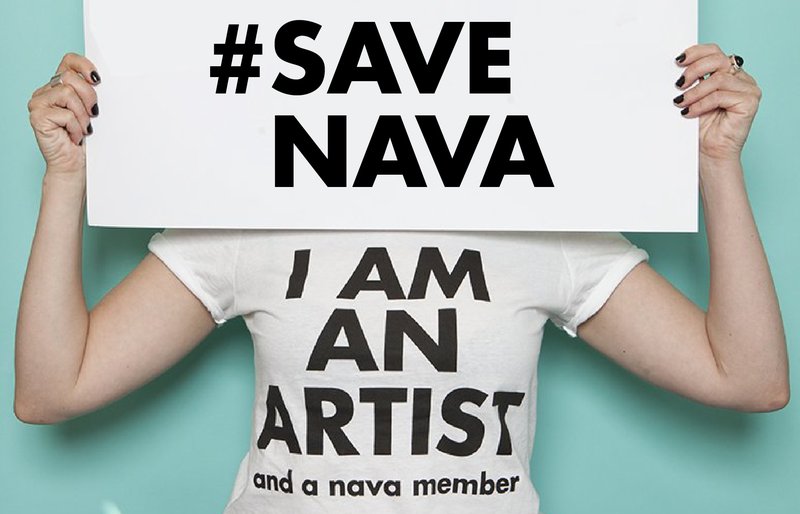 Photo: Tanja Bruckner
Dear Members, subscribers, and colleagues,
As you would be aware, last Friday 13th May, the Australia Council announced the result of the arts organisational funding round which provides 4 year operational support to small to medium organisations. We would firstly like to congratulate all the organisations that received funding, a well deserved investment in the Australian arts.
However, we were devastated to learn that NAVA is one of the organisations that has lost its funding especially given our efforts and ongoing campaigns over this past year.
This now means that the essential services NAVA has been providing to the visual and media arts, craft and design sector are now under serious threat. While this is a major setback and poses a significant challenge for NAVA, there are ways you can help. We ask you, our members and subscribers to get behind NAVA, to take action and call for a reversal of the cuts.
We would also especially like to thank everyone who has reached out to our team in the last few days and sent us such heart-warming messages. We really appreciate it.
To current members we thank you for your continued support. Please note our membership and grants structure are not changing immediately, and you'll continue to be able to apply for grants and join/renew as a Member of NAVA (details are below).
PLEASE DO THE FOLLOWING:
If you value NAVA's contribution in creating a strong and ethical visual arts sector, our campaigns and advocacy work, and services and opportunities we offer all art professionals, we now ask you to show your support in four important ways:

i) WRITE A LETTER
Write a letter to ask that this decision be reversed addressed to Rupert Myer, Chair of the Australia Council for the Arts r.myer@australiacouncil.gov.au and copied to the Arts Minister, Mitch Fifield minister@communications.gov.au

In your letter you could explain to them:
why you value what NAVA does. For example the uniquely important role it plays in the areas of effective advocacy for Australian artists and the visual arts sector, setting best practice standards for the industry and providing a wealth of services which assist artists to build sustainable careers and make an essential contribution to the cultural, social and economic wellbeing of the country;
how NAVA has helped you whether it is through grants, advice, insurance or support
why you are a member of NAVA and why you believe NAVA is an important organisation
ii) SIGN OUR PETITION
Sign our petition now urging the Australia Council for the Arts to find a way to fund NAVA and secure the future for the visual arts, craft and design sector.
This petition will be delivered to Rupert Myer, Chair of the Australia Council for the Arts.
SIGN OUR PETITION HERE: https://www.change.org/p/rupert-myer-savenava-from-arts-cuts
iii) JOIN AS A NAVA MEMBERIf NAVA was to double its paid membership we could continue unharmed.
So if you are currently a free subscriber, please consider upgrading your membership to a NAVA Premium or Premium Plus, and if you are already a member get a friend to join as well. Each paid membership shows your support and will help us continue our work!
JOIN HERE: https://visualarts.net.au/shop/products/
Feel free to share this link across your social media networks.
iv) MAKE A DONATION

Make a tax deductible donation and help NAVA to be able to survive this terrible reduction of our resources

MAKE A DONATION HERE: https://visualarts.net.au/shop/products/type/donation/

v) PUBLIC DISCUSSION
NAVA and Artspace invite you to the Gunnery for the first of two town hall public discussions exploring the current arts funding landscape. This first event will be held on Monday 30th of May from 6.00pm-8.00pm on Level 2, The Gunnery, 43-51 Cowper Wharf Rd, Woolloomooloo NSW 2011. More details will be announced shortly.
We need you now more than ever.
Yours sincerely,

Tamara Winikoff OAM

Executive Director
National Association for the Visual Arts (NAVA)