Focus on NSW
Chloé Wolifson on key upcoming exhibitions in NSW over the next four months.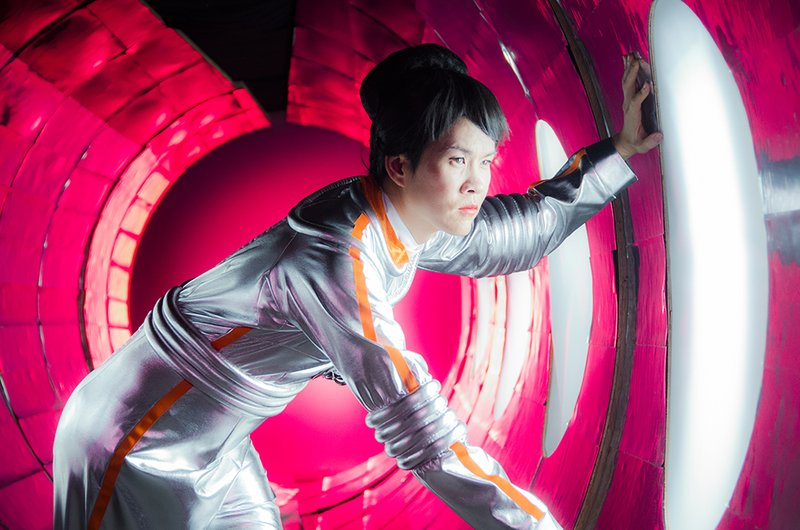 Image: Ming Wong, Windows On The World (Part 1), 2014, mixed media installation with video. Courtesy of Para Site and Spring Workshop, Hong Kong. Photograph: Glenn Eugen Ellingsen

20th Biennale of Sydney
The 20th Biennale of Sydney, The future is already here – it's just not evenly distributed, has been named by Artistic Director Stephanie Rosenthal after a comment by science-fiction author William Gibson. It implies that while perhaps technologies have already surpassed our expectations of what 'the future' might look like, not everyone has access to participate in the information exchange these technologies afford.
The exhibition includes more than 200 works presented by 83 artists from 35 countries, and is structured around several 'Embassies of Thought' which Rosenthal says are not related to colonial or imperial histories but rather are intended as safe spaces for thinking. They consist of the Embassy of the Real (Cockatoo Island), Embassy of Spirits (Art Gallery of New South Wales), Embassy of Disappearance (Carriageworks), Embassy of Non-Participation (Artspace), Embassy of Translation (Museum of Contemporary Art Australia), and the Embassy of Transition (Mortuary Station), as well as a number of mobile and site-specific works located at various in-between spaces around Redfern and the Inner West. On now at various venues until 5 June 2015.
Just Draw
Drawing endures because of its versatility, accessibility and openness, and artists continue to stretch it beyond its traditionally accepted parameters. Just Draw, curated by Todd Fuller and Lisa Woolfe, examines the ways in which Australian artists are pushing the boundaries of a deceptively simple medium.
The exhibition includes performance, multimedia, installation, sculpture, kinetics and robotics from artists including Connie Anthes, Hannah Bertram, John Bokor, Flatline, Kellie O'Dempsey, Matilda Michell, Catherine O'Donnell, Hannah Quinlivan, Jeremy Smith, Jack Stahel, Grant Stewart, Jane Theau, and Paul White. On now at Newcastle Art Gallery until 1 May 2016.
The Mnemonic Mirror
The internet has changed the way we remember, allowing instant access to facts and separating this act of remembering from the applied process of intentional learning, and acquisition of knowledge. Kylie Banyard and Gary Carsley have brought together artists who they see as exploring 'the future of the past', whose unique approaches to their sometimes unusual or overlooked medium has allowed for the development of a singular vision.
The Mnemonic Mirror will include work from artists Troy Anthony Baylis, Emily Hunt, Deb Mansfield, Linda Marrinon, Clare Milledge, Archie Moore, Debra Phillips, Robert Pulie, Aaron Seeto, and Tony Clark. The Mnemoic Mirror will be at UTS Gallery from 10 May - 1 July 2016.
SNO 122
In 1968 the newly re-situated National Gallery of Victoria opened with the much-anticipated exhibition The Field. This gathering of 74 paintings and sculptures by 40 Australian artists, was to shape the landscape of Australian art practice over the following decades. The Sydney Non-Objective Group have been reconsidering the exhibition in recent times, and the current exhibition Returning to The Field #2 reminds us that the original Field featured works by only three women artists out of the total line up. This time, a selection of works by a cross-generational group of women artists reimagines non-objective practice.
Returning to The Field #2 includes the work of Philippa Cullen, Debra Dawes, Janet Dawson, Francesca Mataraga, Amina McConvell, Bengitj Ngurruwuthun, Wendy Paramor, Jacky Redgate, Carol Rudyard, Normana Wight, and Margaret Worth. Returning to The Field #2: at Sydney Non-Objective until 10 April 2016.