Focus on Vic
Dylan Rainforth on key upcoming exhibitions in Victoria over the next four months.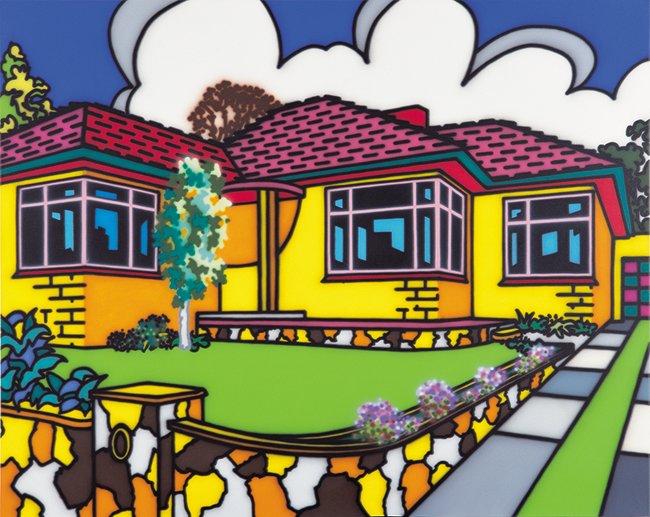 Image: Howard Arkley, Family Home – Suburban Exterior, 1993, synthetic polymer paint on canvas, 203 x 254 cm, Monash University Collection, Melbourne, purchased 1994 © The Estate of Howard Arkley. Courtesy Kalli Rolfe Contemporary Art.
Howard Arkley (and friends)

Callum Morton, Jenny Watson and Constanze Zikos will be reminiscing about the artist with the airbrush as part of the TarraWarra Museum of Art's Howard Arkley (and friends) exhibition. The late, great Arkley's artistic peers are getting together for a panel and audience Q&A on Saturday, 6 February. Morton, Watson and Zikos will no doubt recall the heady 1980s, the vibrant artistic milieu and, hopefully, some of the more scandalous socialising that took place. At least, the social, networked part of Arkley's art making is a key part of the exhibition. As well as mining Arkley's archives and even his music collection, the show's curators, Anthony Fitzpatrick and TWMA director Victoria Lynn, have borrowed a number of artworks from Arkley's artist friends, either Arkley works he swapped with them or their own works made during the time they knew him. Howard Arkley (and friends) at TarraWarra Museum of Art, until 28 February 2016.

Zero to Hero
TCB Art Inc, a stalwart of Melbourne's artist-run initiatives (ARI) community, returns with a strong program for 2016. Things kick off from Wednesday 20 January with a show by two promising young-ish New Zealand painters, Nick Austin and Patrick Lundberg. Austin and Lundberg currently feature in a large state-of-the-medium survey of New Zealand painting, called Necessary Distraction at the Auckland Art Gallery – so it's a good time to check out their work. Both artists tend to concentrate on the slight, the lyrical and the commonplace: for the TCB show, Austin is developing a series of drawings of toothbrushes he recently showed at a Los Angeles ARI run by fellow New Zealand artist Fiona Connor; Lundberg is working with sets, tiny painted gesso objects that in series make up constellations on the walls. The TCB exhibition, Zero to Hero is curated by Chloe Geoghegan, director of Dunedin's Blue Oyster Art Project Space, and is on until 6 February 2016.

ACCA

The Australian Centre for Contemporary Art's big news recently was the appointment of Max Delany as its new director, filling the role Juliana Engberg left after she took an appointment in Denmark. Delany comes to the job fresh from the triumph of curating Andy Warhol | Ai Weiwei at the National Gallery of Victoria. Though he will take up his new position in early February it will be some time of course before his programming decisions start to be reflected in the exhibition line-up. In the meantime, the latest iteration of the annual NEW series, where "artists-to-watch" are given the money and support to create ambitious new commissions, opens in early March. This year's iteration, NEW16, the 14th in the series is being steered by ACCA curator Annika Kristensen. She has selected nine artists who share an interest in "navigation and negotiation", a broad theme intended to cover each artist's mediation with "their work, each other, the visiting public, surrounding architecture and the broader environment".

Lorne Sculpture Biennale

Next time someone tells you art is elitist tell them 50,000 people made the trip to the last installment of the Lorne Sculpture Biennale, and that they're estimating 70,000 will see it during its three weeks in March 2016. (As a point of reference, the Warhol and Weiwei show at NGV, the state gallery's most popular ticketed exhibition in a decade, attracted 95,000 people in its first month.) This year 36 artists have been selected for the sculpture trail which extends from Lorne Pier along the coast and finishes at the Erskine River. Tom Mosby, CEO of the Koorie Heritge Trust, architect John Wardle and artist Jill Orr are the judges of the $25,000 non-acqusitive sculpture trail prize. There are also talks galore, exhibitions for small sculpture and maquettes, and a performance art program featuring Jill Orr, Stelarc and Ash Keating. Lorne Sculpture Biennale from 12 March – 3 April 2016.

Whistler's Mother at NGV

Today it may be one of the of world's most recognisable paintings but there was a time when James McNeill Whistler was down on his luck and had to pawn his 1871 painting Arrangement in Grey and Black No.1. That would be the one of his mother, now colloquially known as Whistler's Mother. The painting, which had previously been only reluctantly accepted by the Royal Academy of Art - the institution strenuously objected to a portrait being exhibited as an "arrangement" - was eventually acquired by the Musée du Luxembourg. Whistler was thrilled, especially as this redeemed his horrid treatment by the Poms. But you might say the painting really arrived when Franklin Delano Roosevelt took a shine to it and personally supervised the design of a 1934 Mother's Day stamp featuring its image. The iconic painting comes to the National Gallery of Victoria from late March, on loan from the Musée d'Orsay in Paris. At the NGV the painting stars in its own exhibition, called – what else – Whistler's Mother. The NGV has been doing its research, finding it owns a Goodwin chair similar to the one Anna Whistler sat on; plus there is an edition of Whistler's 1859 etching, Black Lion Wharf, which appears on the wall behind the sitter. The exhibition also sets out to demonstrate Whistler's influence on a number of Australian artists, including John Longstaff, Tom Roberts, E. Phillips Fox and Hugh Ramsay. Whistler's Mother at the National Gallery of Victoria from 26 March – 19 June 2016.