NAVA launches two new $20,000 Visual Arts Fellowships for mid-career artists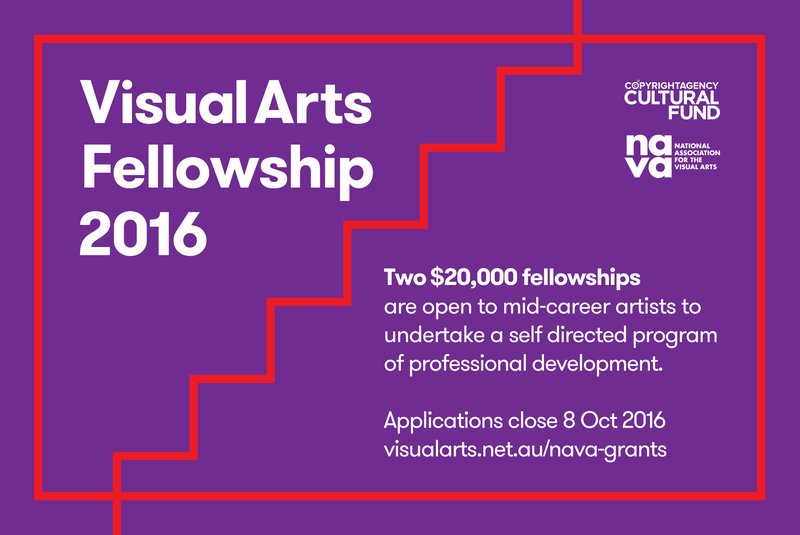 Media release
The National Association for the Visual Arts (NAVA) announces today the launch of two exciting new $20,000 fellowships supported by the Copyright Agency's Cultural Fund, aimed at assisting exceptional mid-career Australian visual and media arts, craft and design practitioners to undertake a self-directed program of professional development.
This Fellowship will address the 'mid-career desert' where there are fewer existing opportunities for visual arts, craft and design practitioners.
This Fellowship will ensure two outstanding mid-career artists or collaborative groups can explore the next major developmental step in their practice and seek opportunities to enhance their reputations, build professional relationships and consolidate their careers.
Says renowned contemporary Australian painter and NAVA board member, Michael Zavros, "This is an exciting new initiative offered by NAVA. We have such a fascination with young and emerging art in Australia and a focus on what's new and what's next that mid-career can be a long slow burn where artists lose impetus and find their careers plateau."
This support also ensues artists will be temporarily relieved of the need to generate income allowing them to concentrate on the longer-term expansion of new ideas, artistic processes and career directions.
"Mid-career artists also find it increasingly difficult to extend their practice and take necessary risks, to make time for skills development and experimentation. These fellowships will give outstanding developing artists support at a crucial time in their development," Zavros continued.
The fellowships will be open to individual mid-career artists and groups and can be used toward a range of activities in 2017 which may include, but not limited to research, travel, skills development, residencies, mentorships, professional development and training, and the creation of new work and exhibition/project costs.
NAVA's broad industry networks and history in delivering grant programs combined with the significant need for this type of fellowship means this will be a competitive prize providing direct investment for the advancement of artistic practice in Australia.
Applications close Saturday 8 October 2016.
For more information or to apply, visit https://visualarts.net.au/nava-grants/ or contact
Yu Ye Wu, Marketing and Publicity Coordinator at NAVA at ywu@visualarts.net.au or 02 9368 1900