Wired In: April 2016
Find out who's coming and going in the arts for April 2016.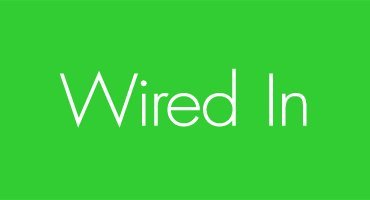 Federal Minister for the Arts, Mitch Fifield and Jamie Briggs, Liberal Member for the seat of Mayo in South Australia announced $1 million will be provided through Catalyst to acquire, preserve and maintain The Cedars in the Adelaide Hills, the family home of one of Australia's great landscape painters Sir Hans Heysen OBE and his family, including painter Nora Heysen AM. The Minister's media release acknowledged South Australian Senator Cory Bernardi who advocated for this Commonwealth support.
Public art philanthropist John Kaldor (of Kaldor Public Art Projects), secured Catalyst funding for his latest new public art installation planned for Sydney's Royal Botanic Gardens to be created by Indigenous artist Jonathan Jones. The project, entitled Your Very Good Idea, is the winner of a competition held by Kaldor Projects last year.
During his visit to Perth, Fifield made the joint announcement with WA Liberal Senator Dean Smith (Chair of the Coalition Backbench Committee on Communications) that a $400,000 Catalyst grant would go to arts organisation FORM to fund the transformation of an old goods shed into a new cultural space. The Goods Shed development in the suburb of Claremont is intended to support urban renewal in the area and will include a facility for visiting artists, including opportunities for residencies in rural and regional Western Australia.

With Catalyst funding, three of Sydney's major arts institutions will host a new art biennial, called The National: New Australian Art, a series of exhibitions of Australian art to be held every two years. The three partners are the Art Gallery of NSW, Museum of Contemporary Art and Carriageworks. With the first to be held from March to June/July 2017, it will alternate with both the Biennale of Sydney and the Adelaide Biennial. Curators for the 2017 edition of The National: New Australian Art are Anneke Jaspers, Curator Contemporary Art and Wayne Tunnicliffe, Head Curator Australian Art, AGNSW; Lisa Havilah, Director and Nina Miall, Curator, Carriageworks; and Blair French, Director, Curatorial & Digital, MCA.

In August, Greg Andrews is leaving his position as Director of Arts Sector Investment at Creative Victoria after 40 years of working to support the development of the Victorian arts and creative sectors. Over his career he served for 12 years in the department (previously Arts Victoria) and prior to that, worked at the National Museum of Australia, National Gallery of Australia and Arts Queensland.
Previous head of Arts NSW, Mary Darwell has been seconded to NSW government's Infrastructure Department for 6 months.

Peter Louca is now Executive Director of Arts South Australia having been the SA State Government's longest continuous serving Chief of Staff from 2002 – 15. Most recently he was adviser to Jack Snelling, Minister for Health and Arts. He is having to deal with the adverse reaction of the SA arts community to the report of funding cuts gradually rising from $1.825 million in 205/16 to $8.5 million in 2018/19.

Professor Julianne Schultz AM FAHA has had her term extended by a year as Chair of the Sydney based Australian Film Television and Radio School (AFTRS) Council with Professor Robyn Ewing AM having her position as a member of the Council extended for two more years. Schultz is the founding editor of the Griffith Review and has served on the boards of the ABC, the Grattan Institute and the Copyright Agency, and was formerly Chair of the Queensland Design Council. Ewing is Professor of Teacher Education and the Arts, at the University of Sydney and was previously Associate Dean, Academic Programs and Associate Dean, Teaching and Learning.
Esther Anatolitis, Director of Regional Arts Victoria was recently appointed as a Board member of the The Australian Centre for the Moving Image. She joins other recent appointees, well known actor and director, Rachel Griffiths, business and technology consultant, Karen Corry and Linda White, assistant national secretary of the Australian Services Union.
Greg Mackie
has been appointed at the CEO of History SA, researches, preserves and presents the history of South Australia and manages the State History Collection and three museums, (the SA Maritime Museum, National Motor Museum and Migration Museum).
Dolla Merrillees has been appointed as the new director of Sydney's Museum of Applied Arts and Sciences, which includes the Powerhouse Museum in Ultimo. Controversially, the NSW Government intends to relocate the cultural institution to Parramatta despite widespread opposition, exemplified by a petition signed by 10,000 people. Previously the museum's curatorial, collections and exhibitions director, Merrillees had been acting director of the Powerhouse since the resignation of its previous director Rose Hiscock in December last year.
The Australian Centre for Contemporary Art (ACCA) in Melbourne has appointed Linda Mickleborough as is its new Executive Director and will be working closely with Artistic Director Max Delany. She will be leaving her position as General Manager and Co-CEO of Circus Oz where she has worked for twenty six years.
Director of the Adelaide based Anne and Gordon Samstag Museum of Art, Erica Green will be the curator of the next Adelaide Biennial in 2018.
The Art Gallery of South Australia has appointed
Leigh Robb
as the Gallery's inaugural Curator of Contemporary Art and
Rebecca Evans
as the Gallery's new Curator of European and Australian Decorative Arts. Robb previously worked for six years as Curator at the Perth Institute of Contemporary Arts (PICA) curating over 30 exhibitions. Prior to this she held positions at the Thomas Dane Gallery, London and the Peggy Guggenheim Collection, Venice. Evans was previously Assistant Curator at Sydney's Museum of Applied Arts & Sciences (formerly the Powerhouse Museum) from 2009. She replaces
Robert Reason
, who has taken up the role of Senior Curator at the The David Roche Foundation House Museum in Adelaide.
The University of Western Australia (UWA) has announced artist Dr Vanessa Russ as Associate Director of the Berndt Museum which holds one of the most important research collections on Aboriginal Australian art and culture in the world. It was founded in 1976 from the personal collection of anthropologists Ronald and Catherine Berndt. Russ is the first Aboriginal director of the Berndt Museum in its 40 year history. She is a UWA graduate with a PhD in Fine Arts. In 2014 she used a Churchill Fellowship to travel to the US, Hong Kong and Singapore to investigate how public art galleries construct and represent national identity.
At Museums and Galleries NSW, Conni Lord is taking over from Margot Stuart-Smith as Museum Programs and Collection Coordinator for six months while Margot is on maternity leave. Conni's background is in ancient history, archaeology and Egyptology and she spends quite a bit of her time digging in the sands of the Egyptian desert. She also works as an Education Officer at the Nicholson Museum within the University of Sydney. She will be helping look after the Museum Standards Program as well as some of the grants that MGNSW administers.
In Queensland the following roles are changing:
Tracy Cooper-Lavery has been appointed to the position of Gallery Director at the Gold Coast City Gallery, leaving her previous role as Director at Rockhampton Art Gallery.
The Gallery Director of Artspace Mackay, Anna Thurgood has resigned to take up a new position at the State Library of Queensland. Bilie-Jo Ogilvie is acting in her position.
Zoe Roos has left Moreton Bay Regional Council Art Gallery Network to become Exhibitions Officer at Bundaberg Regional Art Gallery.
After a 30-year practice as an artist, Mosman painter Kerri Lester has died after a two-year battle with leukaemia. Lester was an Archibald finalist 23 times, a record that made her known as "The Archibald Bridesmaid". She was the only artist to have been hung simultaneously in the Wynne, Sulman and Archibald Prizes. Best known for her portraits and figures in landscapes, Lester was also accomplished in other genres. Though she used printmaking, collage, ceramics and sculpture, most distinctive were her stitched-canvas paintings. Her works have been exhibited in the Biennale of Sydney, the San Francisco Museum of Modern Art, and the Australian embassy in Paris, and have been acquired by several public galleries and private collections including the National Portrait Gallery in Canberra, which acquired her paintings of Cathy Freeman, Fred Hollows, Margaret Fink, and James Morrison.
John Demos was an example of what achievements are possible by artists with a disability He studied fine arts at both TAFE and the National Art School in Sydney with a practice stretching over 35 years. His usually text-based work used a variety of materials including ceramics, paper and wood and found materials. He was greatly assisted in more recent years by Accessible Arts and participated in the Project Insideout supported studio based at Macquarie Hospital in NSW, and as resident artist at Big Fag Press print studio. His work has been exhibited Sydney's Cross Art Projects (2013). His work has also been presented in exhibitions at Sydney College of the Arts Gallery at the University of Sydney, Macquarie University Art Gallery and at Big Fag Press, and was included in Australian Outsider Art, Renegades (2013-15), a touring survey exhibition.