Wired In: February 2016
Find out who's coming and going in the arts for February 2016.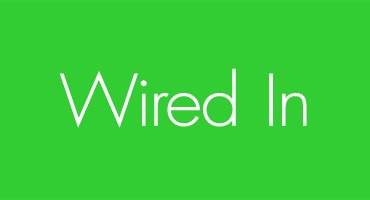 Karina Clarke has been appointed as the Director of Design Tasmania, Clarke was previously Senior Lecturer, School of Design Studies at NSWA Art and Design
Her areas of expertise include interior design, furniture and object design and design management. Karina's experience as a designer in the commercial sector gives her an acute appreciation of the market for her products. Her years of study, research and teaching both in Australia and internationally, give her a deep understanding of the cultural and social influences which shape our response to objects.
Avi Avesbury is leaving her job as Director of Craft ACT. She previously worked at Craft Australia. Avi is a ceramic artist with an Honours degree in ceramics from the Australian National University(ANU) School of Art and undertook further studies at Hong-Ik University in Seoul, Republic of Korea. Amesbury's work has been represented in selected group international exhibitions.

Smyrnios BT Contemporary opening in Balaclava, Melbourne is a new venture for Tina Smyrnios and co-directors Nick Thodos and Gene Bensimon. Over 2800 square feet of a renovated site will house a multi-gallery exhibition area and a project space. Nine years after closing the innovative Smyrnios Gallery, the first purpose built commercial gallery in Victoria, Tina Smyrnios is once again involved in a new gallery venture that delivers an exhibition schedule of interstate and Melbourne-based artists, working across conceptual and object-based practice. The gallery is committed to supporting contemporary Australian artists, exhibiting work by emerging, mid-career and established artists, while also working with curators, collectors and art advisors. Arts Minister Senator Mitch Fifield will be giving a talk here on 'The Arts and the Innovative Future' from 2.00 – 3.30pm Saturday 27th February. It's an opportunity for Melbournians to ask him some questions about the Government's lack of an arts policy.
Lou Weis has joined the Craft Vic board. Weis is a designer, film producer and creative director of Broached Commissions which he established to initiate bespoke, made and limited edition design collections.

The art world was shocked to read the announcement by Anna Pappas, Chairperson of the Melbourne Art Foundation (MAF), that the 2016 Melbourne Art Fair has been cancelled. The Fair which was due to open in August at the Royal Exhibition Building, has been staged every two years for the last 28. Pappas said the difficult decision had been made because several Australian galleries had withdrawn from the Fair, leaving it without the pulling power to attract international collectors.
The national cultural diversity organisation, Kultour has appoint Lena Nahlous as its new director. The 15 year old organisation has moved from Melbourne to establish a head office at Casula Powerhouse Arts Centre in Western Sydney with a network of agents employed in each state and territory to further expand its diversity agenda. Nahlous as the former Executive Director of Parramatta's Information and Cultural Exchange (ICE), established Artfiles, an employment and engagement program for Western Sydney artists, and Switch Digital Arts Centre. She also co-founded and managed the Arab Film Festival.
After 7 years of building Glenorchy Art & Sculpture Park (GASP) in Hobart, Pippa Dickson is leaving her position as CEO to explore new professional opportunities. Pippa is chair of Design Tasmania, a NAVA Bard member and co-chair of the National Craft Initiative Steering Committee.
Another NAVA board member and chair of NAVA's Development Committee, Dr Terry Wu, has also been appointed as a board member at the Australian Centre for the Moving Image (ACMI) in Melbourne.
Carol Schwartz AM and Fiona Menzies have both been reappointed as the Chair and CEO respectively of Creative Partnerships Australia. They also welcome Australian Recording Industry Association CEO Dan Rosen to their Board.
Recently appointed as the CEO of Philanthropy Australia is
Sarah Davies
who previously was CEO of The Reach Foundation, a for-purpose organisation working to improve the wellbeing of young people so they can get the most out of life. Sarah has also been CEO of the Australian Communities Foundation.
Dr Karen Maras, has taken up the role of President and Dr Mark Selkrig, Vice President of Art Education Australia, the professional association for art teachers. They are replacing Marian Strong who served in the President position for many years.
The University of Sydney has announced that it will reduce the number of its faculties from 16 to 6. This will see Arts and Social Sciences taking under its wing Education and Social Work, and
Sydney College of the Arts
(SCA). Controversially, the college will possibly move from its spacious campus at Callan Park in Rozelle onto main campus. However, this may change as a result of discussions known to be underway between the universities of Sydney and NSW and the National Art School (NAS) about a possible merger or partnership between SCA, UNSW Art and Design and NAS to create a new 'Centre of Excellence'. Watch this space…