Wired In: March 2016
Find out who's coming and going in the arts for March 2016.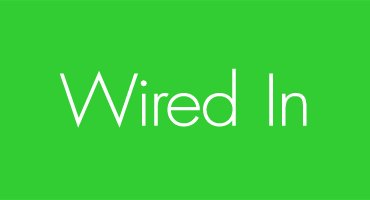 For the second year running, the Australia Council Awards recognise distinguished Australian artists who have made an exceptional contribution to the arts.
Visual artist Richard Bell is the recipient of the Australia Council Visual Arts Award. Bell fromthe Kamilaroi tribe in Queensland is an Indigenous Australian artist and political activist. He is one of the founders of proppaNOW, a Brisbane-based Aboriginal art collective. Bell has been widely exhibited and won many awards including the 2003 Telstra National Aboriginal and Torres Strait Islander Art Award. His self-portrait was a finalist in the 2015 Archibald Prize. In 2013 he presented the eight-episode TV series Colour Theory on National Indigenous Television (NITV)
One of NAVA's board members is the winner of the Emerging and Experimental Arts Award. Kelli McCluskey (WA) is an artist and co-artistic director of tactical media art group, pvi collective. Formed in 1998 pvi produces interdisciplinary artworks to interactively engage audiences as participants through interventions in public and corporate spaces and gallery exhibitions. Kelli has toured throughout Australia with pvi and internationally in the UK, Europe, Asia and South America. Kelli established and co-manages the artist-run initiative CIA studios. In 2011 she also co-founded Australia's first annual one-on-one performance festival, the Proximity Festival.
Artbank has appointed Emma Crimmings, in the newly created role of Assistant Director – Melbourne with responsibility to the art leasing service deal with artists in Victoria, South Australia and Tasmania. Crimmings, an award-winning documentary filmmaker will be leaving her position as Director of Gertrude Contemporary in Melbourne. Previously she worked as a producer for ABC TV Arts, a curator at the Australian Centre for the Moving Image and the Australian Centre for Photography and as Acting Director and Program Manager of Cultural Affairs at the Australian Embassy in Washington DC. In 2015, Crimmins used a Churchill Fellowship to undertake international research on artists' residences programs and creative place making.
After a year in the job, the co-CEO and Executive Director of Next Wave in Melbourne, Meghan Bourke, has resigned, just before the festival launches its 2016 program. The Next Wave biennial festival is focused on emerging artists and new technologies. Previously for several years Bourke was Operations Manager at Melbourne Fringe, the multi artform festival that celebrates the independent arts.
Kevin Golding, Manager Infrastructure Analytics, Arts Infrastructure at the Australia Council is leaving as part of the staffing restructure. He will take up life as a consultant under the banner GBG (Golding Business Governance). Bogdan Meunier takes over arts organisations reporting at the Council.
With over two decades of experience in the film industry, James Hewison has been appointedas the new Head of Film ProgramsAustralian Centre for the Moving Image in Melbourne. He takes over from Richard Sowada who served in the role for nine years before leaving in September 2015. Hewison has been a freelance film consultant but also served as Executive Director of the Melbourne International Film Festival from 2001 to 2006, CEO of the Australian Film Institute and from 2007 to 2011 was the Theatrical Distribution Manager for Madman Entertainment.
After 16 years as CEO and Creative Director of the Australian Design Centre (ADC) based in Sydney, Steve Pozel has resigned to follow a new pathway in "promoting and fostering creative intelligence within the new challenges of the 21st Century environment". His position will be taken over by Lisa Cahill, currently Associate Director at ADC. Previously Lisa worked as CEO of the Australian Design Alliance for five years and before that was …at the International Federation of Arts Councils and Cultural Agencies.
Kay Campbell has resigned her position as Executive Director of the Australian Centre for Contemporary Art (ACCA) in Melbourne after 15 years. Previously she worked for 9 years in the UK at Spike Island in Bristol, the largest artists' space in Europe with 80 studios, a print-making workshop and a sculpture yard and before that, an arts centre in Cardiff in Wales.
Everyone seems to be in the competition for new infrastructure. A hugely ambitious $50 - 60 million expansion is being proposed for Carriageworks in Sydney which would add to the existing multi disciplinary facility, a new 5000-seat live music venue, 200 seat cinema, large public exhibition space and cafes, bars and restaurants. However, this will require a commitment of both government funding and private investment still to be raised.
Director of the Art Gallery of SA, Nick Mitzevich is urging the State Government to back a $250 million modern art gallery to be located near the Festival Centre and River Torrens in Adelaide.He claims it could boost visitor numbers to 500,000, provide much needed jobs and give the South Australian economy a boost.The Labor State Government is understood to be receptive to idea. The Opposition too is cautiously positive but wants the benefits explained.
The Art Gallery of New South Wales is working with Tokyo based architecture firm SANAA on the next stage of its 'Sydney Modern Project', a proposed $450 million extension which it hopes to complete by 2021. The plans would expand the gallery through a series of pavilions that reach out across grasslands to the northeast of the existing gallery to the Domain, the Royal Botanic Gardens, Sydney Harbour and Woolloomooloo. So far the NSW government has provided $10.8 million in the budget for the current stage of the project.
After six years of planning, Lismore Regional Gallery will be the recipient of a half million dollar bequest from one of Australia's best loved artists, Margaret Olley through the Margaret Olley Arts Trust. This will be matched by $1.3 million contribution from Lismore City Council, $110,000 through an Arts NSW capital grant and extra support through the Federal Government's National Stronger Regions Fund. An additional $160,000 has been raised for the project by residents of the region. The money will go towards a $5.8 million cultural precinct redevelopment that will include an outdoor plaza connecting the gallery with the Northern Rivers Conservatorium and Lismore Library as well as retail and event space.
The University of Newcastle has decided to discontinue its Bachelor of Fine Arts from 2017 and replace the degree with a Bachelor of Creative Industries. The fine arts honours, postgraduate and masters programs will continue but the Bachelor of Teaching (Fine Art) (Honours) will be cut. Alumni opinion is divided and a protest was organised under the banner 'Stop Cuts to Creativity!'. The university says the change is aimed at 'building resilient graduates with better employment futures, either within the creative industries sector of the economy, or as artists and commentators, expressing their own creative identity'.