Arnold Bloch Leibler and NAVA announce new partnership
Photo by Daniel Gardeazabal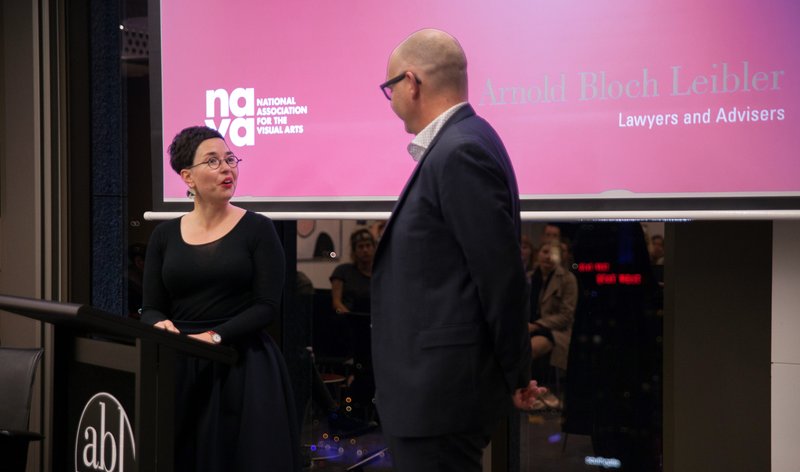 Arnold Bloch Leibler and the National Association for the Visual Arts are delighted to announce a new relationship on pro bono legal services and advice.

"I'm very much looking forward to working with NAVA," said Peter Seidel, the partner responsible for coordinating Arnold Bloch Leibler's public interest law contributions, and head of the firm's native title practice. "Artistic risk-taking is essential for a confident Australian culture and NAVA's role as the industry leader has long been vital to supporting artists."

"I've long admired Arnold Bloch Leibler's commitment to the public good as the nation's leading public interest law practice," said Esther Anatolitis, Executive Director of NAVA. "My confidence in what NAVA can achieve for artists is strengthened by our new partnership."

The partnership was launched on Monday evening 23 April at Art and Risk after TERROR NULLIUS, following controversy surrounding the reception of Soda_Jerk's latest work TERROR NULLIUS which premiered at ACMI last month. The event was hosted by Arnold Bloch Leibler in Melbourne, and featured key arts leaders on championing artistic risk.

Arnold Bloch Leibler is a premier Australian commercial law firm that provides strategic legal and commercial advice nationally from its offices in Melbourne and Sydney to a diverse range of leading Australian corporations, high-net-worth individuals and large family businesses as well as international corporations. Arnold Bloch Leibler also has a dedicated pro bono practice providing advice on social, environmental and cultural issues to more than 150 charitable and not-for-profit organisations.

NAVA champions artists, leading policy development and action that strengthens Australia's contemporary arts. With a focus on artists, the contemporary arts sector, and the Australian culture, NAVA strengthens artists' capacity to develop and sustain their practice; sets national industry standards that promote ambitious and fair institutional practices; and amplifies the voice of the artist to enrich the national conversation.

Arnold Bloch Leibler and NAVA look forward to a productive relationship for the benefit of the creative community and the Australian culture.

ENDS