Deborah Kelly
Socially and politically engaged artist Deborah Kelly works across collaboration, collage and performative interventions.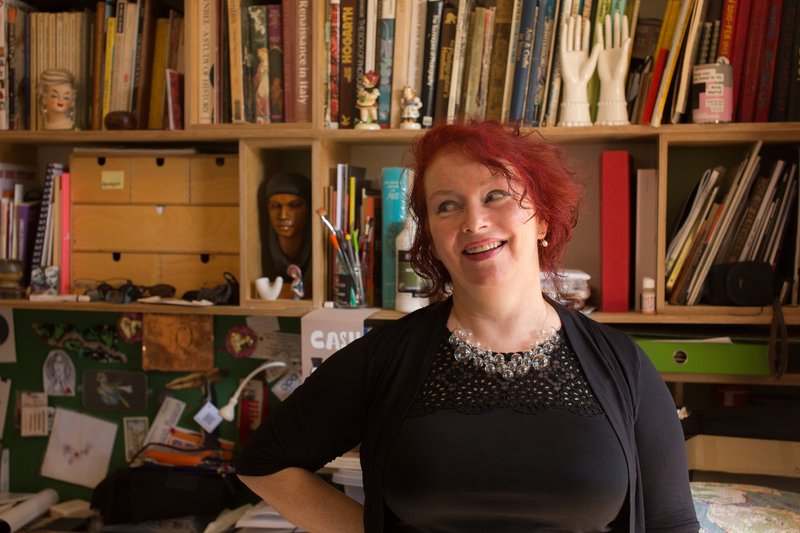 Deborah Kelly's works have been seen across Australia and in the Singapore, Venice, Thessaloniki, TarraWarra and Sydney Biennales. Her work has been shown at MOMA PS1 in NYC, the ICA in London (both 2014) at the National Gallery of Indonesia (2011) and at Ljubljana's Museum of Transitory Art (2015).
Her collaborative artwork with Tina Fiveash, Hey, hetero! has been shown in many public sites and is widely studied.
In 2001 she co-founded boat-people, an art gang making works in city spaces around race, nation, borders and history. Her 2005 work Beware of the God considered politicised religiosity through videos in train stations and projections onto clouds over Sydney Harbour.
The participatory memorial she devised for the 20th anniversary of the Tiananmen Square protests, Tank Man Tango, was performed in 20+ cities on 4 June 2009.
The Miracles was commissioned in 2012 for Brisbane's Gallery of Modern Art show Contemporary Australia: Women, and toured to a dozen public galleries in Australia and the UK.
The epic collaborative collage portrait project she instigated, No Human Being Is Illegal (in all our glory) is touring Australia until 2018.
Her work won the 2015 Cayte Latta Visual Art Award, the 2013 Redlands Art Prize Audience Award, the 2012 Albury Art Prize, the 2009 Fisher's Ghost Award and the 2009 Screengrab International New Media Art Award.
The monograph Deborah Kelly & was published by Artspace in 2013.
Her work is held in the collections of the National Gallery of Australia, QAGOMA, MCA, the State Library of Victoria, Museum Victoria, Artbank, and private collections in Australia, the US, China, Indonesia and Germany.
In this video, Deborah chats to NAVA about advice given to her, the need for the arts community to feel like they belong to a rich and deep and interesting and exciting culture, and the challenge of being a successfully acclaimed and yet highly underpaid artist.
Photo: Catherine McElhone

Direction and titles: Blood and Thunder
Production: Dominic Kirkwood
Director of photography: Yanni Kronenberg
Interviewer: Joan Cameron-Smith