Tess Allas
Curator and writer working in the field of Aboriginal art and cultural practice.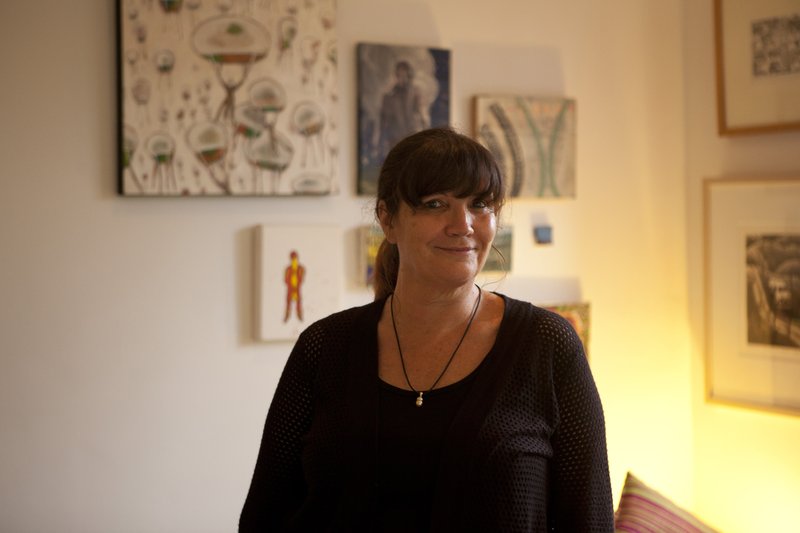 Tess Allas has worked in the field of Aboriginal art and cultural practice since the early 1990's. Tess has curated many exhibitions in Wollongong as well as exhibitions for the Sydney Festival at Carriageworks in 2012 and at Customs House for the City of Sydney in 2004. She has curated international print exhibitions in Montreal, Canada for the Montreal First Nations Festival, the Kluge-Ruhe Aboriginal Art Collection in the United States, the Aboriginal Art Museum, Utrecht, The Netherlands and the Gorman Museum, University of California, Davis.
Tess was the recipient of a 2012 Arts Fellowship from Arts NSW that enabled her to further her study and investigations into the history and contemporary practice of shellworking in NSW Aboriginal communities. The result of this research was the 2015/16 national survey exhibition of Indigenous shell working practices, Shimmer at Wollongong Art Gallery that she co-curated with Darrell Sibosado and Tahjee Moar.
She has written hundreds of biographies on Aboriginal artists for the 'Storylines Project' which were published via Design & Art Australia Online. Her print publications include essays for the National Gallery of Australia, the Museum of Contemporary Art in Sydney, the Kluge-Ruhe Aboriginal Art Collection (University of Virginia) as well as articles in Art Monthly, Art & Australia, Artist Profile and Artlink. With Daniel Browning she co-edited the 'Blak on Blak' edition of Artlink (Vol 30 No 1). Tess was the commissioning editor of the 2014 Artspace monograph on artist Frances Belle Parker.
With fellow artistic collaborator, Charlie Schneider, Tess showed her video work Andy Warhol on Aboriginal Art at Tandanya National Aboriginal Cultural Centre in Adelaide as part of the 2014 Adelaide Festival's visual art program which was the result of a two-month residency in the Rocky Mountains, Canada hosted by the University of Lethbridge, Alberta, Canada.
With David Garneau, Tess co-curated With Secrecy and Despatch, a multidisciplinary, international exhibition commemorating the 200th anniversary of the massacre of Aboriginal people in the Appin region of South West Sydney. The exhibition includes works by Vernon Ah Kee, Tony Albert, Julie Gough, Genevieve Grieves, Dale Harding and Frances Belle Parker, and is on show at Campbelltown Arts Centre until 12 June 2016.
Tess is currently employed as the Director of Indigenous Programs for the Faculty of Art & Design at the University of NSW.
In this video, Tess chats to NAVA about what drives her as an independent curator.

Photo by Tanja Bruckner 2016
Direction and titles: Blood and Thunder
Production: Dominic Kirkwood
Director of photography: Yanni Kronenberg
Interviewer: Joan Cameron-Smith