Eveline Kotai
Eveline Kotai works across painting, drawing, print and textiles.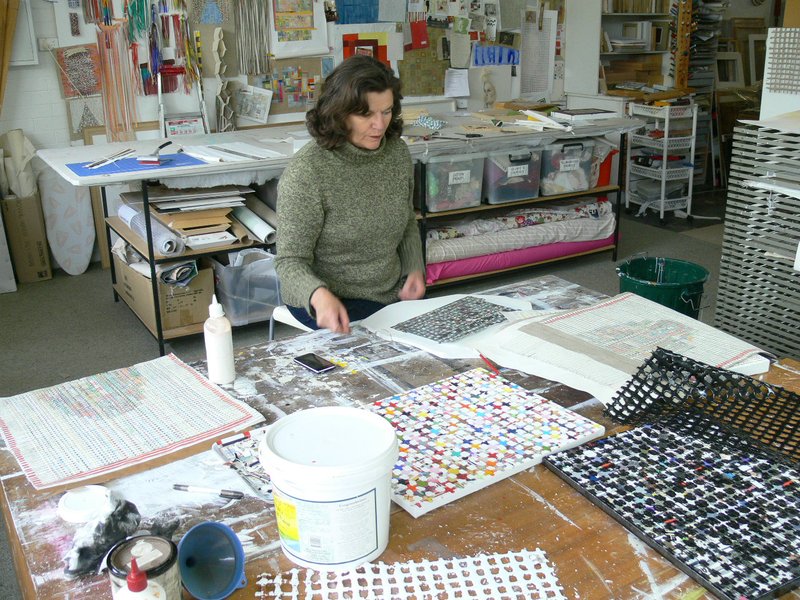 Eveline Kotai's work offers a space for contemplation that distils her ongoing inquiry into the correlations between art, life and nature.
Kotai's unique technique of cutting up and reconfiguring them as stitched collages aims to echo a world in constant transition. Not only do her methods provide a constant source for new beginnings, but the action of cutting and stitching canvasses have become an important meditative practice that is reflected in her final pieces. Works that may previously have been representational are sequentially dismantled so that the remodelled 'palette' becomes the impetus for new directions.
While Kotai has used a variety of media during the course of her 35-year art practice, over the past 12 years she has concentrated on the theme of material dissolution and regeneration. Recent exhibitions Reconstructions (2017), Writing on Air (2015), Subdivision (2014) and Infinite Threads (2012) all draw their titles from the artist's symbolic and material interpretation of the nature of change.
Kotai has won numerous awards including most recently co-winning the 61st Blake Prize in 2012 and the City of Armadale's Gerry Gauntlett Award in 2013. Her work is represented in many major collections throughout Australia, including the National Gallery of Australia, the Art Gallery of Western Australia, the Cruthers Collection of Women's Art, Bankwest and Artbank.
Kotai is based in Fremantle, Western Australia and is a member of the Art Collective WA.
In this video, Kotai talks about the process of cutting her paintings as an act of mindfulness.
Production by Dominic Kirkwood
Photo by Alex Kirkwood