Frank & Mimi
Brisbane-based public artists, Emily Devers and Rick Hayward collaborate as Frank & Mimi.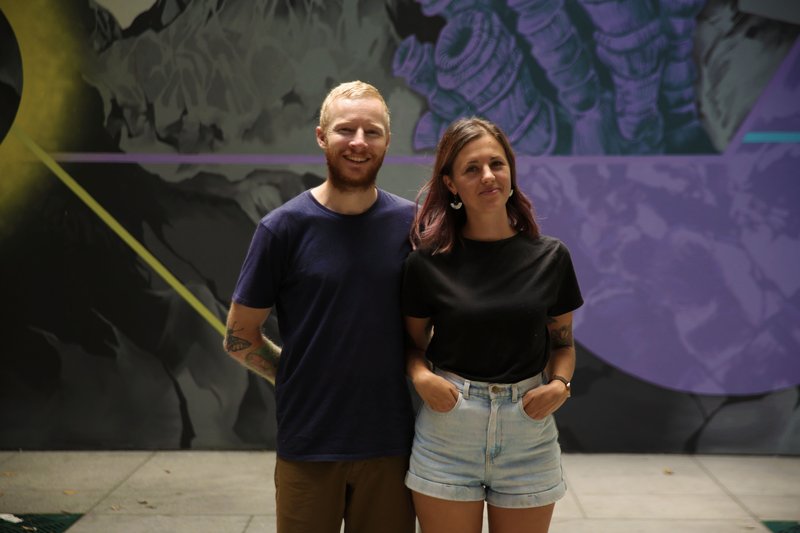 Rick Hayward has a background in sign writing and Emily Devers as a visual artist and together through their studio they produce hand painted signs, commercial murals and large-scale public artworks. Working out of The Foundry, an old factory in Red Hill, their practice is a fine balance between both commercial and personal work.

Living sustainably through their creative practices, Frank & Mimi create high impact art with low impact materials - generating space in their artworks for pertinent discussions around the future of our planet. They develop unique and timeless concepts through both their public and gallery artworks, and have a dual focus on community engagement and global conversation.
Frank & Mimi have participated in a range of exhibitions, facilitated community workshops, contributed to industry conversations and painted across the globe. In 2016 they painted in Hilo, Hawaii as part of sustainability focused public art project Temple Children, and Napier, New Zealand as part of Sea Walls - a 10-day public art festival connecting the community with their oceans through powerful public art. They have also painted across Australia, connecting with clients interstate and painting at Wonderwalls Festival Wollongong and returning for the third time this year to First Coat Festival Toowoomba.
They are currently working on concepts for artworks as part of the Port Adelaide arm of Wonderwalls festival. In the mean time, you can see their latest addition to the Brisbane landscape on a bridge pillar in South Brisbane as part of The Pillars Project, and stay tuned to their feed as news unfolds about the first ever Australian edition of Sea Walls.
In this video, Frank & Mimi talk to NAVA about working together and what being artists means to them.
Cassandra Kowitz: interviewing & production editing
Rodney Kowitz: photography & video