Paul Yore
Paul Yore is a Melbourne based artist exploring queer culture, politics and homo-eroticism.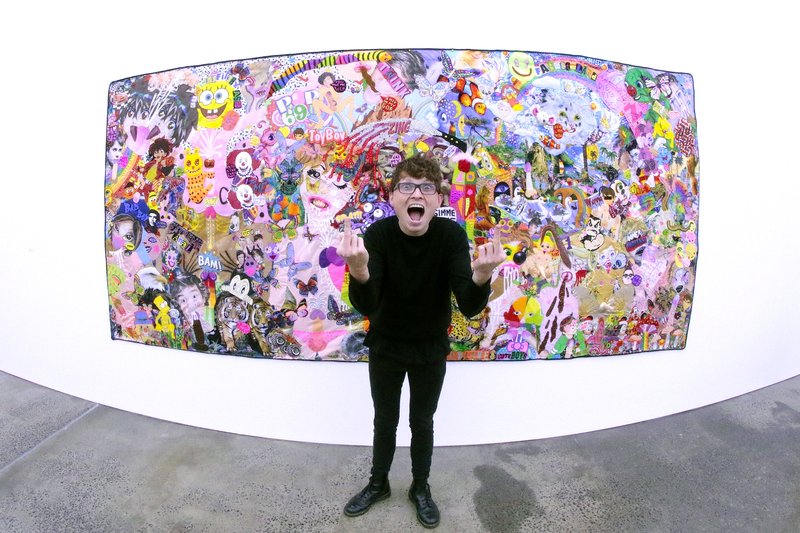 Paul Yore's multidisciplinary practice involves installations, painting, sculpture, sound, drawing and textiles. Yore draws on the traditions of classical Greek art, decorative Flemish and French tapestries, trashy pop-culture, gay porn, cartoons, psychedelia, and the frenzied excesses of rococo style.
Yore has undertaken residencies nationally and internationally at Artspace, Sydney (2014), Seoul Artspace Geumcheon, South Korea (2013-14) and Gertrude Contemporary Artspaces, Melbourne (2011-2013).
Selected group and solo exhibitions include: Mad Love, A3 Arnt Art Agency, Berlin (2017); Paul Yore NADA, Miami (2016); The Public Body .01, Artspace, Sydney (2016); Soft Core, Casula Powerhouse Arts Centre, Casula (2016); Primavera Museum of Contemporary Art, Sydney (2014); Melbourne Now, National Gallery of Victoria, Melbourne (2013); Here There and Everywhere, Seoul Art Space Geumcheon, (2013) and Poetry, Dream and the Cosmos: The Heide Collection, Heide Museum of Modern Art, Melbourne (2013).
Yore's work is represented in both private and public collections internationally and throughout Australia including Artbank, The Heide Museum of Modern Art, Si Shang Art Museum Beijing, the Art Gallery of Ballarat amongst others. Yore has been awarded several awards and grants including an Australia Council Arts Project Grant 2015, a Marten Bequest Travelling Scholarship 2015-2016 and the Wangarratta Acquisitive Textile Prize (2013). Yore is represented by Neon Parc and Hugo Michell.
In this video Paul Yore chats to NAVA about the importance of staying true to your vision as an artist.
Production: Dominic Kirkwood
Photo: Elizabeth Yore