Louise Zhang
Louise Zhang is a Chinese-Australian multidisciplinary artist with an interest in horror cinema.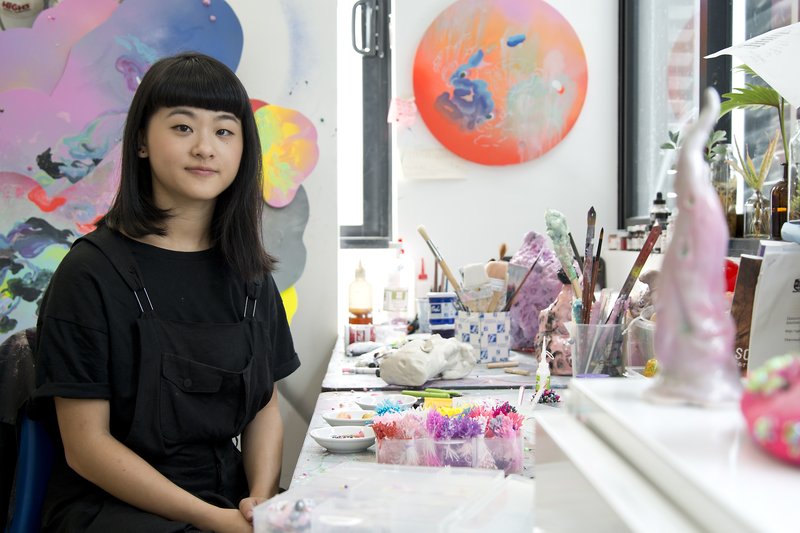 Louise Zhang's practice spans painting, sculpture and installation. Inspired the body horror genre of cinema, Zhang is interested in the dynamics between the attractive and repulsive. By exploring how themes of perceived innocence such as prettiness and cuteness can be contrasted with notions of the perverse and monstrous, Zhang explores the intersection of fear, anxiety and a sense of otherness in the construction of identity.
Solo exhibitions include Art Eats Its Young, Artereal Gallery, Sydney (2018); Soft Horror, Organhaus, Chongqing, China (2017); Monstrous Masses, Artereal Gallery, Sydney and New Year Rot!, Gaffa Gallery, Sydney (2016); Plomp, Artereal Gallery, Sydney (2016). Recent group exhibitions include Human Jerky: meatbags through the eyes of technology, Verge Gallery Sydney (2018); The Future Leaks Out, Liveworks Festival, Performance Space, Charmed Confusion curated by Guan Wei, Vermillion Gallery, Walsh Bay, Art Central Hong Kong, Artereal Gallery, HK and Closing the Distance, curated by Sophia Cai, Bundoora Homestead Art Centre, Bundoora (2017); X/II, Artereal Gallery, Sydney, Ereignis, curated by Lizzy Marshall, Cessnock Regional Gallery, Cessnock (2016); Work, rest, PLAY!, Hawkesbury Regional Gallery, Hawkesbury, From Old Ground, Bathurst Regional Art Gallery, Bathurst, New Physics, online, curated by Roslyn Helper, Sydney Contemporary Art Fair, Artereal Gallery, Carriageworks, Redfern, A robot attempts to eat a chicken nugget, Firstdraft Gallery, Woolloomooloo, Right Here Right Now, Penrith Regional Gallery, Penrith, Paint15, Artereal Gallery, Sydney, biggie smalls, Casula Powerhouse, Casula (2015).
Zhang has also collaborated on projects with institutions such as Museums & Galleries NSW (for their Public Galleries Summit Dinner 2018), FBi Radio (for their 15th birthday in 2018), the Museum of Contemporary Art Australia (who invited her to curate MCA Art Bar in January 2017) and 4a Centre for Contemporary Asian Art (who commissioned Zhang to create a work as part of their 2017 Chinese New Year program).
Zhang has been awarded residencies via the Australia Council for the Arts at the Institute of Provocation in Beijing, China, and the Two to Three Residency Program in association with Organhaus in Chongqing, China. Louise has been a finalist in numerous prestigious art prizes and was the winner of both the 2015 Fisher's Ghost Art Award – Sculpture category and the 2015 Yen Staedtler Female Art Award. Her work has been exhibited at Sydney Contemporary, Melbourne Art Fair and Art Central Hong Kong, and can be found in numerous private collections both nationally and internationally. In 2017 Louise was a finalist in the NSW Visual Arts Emerging Fellowship at Artspace in Sydney.
Zhang completed a Bachelor of Fine Arts with Honours (First Class) at the College of Fine Arts, University of New South Wales in 2013, before completing a Masters of Fine Arts by research at UNSW Art + Design in 2016.
In this video Zhang chats to NAVA about maintaining her practice, connecting with international audiences via online platforms and what art means to her.
Video: Dominic Kirkwood

Image: Louise Zhang in her studio by Tanya Dyhin.