Nici Cumpston
Nici Cumpston is an artist, curator, writer, educator and a builder of relationships.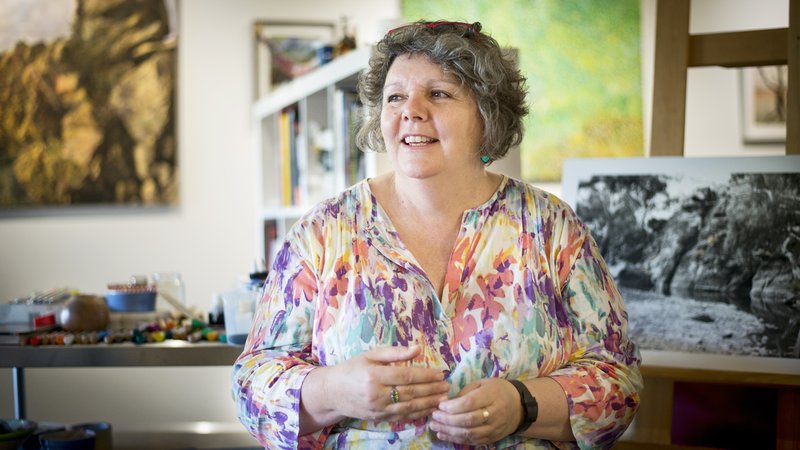 Nici Cumpston's gentle, quietly spoken demeanour belies a fierce and resolute passion for Aboriginal and Torres Strait Islander people and the development and recognition of their artistic practice. Born in Adelaide in 1963, Cumpston, who is of Afghan, English, Irish and Barkindji Aboriginal heritage, is a descendant of the Darling River people of north western, New South Wales. She is also culturally affiliated with the River Murray people and lived for some years at Berri in the South Australian Riverland.
Working for six years in the Forensic department of the South Australian Police Force developed Cumpston's eye for documenting crime scenes. Her haunting photographs, hand-coloured using watercolours and pencils, capture the ecological devastation wrought on the Murray-Darling Basin.
Cumpston's lens shows an apocalyptic landscape caused by the re-routing of the river, pollution and salination. Tree stumps, casualties of ring-barking, hover above sandy soil, their tangle of roots exposed; or dot the shoreline of Nookamka (Lake Bonney) like gravestones. The obliteration of the former Indigenous campsite at Nookamka is particularly poignant for Cumpston who has connections to the Murray Darling River System through her Barkindji heritage.
Having studied fine arts, specialising in Photography at the University of South Australia, Cumpston has worked as a photographic lecturer at Tauondi Aboriginal Community College, Port Adelaide, as well as at the University of South Australia. She wrote and delivered the inaugural course Indigenous Art, Culture and Design to the South Australian School of Art students before commencing as the first Indigenous Curator at the Art Gallery of South Australia in 2008. She is currently Artistic Director, TARNANTHI: Festival of Contemporary Aboriginal and Torres Strait Islander Art, as well as Curator of Aboriginal and Torres Strait Islander art at the Art Gallery of South Australia. Most recently she has co-curated John Mawurndjul: I am the old and the new alongside Clothilde Bullen, Natasha Bullock, and Lisa Slade with Keith Munro as Lead Cultural Advisor, currently showing at the MCA before heading to AGSA from 26 October 2018 – 28 January 2019 as part of TARNANTHI.
Cumpston has been exhibiting since 1998 and in that time has been invited to participate in many prestigious awards, commissions, group and solo exhibitions. Her work is held in the collections of the National Gallery of Australia Canberra, National Gallery of Victoria Melbourne, Parliament House Collection Canberra, Macquarie Group Collection Sydney, Artbank Melbourne, Flinders University Art Collection Adelaide, the Adelaide Festival Centre Foundation Adelaide and the Adelaide Club Adelaide among many others. She has been commissioned to create signature works of art for public buildings in Adelaide including the Commonwealth Law Courts and the South Australian Department of Health.
In 2014 she was artist-in-residence, as well as exhibiting works from the series, having-been-there at the Kluge-Ruhe Aboriginal Art Collection at the University of Virginia, in Charlottesville, Virginia USA. A solo exhibition with works from having-been-there and the Attesting series was held at Harvey Art Projects, Ketchum, Idaho. Cumpston's works are included in the international touring exhibition Wall Power: Contemporary Australian Photography curated by Michael Reid Gallery and shown in Cologne, Berlin, London and Paris in 2017 – 2018. Earlier this year, she travelled to Berlin to present her work in the prestigious exhibition Indigenous Australia: Masterworks from the National Gallery of Australia at me Collectors Room, Berlin and a solo exhibition Calling in at Michael Reid Gallery, Berlin.
In this video, Cumpston talks to NAVA about developing her interest in the arts and the challenge of balancing a professional artistic practice while working as a curator, writer and artistic director.
Production: Dominic Kirkwood
Photo: Jennie Groom