Kate Tucker
Kate Tucker considers the conundrum of making paintings in the digital age.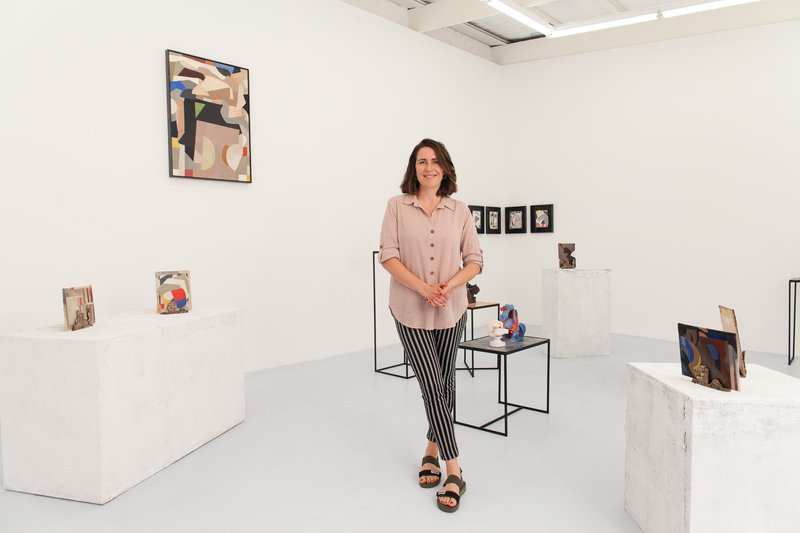 Working across painting, collage, digital photography, ceramic sculpture and objects, Kate Tucker explores the interaction and reversal of forms and media. Her paintings combine digitally printed fabrics as well as textural and painted elements, drawing on the process of building layers in Adobe Photoshop. Each layer presents an opportunity to change the form as well as the content of the work. The result is a series of irregularly shaped accumulations of numerous material based experiments, rather than the realisation of a preconceived idea.
Solo exhibitions include Manifold at Daine Singer (2018); Cuttings at Bus Projects (2017); Unstory at Galerie Pompom, Tablets at Daine Singer and Cutaway at Chapter House Lane (2016); Emblem at c3 Contemporary Artspace Melbourne and Unstable Elements at Helen Gory Galerie Melbourne and Self similar at Rubicon ARI (2014).
Tucker is showing as part of upcoming exhibition 'Model' at the Murray White Room, Melbourne, 1 February - 16 March 2019. Recent group exhibitions include Support Structure at LaTrobe Art Institute, Sonia Dutton at NADA New York and Daine Singer at NADA New York (2018); Materials, Collaborator, Virtual Reality Experience by Tom Crago, NGV Triennial, Liquid Daydreams at Mailbox Artspace, Melbourne, 17/17 painting/not painting, Galerie Pompom and Young Moderns at Penrith Regional Gallery (2017); Painting Revealed at Sutton Projects, The Hunch at Incinerator Arts Complex and Concrete Agenda at c3 Contemporary Artspace (2016).
Tucker was a finalist in the Geelong Contemporary Art Prize and Bayside Acquisitive Art Prize (2018); Arthur Guy Memorial Painting Prize (2017); Substation Contemporary Art Prize and Geelong Contemporary Art Prize (2016); Albany Art Prize and Bayside Acquisitive Art Prize (2015); The Churchie Emerging Art Prize (2014 and 2012) and The Archibald Prize (2012).
Her work is included in collections at Shepparton Art Museum, The Bowerman Collection, as well as private Collections in Australia and overseas. Tucker graduated from the Victorian College of the Arts in 2009.
In this video, Tucker talks to NAVA about becoming an artist and the impact of putting her work in different contexts.
Production: Dominic Kirkwood
Photo: Daniel Gardeazabal