Megan Cope
Megan Cope has a diverse practice that investigates issues relating to identity, the environment and mapping.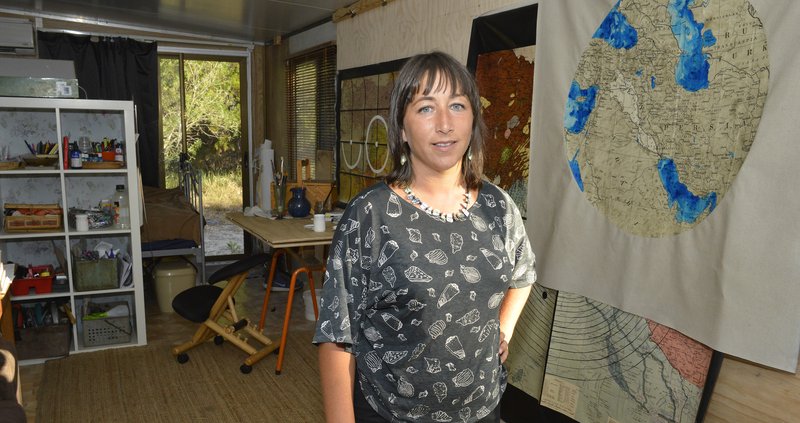 Megan Cope is a Quandamooka woman (North Stradbroke Island) in South East Queensland. Working across site-specific sculptural installation, video and painting, Cope's work often resists prescribed notions of Aboriginality and become psychogeographies across various material outcomes that challenge the grand narrative of 'Australia' as well as our sense of time and ownership in a settler colonial state.

Cope will be showing her midden works RE FORMATION (series) in upcoming exhibitions CONCRETE: Art Design Architecture at the Jam Factory in Adelaide 1 March - 28 April 2019 and Haunt at IMA 13 April – 8 June 2019. She is also currently completing Weelam Ngalut (Our Place) a new public artwork at Monash University Museum of Art, Clayton Campus, Melbourne.
Last year, Cope undertook a residency in Paris with the Australian Print Workshop for an upcoming project titled French Connections; participated in the Critical Writing Ensemble, Sovereign Words, at the Dhaka Art Summit; and was a finalist for the Redlands Konica Minolta Art Prize. Recent exhibitions include Octopus 2018: Mother Tongue curated by Kimberley Moulton at Gertrude Contemporary, Ex-Embassy as part of the Berlin Project Space Festival, Great Movements of Feeling at Gertrude Contemporary, curated by Zara Sigglekow, and Unfinished Business: Perspectives on Art + Feminism at ACCA (2018); The National at the Art Gallery of NSW, TARNANTHI Festival of Contemporary Aboriginal & Torres Strait Islander Art Adelaide, Defying Empire: 3rd National Indigenous Art Triennial at the National Gallery of Australia, and Another Day in Paradise curated by Ben Quilty and Michael Dagostino at Campbelltown Arts Centre (2017); Sovereignty at ACCA, Dead Centre curated by Anna Louise Richardson and Abdul-Rahman Abdullah for Edith Cowan University's Spectrum Project Space, Frontier Imaginaries at QUT Art Museum, Women, Art and Politics at the Footscray Community Arts Centre and exhibited alongside Tracey Moffatt at Artspace Sydney in Bereft, a solo exhibition of sculptural and video work (2016).
Her work is held in collections at the National Gallery of Australia, Art Gallery of Western Australia, Melbourne Museum, Queensland University of Technology Art Museum, NEWflames Anne Gamble Myer Collection, Musées de la Civilisation Canada and Artbank Australia.
Cope is a member of Aboriginal art collective proppaNOW and is represented by This Is No Fantasy.
In this video, Cope chats to NAVA about the impact that teaching has had on her practice, her focus on creating images and having conversations that put Aboriginal people at the centre, and the important role that art plays as one of the only places that Aboriginal people have autonomy in this country.
Production: Dominic Kirkwood
Photo: Jo-Anne Driessens