Philip Denham
Philip Denham is a Girramay Traditional Owner of the North Murray Area who creates traditional tools.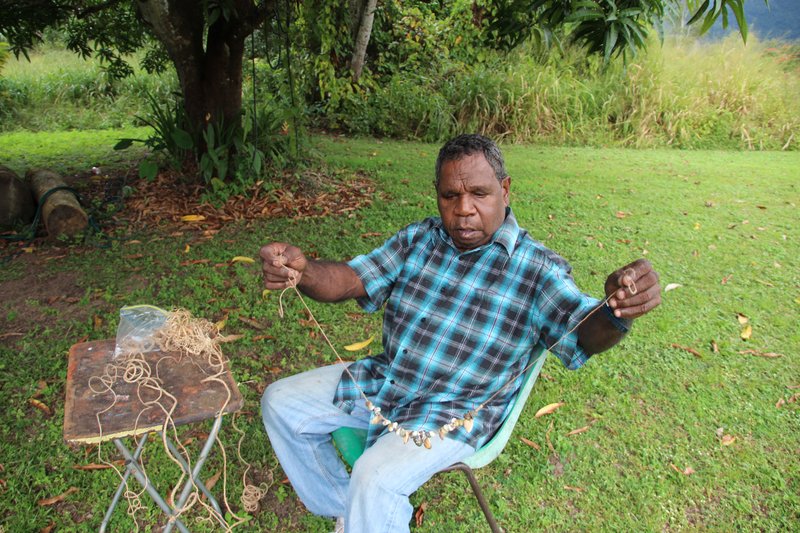 Philip Denham is an artist working at the Girringun Aboriginal Art Centre, based in Cardwell, Far North Queensland. He is a language speaker and knowledge holder and works with other Traditional Owners to share what he knows. He is a creator of traditional tools and has an extensive knowledge of the environment and its resources. Philip was taught by his parents who are highly respected Elders of the area.
Together with the artists of the Girringun Aboriginal Art Centre, Philip collaboratively worked on a large-scale installation of earth pigments on paper which won the Cairns Airport Innovation Award at the recent Cairns Indigenous Art Fair (CIAF). This work was created as a response to CIAF's 10th anniversary exhibition theme My Yarn Now. The installation was designed around the concept of historical cave sites found throughout the region and how they traditionally told stories.
Philip is currently showing as part of Clay Stories at Mornington Peninsula Gallery in Victoria until 13 October 2019. Clay Stories is a significant survey exhibition of contemporary artworks in ceramics created by established and emerging Indigenous artists in remote parts of regional Australia. The exhibition presents pieces that are both sculptural and vessel-based, with each body of work a strong medium for storytelling, representative of the artists' connection to Country. This touring exhibition is an independent curatorial project developed by Sabbia Gallery, its exhibition curator Anna Grigson, five Indigenous art centres and the Remote Communities Ceramic Network.
In 2018, alongside his son Nephi Denham, Philip was one of nine Girringun artists to complete an extraordinary outdoor installation of five sculptural Bagu, as part of a commission from the Cairns Performing Art Centre and was shown among a major installation of over 50 Bagu artworks installed at Sydney Contemporary. In 2017, Philip received the Lucille Osborne Emerging Artist Memorial Fellowship via the Indigenous Art Centre Alliance (IACA).
Philip's work is held in many private collections.
In this video, Philip talks to NAVA about his recent journey with art, working with the Girringun Aboriginal Art Centre and demonstrates how he makes string.
Photos by Debra Murray
Video production by Dominic Kirkwood