Sai-Wai Foo
Sai-Wai Foo is a Melbourne based artist who manipulates and folds cut paper to produce volume and structure.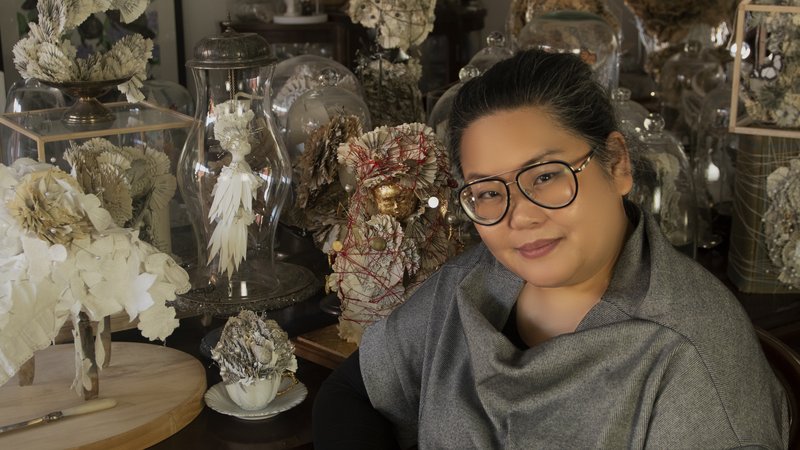 Sai-Wai Foo's craft based practice is informed by her fashion design background and is primarily focused on the reworking of objects that are discarded and redundant; vintage books, manuscripts, silverware and objects that show the marks of a former existence - items that have out-lived their owners or usefulness in a digital age.
Her manipulation of paper beyond the two-dimensional is combined with pieces of eclectic ephemera in her re-appropriation and repurposing of the unwanted. Alongside her art practice, Foo runs a commercial illustration practice under the brand name Pleatybunny by Miss FOO @pleatybunny.
Foo is currently creating new work for upcoming exhibitions Tensions 20/20 as part of the Tamworth Textile Triennial, Tamworth Regional Gallery, NSW and a collaborative work with Vipoo Srivilasa for CERAMIX The Australian Ceramics Association Exhibition, Manly Art Gallery & Museum, Sydney NSW. In September 2019, Foo will be showing with Wagner Contemporary at Sydney Contemporary.
Recent exhibitions include Lucky Charm in collaboration with Vipoo Srivilasa at Bayside Gallery, Yarra Valley Arts and Yering Station Sculpture Exhibition, Craft Cubed's Window Walk at Kathleen Syme Library and Community Centre, unknown untitled a contemporary response to the historic collection at the Town Hall gallery (2018); Small Treasures at Port Jackson Press Print Gallery, Regale - crafting the table at Craft Victoria, A Life Between the Pages at the State Library of Victoria, The Stars Pull at My Hair Port Jackson Press, Collingwood, and Out to Sea, Little Window of Opportunity Port Jackson Press, Collingwood (2017).
In 2018, Foo was an artist in residence at the Australian Tapestry Workshop in Melbourne and was a finalist in the Ravenswood Australian Women's Art Prize, Toorak Sculpture Prize, Libris Awards and The Tom Bass Prize for Figurative Sculpture.
Her work is held in the collections of the ArtSpace Mackay, Queensland, and in several private collections.
Foo undertook Diploma of Arts Visual Arts – RMIT School of Art in 2010 studying Painting, Drawing techniques and media, Sculpture, Contemporary Art studies, Art history and theory, Printmaking at RMIT, following a Bachelor of Arts, Honours – Fashion Design RMIT in 1997.
In this video, Foo chats to NAVA about her getting started with her practice, the calming nature of making, and the challenges of being self-motivated.
Video production: Dominic Kirkwood
Photo: Anna Brownfield