Ionat Zurr
Dr Ionat Zurr is an artist, curator and researcher pioneering in the field of Biological Arts.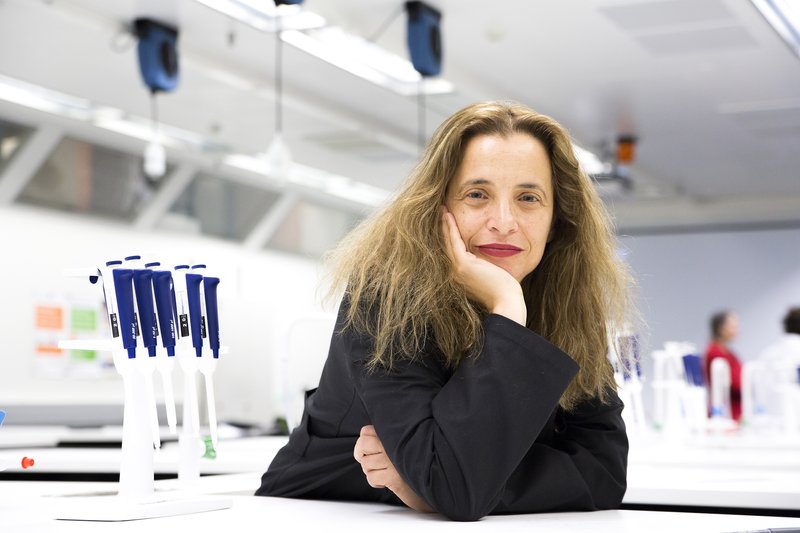 Image description: Photo of smiling woman with long blonde-brown hair, wearing red lipstick and a black suit, leaning over a white desk in a laboratory with cool white lighting.
In the growing field of Biological Arts (bioart), Zurr's interdisciplinary research and artistic practice inquires into the aesthetic, ethical, political and cultural dimensions of using life as a technology. Her recent work includes a tiny jacket grown from mouse embryonic stem cells as an ironic sustainable solution; a tissue-engineered frog steak; and a six-tonne compost pile used as a heating mechanism for growing cells in a custom-made incubator.
Since 1996 Zurr has been working on the Tissue Culture and Art (TC&A) Project in collaboration with Oron Catts. The TC&A Project examines the impact of tissue engineering, synthetic biology and life manipulation in general on society by developing artworks and performances, writing essays and curating exhibitions. Zurr and Catts' collaborative projects have traversed the topics of lab-grown food, tissue cultured clothing, semi-living sculptures and the shifting relationship between humans and more-than-humans.
At the University of Western Australia (UWA), Zurr is Chair of the Fine Arts Discipline at the School of Design and an academic coordinator of SymbioticA, an artistic laboratory at the School of Human Sciences. Considered the first art-science laboratory of its kind, SymbioticA encourages hands-on critical interventions into scientific knowledge and life manipulation.
Zurr's work has appeared in national and international museums including the Art Gallery of Western Australia, Pompidou Centre in Paris, Cube Museum Netherlands, Science Gallery London, MoMA NY, Mori Art Museum Japan, Ars Electronica Austria, and National Art Museum of China.
She has also been a visiting scholar at The Centre of Arts and Art History at Stanford University and a Research Fellow at The Tissue Engineering & Organ Fabrication Laboratory in Harvard Medical School. During her time as a visiting professor at the School of Art, Design and Architecture, Aalto University, Zurr set up an art lab called Biofilia – Base for Biological Art and Design.
In this video, Ionat Zurr talks to NAVA about the ubiquitous nature of art, sustaining her practice through academia, and reflects on her work pioneering in the field of bioart.
Video production by Dominic Kirkwood 2020
Image: Ionat Zurr. Photo by Senni Luttinen/Uniarts Helsinki.