Nadia Hernández
Multimedia artist, Nadia Hernández, portrays current political tensions, past resistance movements, acts of defiance and celebration.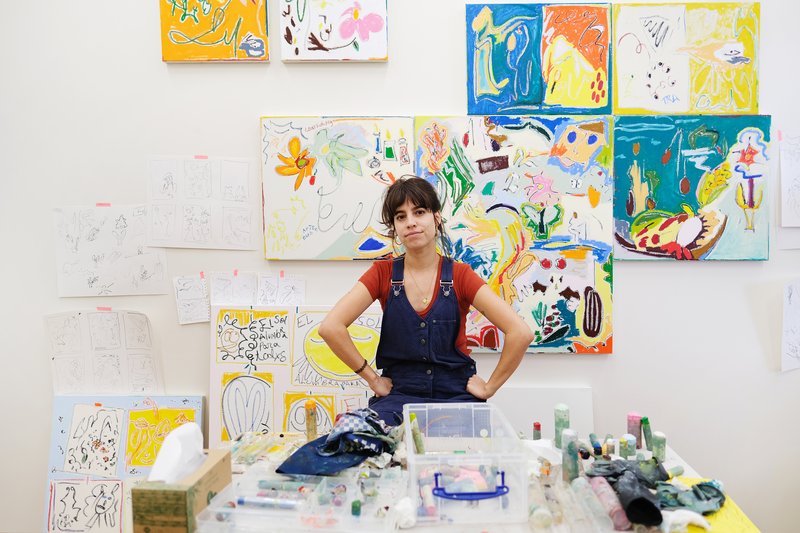 Nadia Hernández was born in Mérida, Venezuela, and is currently based between Sydney and Melbourne, Australia. Her visual arts practice is informed specifically by the current political climate of her home country and her diasporic experience as a Venezuelan woman living abroad. Articulated through textiles, paper constructions, painting, music, installations, sculptures and murals, her identity allows her, or perhaps encourages her, to create work that negotiates complex political narratives through the personal, the institutional and their intersections.
Recent solo exhibitions include Sangrante Imataca at Blackartprojects, Melbourne 2019; Este Es Mi Ejército (This Is My Army) at Firstdraft, Sydney 2018; Cosas Antes y Despues (Things Before & After) at Special Group Studios. Group exhibitions include There is Fiction in The Spaces Between, John Fries Award Finalist Exhibition curated by Miriam Kelly at UNSW Galleries, Sydney 2019; Speak Softly, Tread Heavily curated by Talia Smith at Peacock Gallery Auburn 2019; The Wangaratta Contemporary Textile Award Finalist Exhibition, Wangaratta Art Gallery 2019; The Churchie National Emerging Art Prize Finalist Exhibition at the Institute of Modern Art, Brisbane 2019.
Hernández was named Art Collector magazine's #1 artist to watch for 2020 and is currently the Shepparton Art Museum's EduLAB artist for 2020. Last year, she was awarded the Churchie National Emerging Art Prize, was a finalist for the John Fries Award and was a recipient of the Bundanon Trust Artist-in-Residence program.
In this video, Hernández talks to NAVA about turning points in her career, where she draws her inspiration and how, for her, personal and professional growth emerges from finding balance.
Video production by Dominic Kirkwood.
Photo by Jacob Ring, 2020.