Paula do Prado
Paula do Prado uses textiles as a language to express complex cultural intertwining.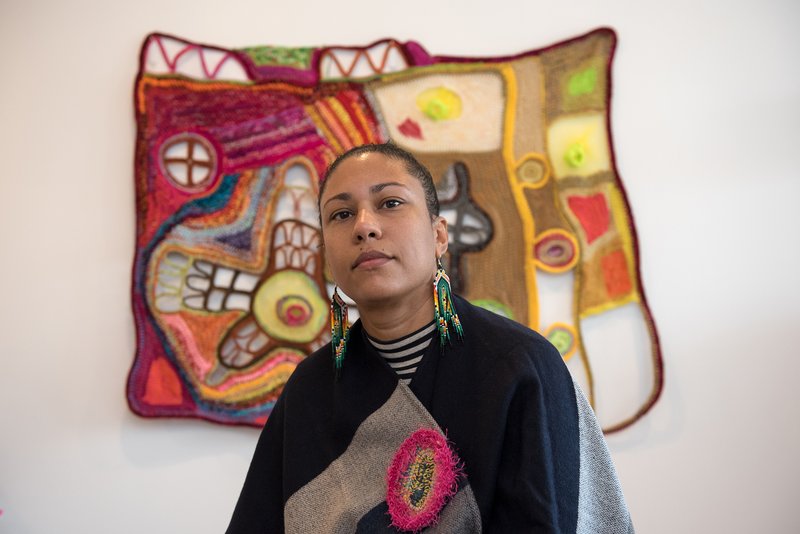 Paula do Prado was born on Charrúa land (Montevideo), Uruguay and migrated to Australia in 1986. Her work is situated in the intersections of her Bantu, Spanish, Portuguese and Indigenous South American ancestry coupled with her experience of living as a migrant on stolen land. do Prado utilises cloth, paper, crochet, coiling and beading to process and unpack experiences as a woman of colour, ancestral memory and making as an active form of resistance. Her alignment with her black heritage is intentional. Through her practice she seeks to connect with her ancestral heritage and develop decolonial strategies for both art and life.
In March 2020, do Prado opened her second joint exhibition with her young son, Tomas Marinangeli. Kalunga: Under the Sea is currently online at Firstdraft and explores ancestral connections, the tension between fear and curiosity and the Kalunga line and is a follow up from Playdate, their first joint exhibition at Airspace Projects, Marrickville, 2018.
Other recent exhibitions include 2020: The Space Within at Sabbia Gallery as part of Art Month Sydney; 2019: Iyanla, solo exhibition at Shoalhaven Regional Gallery, Nowra; Place Makers at Australian Tapestry Workshop; Knitted, Woven, Sewn, Maunsell Wickes at Barry Stern Galleries; Breaking Ground, Seed Gallery Aotearoa; and Rijwick Textile Biennial, The Netherlands; 2018: Interwoven with Kylie Walsh, New Moon Yanada Lewisham; and Nothing is as valuable as you, Peacock Gallery Auburn.
Paula do Prado was a finalist in the 2019 Fishers Ghost Art Award and Blacktown Arts Prize and in 2018, she received the Skein Sisters Yarn Innovation Award as part of SSCC Textiles Awards and was a finalist in the Seed Stitch Contemporary Textile Art Award at Australian Design Centre, and the Little Things Art Prize.
In 2018 and 2019 she was part of the Woollahra Artist in Residence Studio Program and will be an Artist in Residence at the Australian Tapestry Workshop later this year. Her work is held in the collections of the Ford Land Company, State Library of Victoria, World Textile Art USA and a number of private collections Australia wide and overseas.
do Prado holds a Bachelor of Fine Arts (Textiles) with First Class Honours and a Master of Fine Arts from the University of New South Wales Art & Design.
In this video do Prado talks to NAVA about connecting with an oil pastel work her father made that was hung on the wall at her Grandma's house, making the choice to be an independent artist full-time, and noting her occupation as 'artist' on her son's birth certificate.
Video production by Dominic Kirkwood
Photo by Jamie James