Richard Bell
Using a provocative, complex and humorous approach, Richard Bell's work addresses contemporary debates around identity, place and politics.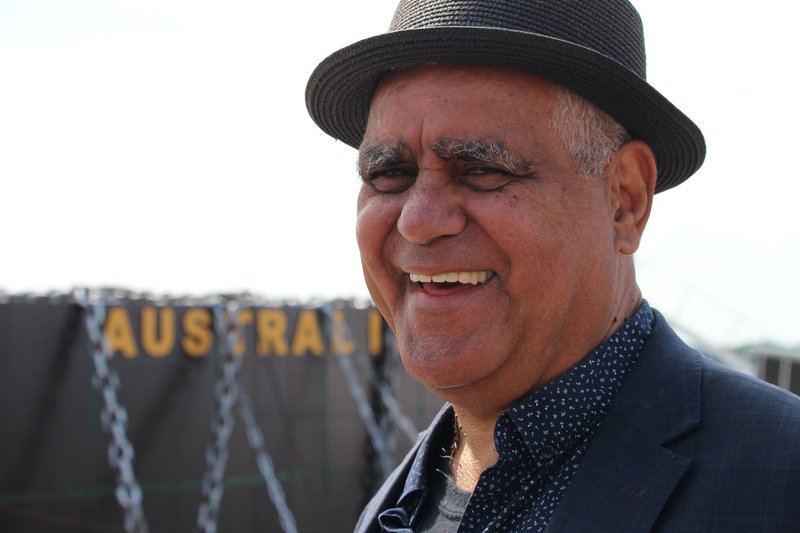 Image description: Photo of smiling man with short grey hair, wearing a black fedora hat, black undershirt, navy collared shirt and a black blazer, in front of his work. Black box-like structure with chains draped over it and yellow, block letters that read "AUSTRALIA".
Born in Charleville, Queensland and based in Brisbane, Richard Bell is a Kamilaroi, Kooma, Jiman and Gurang Gurang activist and artist who works across painting, installation performance, text and video. One of Australia's most significant artists, Bell's work challenges the colonial mindset and preconceived notions of Indigenous art production.
Bell is showing in Welcome to Colour Television at QAGOMA which opens on 7 August 2020, and in September will be presenting a suite of major new paintings at Milani Gallery, Brisbane. Next year, he is part of OCCURRENT AFFAIR: proppaNOW 13 February - 19 June 2021 at the University of Queensland Art Museum, curated by Amanda Hayman and Troy Casey of Blaklash Projects.
In 2019, Bell presented No tin shack at the Venice Biennale. The work was a sculptural replica of Australia's official Biennale pavilion wrapped in chains and driven around the canal city on a motorised barge. While initially staged as an intervention, it was exhibited at the Giardini Della Marinaressa as part of PERSONAL STRUCTURES - Identities, hosted by the European Cultural Centre. The work aimed to provoke conversations in Embassy2019, an installation he and his team also set up in Venice, in the gardens near the Giardini.
Other recent exhibitions include Violent Salt (currently touring), Australia. Antipodean Stories, Padiglione D'Arte Contemporanea Milano, Milan (2020); All That Shimmers: Collection of the Gold Award, Rockhampton Art Gallery, TRACE Biennial and Auction, West End, OK Democracy, We Need to Talk, Campbelltown Arts Centre, PERSONAL STRUCTURES - Identities, Giardini Della Marinaressa, Venice, National Anthem, Buxton Contemporary, Melbourne (2019); and solo exhibitions Old Aboriginal Sayings, Milani Gallery, Brisbane, and Dredging up the Past, Gertrude Contemporary, Melbourne (2018).
In 2019, Bell's film Broken English was shown at the Seoul Mediacity Biennale's pre-biennale screening program at Seoul Cinema, South Korea.
Bell's work Embassy (2013-ongoing) was shortlisted for the 2019 Visible Award. He was announced as the winner of Rockhampton Art Gallery's The Gold Award for 2018 and selected for the 2018 Redlands Konica Minolta Art Prize.
He is a founding member of proppaNOW and is represented by Milani Gallery, Brisbane, Australia.
In this video, Richard Bell repositions the artist at the top of the political power hierarchy, and reflects on the impact of his own work over several decades.
Video production by Dominic Kirkwood 2020
Image: Richard Bell with his work "… no tin shack …", 2019. Photo by Caroline Gardam.