Vernon Ah Kee
Internationally renowned artist Vernon Ah Kee critiques Australian popular culture, specifically the Black/White dichotomy.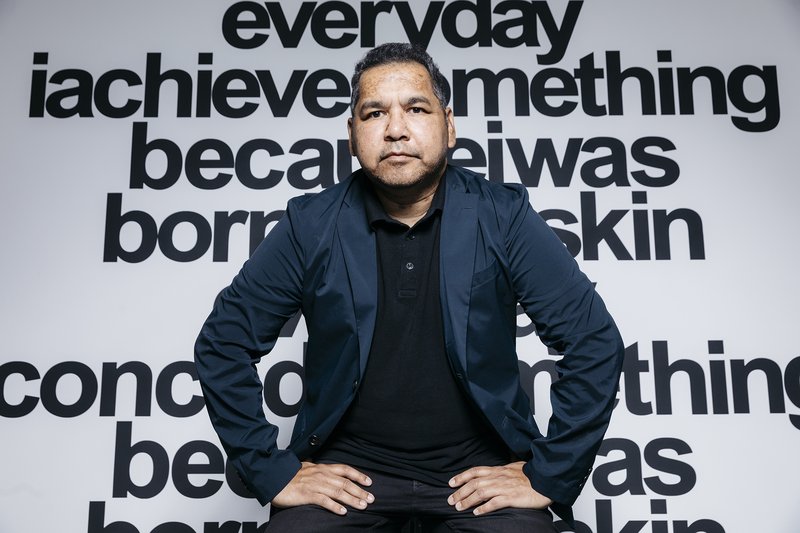 Born in Queensland and based in Brisbane, Dr Vernon Ah Kee is a descendant of the Kuku Yalandji, Waanji, Yidinji, Koko Berrin and Gugu Yimithirr peoples.
Working across video, 3D installation, photography, digital design, painting, printmaking, and drawing, Ah Kee's conceptual pieces form a critique of Australian culture from the perspective of the Aboriginal experience of contemporary life. His works respond to the history of the romantic and exoticised portraiture of 'primitives', and effectively reposition the Aboriginal in Australia from an 'othered thing' anchored in museum and scientific records, to a contemporary people inhabiting real and current spaces and time.
Co-presented by Sydney Festival, Ah Kee is currently showing The Island at Campbelltown Arts Centre until 23 February 2020. Spanning almost two decades, The Island profiles Ah Kee's brilliantly diverse practice in full. Highlighting his video practice, the exhibition is complemented by his acclaimed drawing, vinyl and installation works. The exhibition also includes newly commissioned works responding to the romantic and exotic notions of 'the island', and the idea of Australia shifting issues offshore.
Ah Kee is also currently showing in a number of group shows including Violent Salt at Noosa Regional Gallery until 26 January; Australia. Antipodean Stories at Padiglione D'Arte Contemporanea Milano until 9 February; Between Two Worlds at Newcastle Art Gallery until 16 February; Body Language at the National Gallery of Australia, Canberra until mid-February; and I Object at the Queensland Art Gallery of Modern Art, Brisbane until 21 June 2020.
Later this year, he is showing as part of OCCURRENT AFFAIR: proppaNOW 1 August – 28 November 2020 at the University of Queensland Art Museum, curated by Amanda Hayman and Troy Casey of Blaklash Projects.
Ah Kee holds a Bachelor of Visual Arts in contemporary Australian Indigenous art with honours in Fine Art; he completed a Doctorate of Visual Arts – Fine Art from the Queensland College of Art, Griffith University in 2006. He is a founding member of proppaNOW and is represented by Milani Gallery, Brisbane, Australia.
In this video, Ah Kee talks to NAVA about his first experience of art, the importance of challenging yourself as an artist, testing new ideas and embracing failure.
Production by Dominic Kirkwood.
Photo by Joe Ruckli, 2018. Courtesy of the artist and Milani Gallery, Brisbane.