Allan Giddy
Allan Giddy is a New Zealand-born sculptor and installation artist based in Sydney.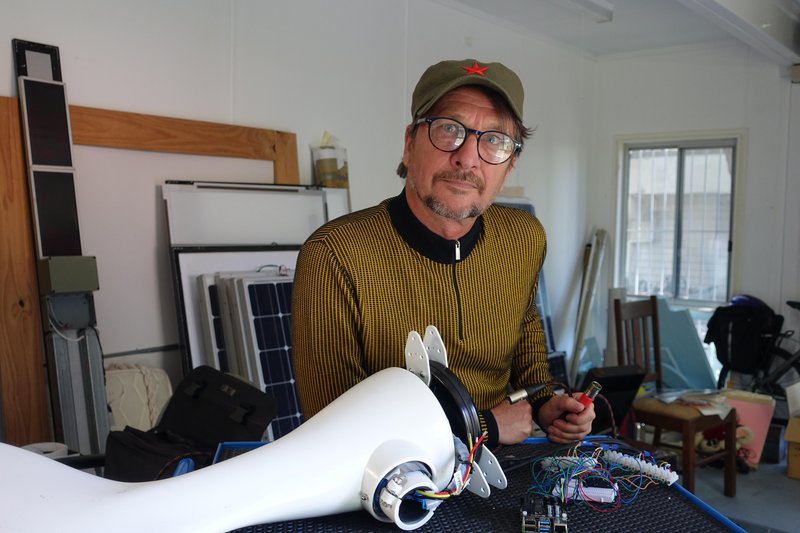 Allan Giddy is a New Zealand-born sculptor and installation artist based in Sydney. Involving significant interdisciplinary collaboration, Giddy's work and research sits at the intersection of sustainable energy systems, electronic interconnectivity and interactivity, and the physical art object.
Since 1992, Giddy has been hailed for his innovative engagement with alternative energy systems and light. His practice has expanded over time into the public sphere, involving 'active sculpture' created with the intention of reinvigorating public spaces, such as Earth v Sky, a permanent installation on Sydney's harbour foreshore.
Giddy's work has appeared in the International Symposia on Electronic Art, at the Tate Modern, and in a number of contexts spanning Canada, Finland, Greece, Vietnam and Bulgaria. Most recently, he has fulfilled public art commissions in Australia, China, Ireland, Germany, the UK, and New Zealand.
In 2021, Giddy will be continuing work on The Flow Project, a culture-responsive audio installation due to be installed in Perth as soon as borders reopen, and directing the next iteration of NOX night art, Sydney, opening 14 May. Giddy is in the process of building a musical turbine to be exhibited at NOX night art subject to its completion. This self powered installation will play in response to wind direction and intensity.
In March, Giddy will be performing 'drone music' in a band with fellow visual artist Erin Schloffel called The Bay of Malaise at The Good Space Mixed Business, Sydney, as well as creating installations around their keyboards.
In this video, Allan talks to NAVA about what makes true collaboration, failure as a starting point for art, and the role art plays in bringing joy to our lives.
Video production by Dominic Kirkwood 2020
Image: Allan Giddy in his studio. Photo by Erin Schloffel, 2021.