Dr. Bronwyn Bancroft
Bundjalung woman Dr. Bronwyn Bancroft is an artist, activist, mentor, and writer.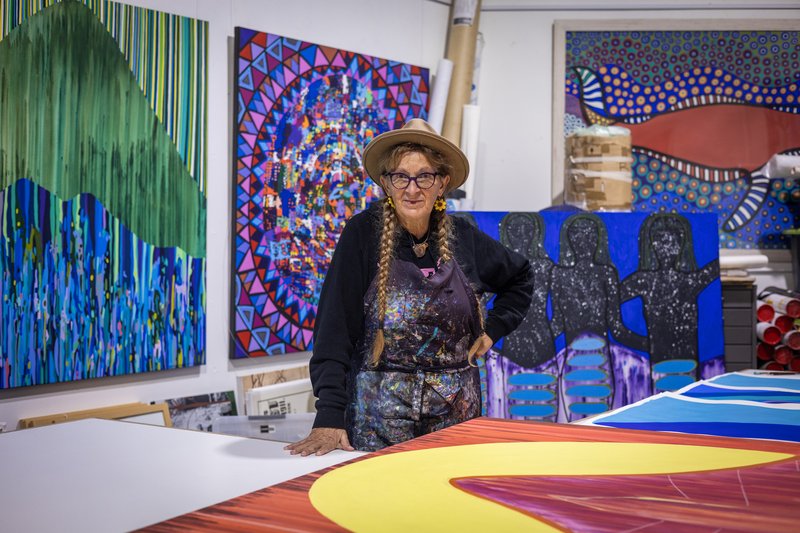 Born in Tenterfield, New South Wales, and trained in Canberra and Sydney, Bronwyn works with a range of mediums to create visual narratives about caring for Country. Her practice extends from public artworks to paintings and award-winning children's book illustrations. Bronwyn has been a trailblazer in the field of Australian literature and with 45 books published, has contributed significantly to representation for Aboriginal storytellers.
She has a long history of involvement in community activism, and is one of ten founding members of Boomalli Aboriginal Artists Co-operative (established in 1987). She has been the Co-operative's senior strategist since 2009. Bronwyn is extremely passionate about artists' rights and education, especially regarding copyright and intellectual property. She is committed to sharing the expertise and knowledge she has gained over her career to mentor emerging artists and the next generation.
Bronwyn is currently a Director on the Boards of the Australian Indigenous Mentoring Experience (AIME), Australian Society of Authors, The Returning (Chairwoman), and the Commonwealth Bank Indigenous Advisory Council. Previously, she has represented artists on the Board of Viscopy and the Copyright Agency and was Chair for the implementation of the Resale Royalty Scheme. She was also Chair and Board member for the National Indigenous Arts Advocacy Association, Chair of the Visual Arts Committee, NSW Ministry of the Arts, and Council Member of the National Gallery of Australia.
Bronwyn holds a Fine Arts degree from Canberra School of Art, a Master of Studio Practice, and a Master of Visual Arts from the University of Sydney, and was awarded her Doctor of Philosophy from the University of Sydney in 2018. She was awarded the University of Sydney's Alison Bush Graduate Medal for her contribution to the Indigenous Community and was the inaugural recipient of the 2021 NSW Aboriginal Creative Fellowship at the State Library of NSW. She has exhibited nationally and internationally for over three decades, and her work is held in major museum collections including the National Gallery of Australia, the Art Gallery of New South Wales, and the Australian Museum.
In this video, Bronwyn chats to NAVA about copyright infringement and the protection of artist rights, the importance of making art about Country, and the resilience of her family.
Video production by Atypical 2023.
Photo by Josh Howlett
ID: Photo of Bronwyn Bancroft in her studio. She is wearing dark purple framed glasses, a light brown hat, sunflower earrings and a blue apron covered in paint. Her hair is in two long plaits, one hand is on a table, the other is on her hip and she is looking at the camera. In the background are 4 large artworks painted with bright blue, green, some pink and a rusty orange/red. In the foreground, more large paintings lay on the table.