Christopher Bassi
Christopher Bassi is a Meriam and Yupungathi man based in Meanjin/Brisbane.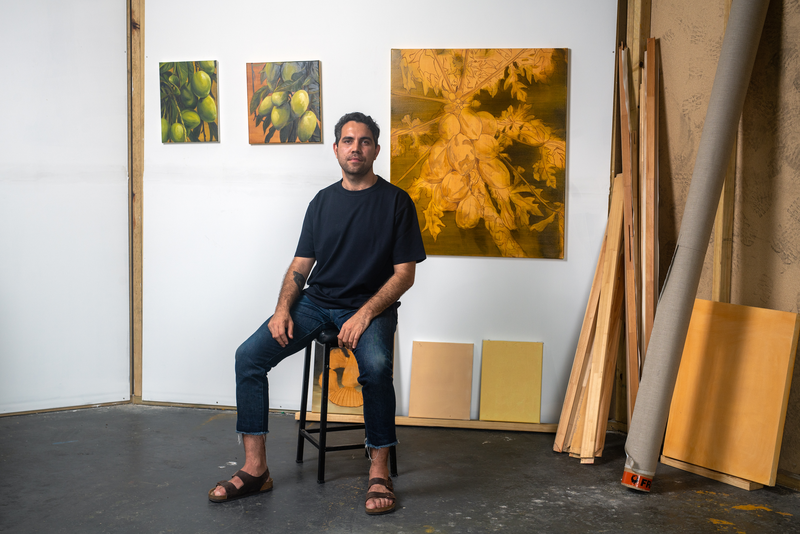 Christopher Bassi works with archetypal models of representational painting as a means to address issues surrounding cultural identity, alternative genealogies, and colonial legacies in Australia and the South Pacific. Through critical re-imagining, his paintings become a space for a type of speculative storytelling that considers questions of history and place and the entangling of personal and collective identities.
Bassi is showing with Yavuz Gallery at Sydney Contemporary, Carriageworks 7 – 10 September 2023 and as part of Primavera 2023: Young Australian Artists, curated by Talia Smith at the Museum of Contemporary Art, 8 September 2023 – 4 February 2024.
Earlier this year, Bassi was in group exhibitions The National 4 at Campbelltown Art Centre; Portrait 23 at The National Portrait Gallery; and last year I will tell you my story at University of Technology Sydney Gallery, and After Fairweather at Caboolture Regional Gallery.
His work is held in a number of institutional collections in Australia including: The Museum of Brisbane, Queensland Museum, Moreton Bay Regional Galleries, and Griffith University Art Museum.
In 2017 Bassi graduated from the Queensland College of Art with a Bachelor of Fine Art. He is represented by Yavuz Gallery Sydney/Singapore.
In this interview, Bassi chats to NAVA about the importance of making art through uncertainty, considering the context and environment of your work, and supporting the people around you.
Video production by Atypical 2023.
Photo by Rhett Hammerton 2023.
ID: Portrait of Christopher Bassi in his studio. He is has short brown hair and a stubble beard. He wearing a black tshirt, dark denim jeans, brown slide sandals and is sitting on a bar stool. Left to right on the wall in the background are two small detail paintings of mango trees in green and orange tones and a larger one in orange tones. Lengths of timber and a large roll of canvas are leaning against the wall to the right.