Sasha Hill
Sasha Hill is a Yamatji/Noongar artist whose practice includes painting, jewellery and weaving.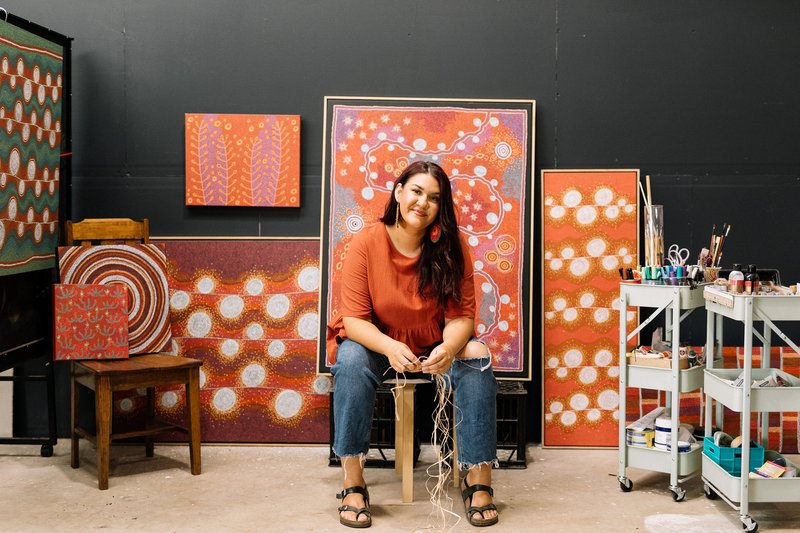 Sasha Hill is a Yamatji/Noongar artist living and working on Kaurna Yerta. Sasha's experiences of collecting, gathering, and learning on Country have heavily influenced her arts practice and portrayal of visual stories. Her work is centred around identity and her relationship with Aboriginal histories and culture. Painting from a young age, her style is characterised by dot work and symbolism, as well as her use of bright colours alongside a range of ochre shades. Sasha primarily works with acrylic on canvas, but also enjoys working with jewellery and weaving.
Sasha is an art therapist, social worker, maker, and runs her own art and consultancy business while also raising her two children. She is the founder of Sasha Hill Aboriginal Fine Arts, where she creates artworks and jewellery, and runs social groups for her local Aboriginal community. Drawing on these multidisciplinary roles through her painting, Sasha incorporates Aboriginal ways of knowing, being and doing through her arts practice, storytelling, and lifestyle.
She has travelled and exhibited extensively across Australia, and often returns to her ancestral home in Western Australia, where she has learned songlines and knowledges from women in community.
In this video, Sasha chats to NAVA about valuing her culture and identity in her work, and the joys of painting stories passed down through generations.
Video production by Playground / ArtVid 2022.
Above image: Sasha Hill in her studio. Photo by Thomas McCammon.
ID: Photo of Sasha Hill sitting on a chair and leaning forward, she is holding long pieces of straw in her hands and is surrounded by large canvases painted with earth tones of orange, red, purple, maroon and green. She has long brown hair which is falling to one side, a rust coloured top and denim jeans.