Easing Restrictions and Increasing Responsibility
Free webinar 2-3pm AEST Thursday 21 October 2021.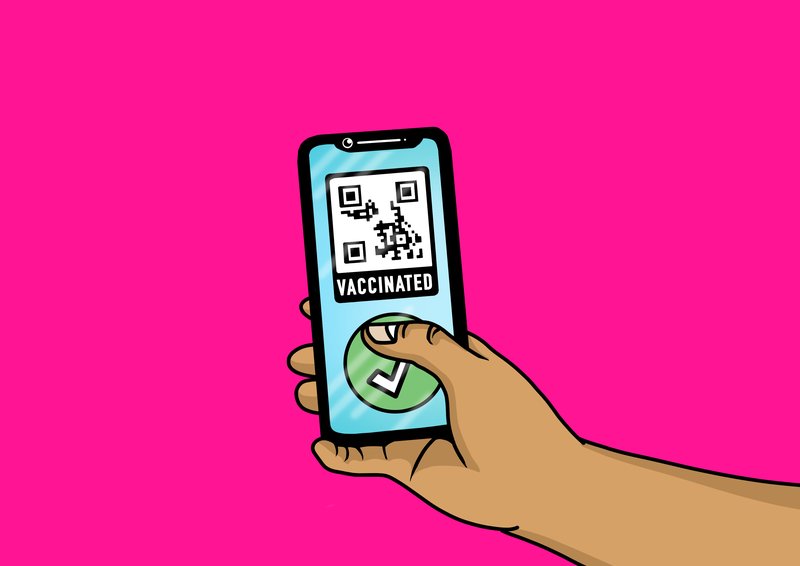 An illustration of a hand holding a mobile phone on a pink background. The thumb is touching the screen which has a white tick on a green circle under a QR Code and the word "vaccinated". Illustration by Emily Johnson.
What do art galleries and museums need to consider in planning for vaccine mandates, increasing audience vetting and well-being among staff and volunteers as all the states approach vaccine targets?
The National Association for the Visual Arts (NAVA) in partnership with the Art Gallery of NSW and Create NSW are presenting a webinar to support individuals and organisations in preparing for opening up.
Whether you've been in lockdown and are opening up for the first time in months or you live in a state that's had minimal impacts from lockdowns and are contemplating what future border restrictions easing might mean for your organisation, this workshop is for you.
The strength of working together as a sector is sharing and learning to enable the visual arts sector to deliver cohesive, unified and trusted experiences for our audiences.
Emily Crocker, Head of Government and Corporate Planning at the Art Gallery of NSW will present AGNSW's experience and share tips on:
Communication to audiences on vaccination and mask mandates
Dealing with customers/visitors in the space – de-escalation techniques
Risk mitigation and preparing for escalated situations
Planning for the future
This is a must attend event for galleries thinking about safe experiences for audiences, volunteers and staff.
This webinar will be closed captioned and recorded for future reference. Auslan interpretation will be provided.
Thursday 21 October 2021, 2-3pm AEST (via Zoom)
NAVA acknowledges and pays respects to the rightful custodians of the many First Nations Lands upon which this online event will be streamed and received. We recognise all Custodians of Country throughout all lands, waters and territories. We pay our respects to the Elders past, present and emerging. Sovereignty was never ceded.