Cultural Data Imaginaries: GLAM, Research and Policy
10am - 3pm AEDT Wednesday 19 October 2022 at Powerhouse Theatrette, Ultimo NSW.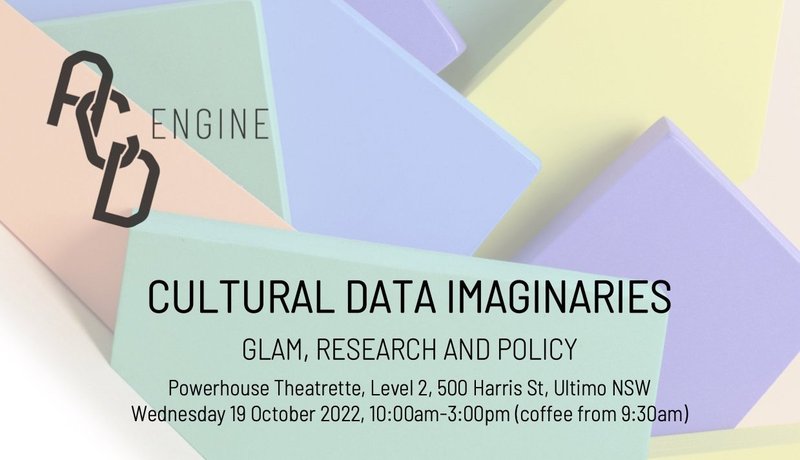 How is cultural data used in Australia today? Where is it located? And what kinds of stories does it tell, and inspire?
The Australian Cultural Data Engine (ACD-Engine), in collaboration with Design & Art Australia Online (DAAO), University of New South Wales (UNSW) and the Powerhouse Museum presents a free collaborative workshop at the Powerhouse Museum in Sydney to consider these questions in relation to the creative and visual arts.
The workshop aims to bring together researchers, GLAM sector participants, and industry partners to explore the future analytics, creative potential and engagement possibilities of Australian cultural data across GLAM research, the arts industry, and government.
Building on the data-driven work of the ACD-Engine, this one-day workshop aims to share ideas around new approaches to cultural data for shaping and informing arts and cultural narratives as well as developing frameworks for robust data-sharing and utilisation in the cultural sector in Australia.
The workshop will canvass topics and sessions including:
How cultural data can help us understand artistic careers in the Australian GLAM ecosystem
The uses and impact of cultural data inside and outside the museum sector
Potential collaborations and opportunities for cross-sectorial engagement
New directions at the intersection of data science, GLAM, and government policy
Program
9.30am: Meet and Coffee
10.00am-10.45.am: Cultural Data Now: An Overview
Introducing the Design and Art Australia Online (DAAO)
Introducing the Australian Cultural Data Engine (ACD-Engine)
10.45am-12.00pm: Lightning Talks
'The Powerhouse and MAAS': Deborah Lawler-Dormer, Research Manager, MAAS Museum of Applied Arts and Sciences
'Cultural data in & outside the museum': Steven Miller, Head of the National Art Archive and Capon Research Library at the Art Gallery of New South Wales, Claire Eggleston, Senior librarian at the Art Gallery of New South Wales & Eric Riddler, Visual Resources Librarian and Researcher at Art Gallery of New South Wales
'Cultural Data in GLAM': Fiona Cameron, Associate Professor, Contemporary Museologies and HDR Director, Western Sydney University
'Cultural Data working with/about Artists': Penelope Benton, Executive Director, National Association for the Visual Arts (NAVA)
12.00pm-12.45pm: Lunch
12.45pm-1.15pm: 'Cultural Data and the DAAO: Some Exemplars:' ACD-Engine
1.15pm-2.00pm: Interactive workshop on innovations & collaborations for the future of GLAM data
2.00pm-2.15pm: Coffee
2.15pm-3.00pm: Plenary: Cultural Data Futures
3.00pm: Close