Julia Jones Wins the MPavilion/Art Monthly Australia Writing Award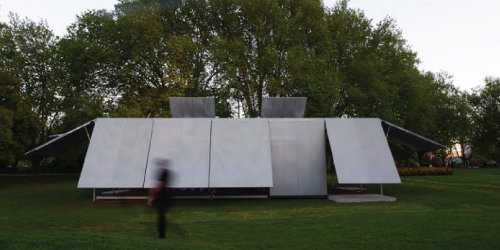 MPavilion and Art Monthly Australia together with the National Association for the Visual Arts are pleased to announce that Dr Julia Jones is this year's recipient of the inaugural MPavilion / Art Monthly Australia Writing Award of $3,000.
Jones will develop an essay to be published in the October 2015 issue of Art Monthly Australia, which she will also present as part of the official 2015/16 season of MPavilion in Melbourne.
MPavilion's unique annual architecture commission and design event for Melbourne has partnered with Australia's art magazine of record, Art Monthly Australia, to present this innovative new writing award to explore the flourishing field of interdisciplinary practice within art and design.
'As a long time supporter of excellence in critical writing on the visual arts, Art Monthly Australia is excited to partner with MPavilion and NAVA with a new award focusing on interdisciplinary practice,' says Michael Fitzgerald, Editor of Art Monthly Australia. 'We feel that Dr Jones's proposal which explores the cross-fertilisation of contemporary ideas around gardening practices will make an important contribution to this dynamic area of visual arts research.'
'MPavilion is thrilled with the winning announcement and looks forward to collaborating with Dr Julia Jones' says Naomi Milgrom AO, Chair of the Naomi Milgrom Foundation. 'As part of the official MPavilion 2015 - MTalks program Julia will be presenting her essay as special guest. It's pleasing to see the award has created an opportunity for writers to contribute to the ongoing international art and design conversation - fostering creativity, exploring the changing role of design, and bringing the discussion to new audiences.'
Jones completed a cross-disciplinary PhD in international ecological cultural theories relating to Australian Art and Literature at the University of Newcastle, NSW in 2006. Her research interest in the intersection between art, design and gardening practices extends as far back as her experience as a research assistant for the 1997 Australian Perspecta exhibition, Between Art and Nature.
This year MPavilion and Art Monthly Australia have also supported a Highly Commended Award to emerging art and design researcher and writer Alison Groves. Alison has completed a Master of Arts Administration at UNSW Art & Design where she is now a research assistant and tutor. Combining research interests of Japan, curatorial methodologies, and ageing, she is currently working with the Australian representatives at the Echigo Tsumari Art Triennial in rural Japan.
For more information about the MPavilion / Art Monthly Australia Writing Award please contact:
Penelope Benton General Manager, NAVA on 02 9368 1900 or pbenton@visualarts.net.au