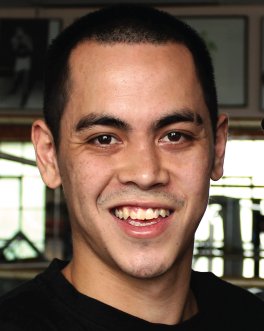 I'm an artist. I paint, I make photographs, I do a lot of different things.
I'm the youngest of three brothers all called Abdul, and we all went to art school in Perth. My oldest brother Abdul-Karim runs the art department in Western Australian correctional services. The middle brother Abdul-Rahman recently showed at the Adelaide Biennial, and I'm an artist who has shown all over Australia, as well as London, New York, San Diego, Hong Kong, Singapore and New Zealand. Art is in our blood. It has allowed us to make positive societal contributions. And art has given us a voice. It has given us agency, and it has given us our independence. Now it might sound strange to say that this, but that independence didn't come without a helping hand. It didn't come without the support of small and medium sized arts organisations that gave me a platform to develop, evolve and articulate a voice. Last year I had the privilege of showing at the Museum of Contemporary Art, but that opportunity didn't come from nowhere. It involved a journey, and consistent contributions to an ongoing conversation that took place in and was facilitated by organisations like the now defunded Next Wave Festival, and with the advocacy of the now defunded National Association for the Visual Arts. I am no rich kid squirreling away taxpayer's money, or using it to fund some exorbitant lifestyle.
I remember being 11 years old when my father was on the dole and my mother was a seamstress, and her taking me to the Art Gallery of Western Australia where I was given one of my first tastes of the value of the contribution that visual arts, that arts, gives to Australian culture. Culture isn't for the rich.
What's so frustrating about this government's understanding of 'value' and 'worth' is that they cannot separate it from dollars and cents. They don't see what it gives; they just see what it costs. When I talk about value I'm talking about the difference it can make to someone's life. I'm talking about being told by a teacher in South Cairns who has kids in her class who are in trouble everywhere else in their lives, and have been kicked out school, but still come back to finish their art project. What is art worth to that kid? How do you put a dollar value on that?
My arts practice has provided me with opportunities to work in youth outreach programs, with kids at risk, in juvenile justice facilities, with marginalised minorities, kids and young people with learning disabilities and at public and private schools across the country. Without the support of funding, or without the support of funded organisations my professional practice would be left to the whim of the market. It's a pretty simple equation. Commercial market viability eliminates risks (especially in emerging arts practices), the elimination of risk goes on to eliminate innovation, and the elimination of innovation results in a stagnation and retardation of culture. Art stops being challenging, and if art isn't challenging it becomes propaganda. It becomes another tool used to propagate systems of power. I am proud to be apart of a community and industry that isn't primarily motivated by the accumulation of wealth.
A few years ago I was visiting the National Gallery of Victoria with a friend when we saw the then Minister of Communications, Malcolm Turnbull wandering around the gallery, apparently by himself taking in the art. At that point I felt a real pang of optimism, because although we differed politically I appreciated that I lived in a country where a sitting member of parliament could walk around a state gallery, apparently unguarded, unmolested, just appreciating something that I held so dear. I saw this man and I thought for a moment that he's probably not so bad, and seeing as we had this in common, maybe it wouldn't be so bad if he were in charge. As different as we were, and obviously still are, when I got close I gave him a big smile and I left him alone. Now, a few years later, he is in charge, and while at the helm, the Australian arts community has undergone historical cuts. Organisations that have consistently contributed to Australian culture for half a century are facing their permanent closure. No artist, no art lover, no appreciator of culture will not be affected by this. From the ground up the integrity of our industry, the integrity of our community has been compromised. The opportunities that I have had don't exist for the 18-year-old version of me in East Cannington, or Bankstown, or Parramatta, or Frankston. The pathways that I have taken don't exist anymore, and the future for them doesn't look so bright.
The Arts employs more people in this country than mining. More people go to arts events than to the footy. A hatchet has been taken to arts funding in Australia, at the expense of our cultural and social capital. For those of you who don't think arts should be funded or doesn't have value, I challenge you to spend the next week not turning on the television, or going to the movies, or listening to a song, or having a dance, or reading a book, or looking at wall paper, or putting on clothes you like, or doing any of the things you have the arts to thank for. I read Winston Churchill was asked to cut the arts budget during the war, and he responded by asking, "then what are we fighting for?". If we are willing to sacrifice the arts so readily to scrimp and save, what has become of our national identity?
This speech was originally presented at the press launch of the National Day of Action for the Arts organised in partnership between NAVA and the Museum of Contemporary Art, Sydney.