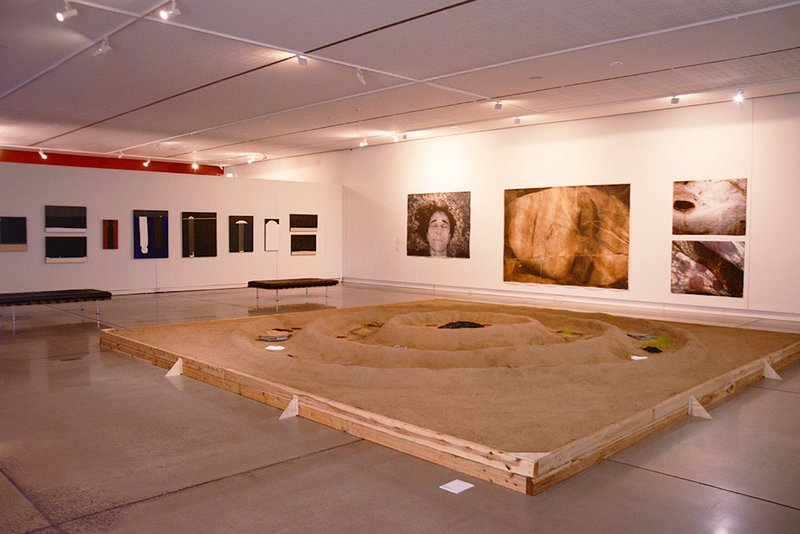 Within a festival or conference, a visual arts program makes subtle yet clear propositions. It asks that we step out of the programmed and into the practised. It invites slow and deliberate engagement with works inviting interpretation. And in the useful framework of ARTLANDS Dubbo's opening keynote presenter, Mark McMillan, opened up a negotiation of sovereignty, seeing work by Indigenous artists not only in aesthetic terms but as moments that articulate a sovereignty never ceded.

The most arresting of these works seizes you as soon as you step into ARTLANDS' key space: the massive sand painting Disambiguation by Wiradjuri artist Aleshia Lonsdale. Concentric sand-mound circles beset with carefully placed natural elements dominate the vast Western Plains Cultural Centre gallery. – Elements of a nature are reframed to depict local histories more accurately; neatly placed sticks and piles of wheat for land cleared of trees; circles of salt and coal for salination and mining; a spatial history, an inert story belying a history in blood.

Curated by Djon Mundine, Old Land New Marks features Lonsdale among artists presenting works of significant impact. Video pieces by Karla Dickens and others frame the exhibition with the geography of New South Wales – the Tweed to the north, the Darling to the west, the Murray to the south – while Barkindji singing fills the corners of the space with resonant incantations. Teena McCarthy's monumental pieces, printed on the delicate skin of butchers' paper, further jar our sense of scale by depicting the face as landscape portraiture, while Michael Philp's abstract portraits depict father and son fishing in a form both startling and contemplative.

Two kangaroo cloaks by Wiradjuri and Gamilaroi artist Lynette Riley draw the eye and invite close reading. One honours legendary rights activist Pearl Gibbs, and the other is for Bungaree, the man who not only circumnavigated Australia with Matthew Flinders, but was the first person to be called an Australian when Flinders first coined the term Terra Australis.

While history records Bungaree as the first Australian, in his floor talk Mundine reminds us that to walk across the entire Australian continent is to walk on the bodies of the innumerably millions of people who have come before: "layer upon layer of relationships to the land."

Lonsdale had first presented Disambiguation at even larger scale for Cementa 2015 in Kandos. There, she tells us in her floor talk, "the rivers ran red with the blood of the people from the massacres, so I wanted to show [the] Aboriginal interests as represented by the ochre in each circle. Aboriginal cultural interests are now being dominated by the coal mining industry, so around Mudgee, Kandos, it's mines everywhere, and that takes precedence and priority over Aboriginal peoples' cultural values, farmers' values. I wanted to show that ripple effect through time."

Elsewhere in ARTLANDS, the visual arts program continues to make connections. Presented in the key conference venue, artworks@ARTLANDS shows artists from within and beyond the Orana Arts region. A curatorial focus on geographic place inevitably juxtaposes artists whose work may not otherwise have sat side by side. Artists whose practice is located in proximity to one another have their work located in new relation to one another. This is the very essence of a regional arts biennial – an event that invites us to ask new questions of place, locality and region.

Curators Caroline Downer and Nicci Parry-Jones speak of the "interesting, spontaneous juxtapositions" that emerge through the hang. Along one wall of the exhibition, Kieth Yap's portraits are flanked by Anna Kaneider's ceramics: conventional contemporary vase forms to the left, rounded wall-hung pods to the right. Yap's own pieces in circular frames speak unexpectedly to the objects on either side, and they in turn to his portraits. I feel compelled to ask for the first time, 'Of what is portraiture the container?' What does it hold? What does it form? Might the portrait's hold on its subject's identity be just temporary, in the way that a vase holds flowers only until they decompose? On the wall opposite, Prue Cullen's ceramic altars mark that moment of transgression from the tangible to the transcendental, making explicit what every artwork manipulates its aesthetic to reveal or to conceal.

ARTLANDS had begun at this moment: challenging the aesthetic with the ethical and the political. Visual art at ARTLANDS Dubbo was presented in public spaces as well as in the keynote and fringe programs, with a strong feminist thread encountered in unexpected spaces. "I try to reconnect with country by going out and doing the work", says McCarthy. "It's all about honouring my nana, who was taken away by the government." The work of art as story, as provocation, as memorial, as celebration, and importantly, as a moment that invites non-Indigenous Australians to locate their own sovereignty in relation to that work, in that moment it is a powerful proposition.

Writer and curator Esther Anatolitis is Director of Regional Arts Victoria and a passionate advocate for the arts. estheranatolitis.net

Installation view, in foreground work by Aleshia Lonsdale, background right Teena McCarthy and left Michael Philp, in Old Land New Marks curated by Djon Mundine at Western Plains Cultural Centre (WPCC). Images courtesy WPCC staff.