Desart on Aboriginal Art Centres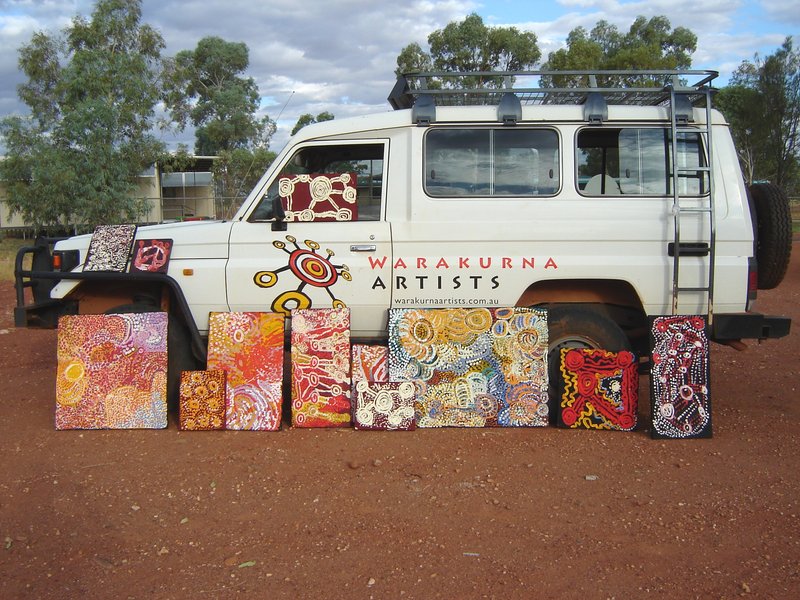 Image: Warakurna Artists 'motika' (motor car) mobile gallery – displaying new works for community – © Warakurna Artists


Art is integral to most communities but Art Centres are a vital part of community life in Central Australia.
Desart is the non-profit peak arts body for over forty Central Australian Aboriginal Art centres and we put culture first. So do the art centres that we support. We represent over 8000 artists, from sixteen distinct language groups spread across the Central desert region of Australia.
But what is an art centre and why do we think they are so important?
Desart member art centres are Aboriginal owned and controlled. They are professionally managed to ensure ethical support for the production, marketing and distribution of authentic Aboriginal art. Whenever an artwork is sold by an art centre, the majority of the funds go directly to the artist. A small portion retained by the centre is invested back to support community programs, and further the goals of the art centre itself. Art centres depend on this income, as government funding is highly competitive and restrictive on purpose and there are greater costs associated with operating from such isolated areas within Australia.
Another point of difference is that art centres prioritise social inclusion. They support leading artists and foster new talent. They encourage the participation and professional development of young people as artists or arts workers to further support their families.
Art centres focus on community rather than the art market. This focus on family connection, social and cultural activities and the means to celebrate Aboriginal identity are what make art centres special places. They maintain and protect the culture, not just sell art for a quick buck. Art centres put the focus on community rather than the art market. They work for their artists and the artists in turn work towards building a strong art centre. Commercial galleries may represent a stable of carefully selected artists but an art centre can represent hundreds of young people and old people, emerging and established artists, healthy and sick people.
Art centres foster cultural viability over commercial growth. They are the only sustainable and ethical model with highly stringent reporting requirements. Purchasing and sourcing art from a Desart member art centre provides a guarantee that your artwork is authentic and ethical. For Aboriginal people, art centres are often the only place to garner an income in community and they are a place to showcase the work of local artists unmediated by market demands. For many, their art centre is a source of pride and offers inspiration and skills development for all people that engage with it. For communities, art centres are a place to connect. They aspire to be the best practice model for Aboriginal art and craft; and are a mecca for arts professionals, visitors and tourists alike.
Art centres are also here today because of the great work cultural leaders did in the past and the great work young people continue to do. They are on country so that artists can live their culture, surrounded by song lines and Tjukurpa, which run like veins across Central Australia. They continue to be innovative and vibrant spaces where Aboriginal people share their culture amongst each other and with non-Indigenous people, making them very important hubs of Aboriginal culture in Central Australia.
Hannah Grace
Senior Program Manager
Desart