The Endurance of Art Publications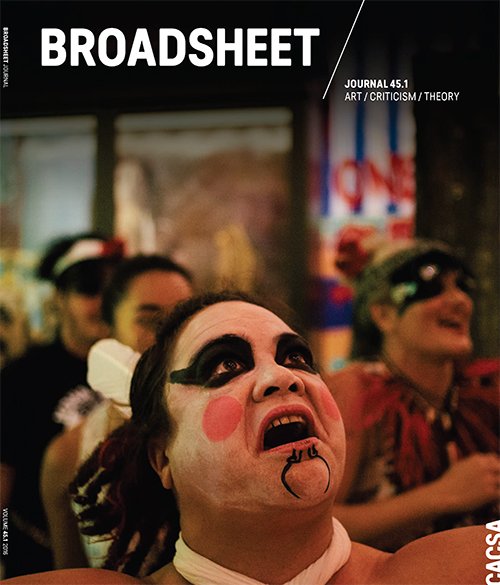 Image: cover image of Broadsheet issue 45.1. Aroha Rawson performs during the activation of Rosanna Raymond's SaVAge K'lub (2010-ongoing) on the opening weekend of 'The 8th Asia Pacific Triennial of Contemporary Art', Gallery of Modern Art, Brisbane. Photograph Joe Ruckli. Image courtesy the artist and QAGOMA.
Where does one begin when talking about the impact of the small to medium arts sector? It's a difficult task: one that requires considered and quiet reflection, particularly in light of the recent devastation inflicted upon our sector. And while I could use this platform to argue the merits of arts and culture, perhaps the best thing I can offer is a personal reflection on the impact contemporary art, specifically arts publishing, has had on my life.
Briefly, having graduated from post-graduate studies in 2007, I spent the following three years working in a curatorial capacity for a number of arts organisations in Adelaide. Seeking new horizons, networks and job opportunities I relocated to Sydney in 2010 and subsequently spent the next five years building on my curatorial practice, working across the industry. Last year, when the Contemporary Arts Centre of South Australia (CACSA) – an organisation I had long admired – advertised for a new Executive Director, I immediately applied. As a university student, Broadsheet – CACSA's free quarterly journal - was my go-to publication. I referred to it constantly, primarily because I felt its critical analysis of contemporary visual arts and culture in our region was unrivalled. As an aspiring curator, Broadsheet afforded me the opportunity to engage with our sector from the comfort of my own home; to build on my knowledge.
I share my personal work history to make this point: art publications have an enduring impact on our sector. They provide a platform for younger arts workers to grow and contribute to the development of professionals in our sector. In a sense, my relationship to Broadsheet is a wonderful example of this: from young university student; to an emerging curator seeking knowledge; to now its Executive Director and Co-Commissioning Editor. And it is precisely because of Broadsheet and similar publications, that I have been able to position myself in this role. Broadsheet broadened my knowledge, sharpened my critical mind and helped me connect to our sector, both nationally and internationally. It continues to do so today, even for me as its Executive Director. While tertiary education, on the job training and internships are all important career pathways, so too is active engagement. Broadsheet, and similar journals, allow the next generation of our sector to develop their practice and test out new ideas. When I reflect on my own career, I cannot overstate the impact that arts writing has had on my trajectory.
Art journals are also vital in bringing our sector together. For example, a most recent edition of Broadsheet had received over 200,000 online impressions. Readers in Morocco, the US, Japan and Europe are able to connect through Broadsheet, with our many great artists, thinkers and curators. Furthermore, for those of us working remotely, regionally, internationally or are unable to travel, art publications make the inaccessible, accessible. They provide space for critical evaluation, debate and discussion, all crucial in the evolution of our sector.
Last week CACSA was notified that it was unsuccessful in securing four-year organisational funding. As a result, Broadsheet's future is now uncertain. Of course, as its Executive Director this deeply concerns me. However even more so as a professional working in the visual arts sector, I am deeply concerned. If publications and organisations such as CACSA and Broadsheet cease to exist, one must ask: where will the next generation of Australian artists, writers and curators find their feet?

Liz Nowell
Executive Director of CACSA and Co-Commissioning Editor of Broadsheet