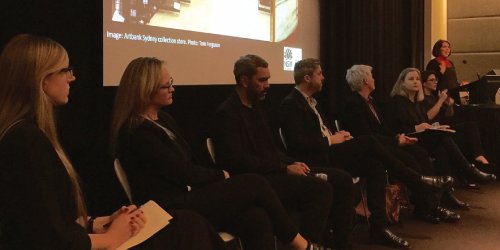 Image: Courtesy Arts NSW.
Although around two-thirds of Australian artists are considered established, there is a 'drop-off' rate of artistic careers at the mid-later career range. Findings of the Arts Nation Report (2015) released by the Australia Council for the Arts identified independent Australian artists' median annual creative income ranges from $7,000 - $22,500. As the career path of an artist is often much less defined than some other non-artistic occupations, it can be difficult to maintain creative work with this limited financial capacity.
In response, Arts NSW recently launched the 2017 NSW Visual Artist Fellowship, a multi-faceted opportunity targeted at mid-career/established visual artists. The fellowship forms part of Arts NSW's suite of professional development opportunities for artists at all stages of their careers including artist support grants, fellowships and scholarships. The Visual Artist Fellowship is a partnership between Arts NSW, Tweed Regional Gallery & Margaret Olley Art Centre (TRGMOAC), Murray Art Museum Albury (MAMA) and Artbank and includes a $30,000 cash component to support a program of professional development including research, residencies, mentorships and making new work as well as a fully funded regional live-in residency at either MAMA or TGMOAC. Significantly, the successful Fellow will receive an acquisitive commission from Artbank up to the value of $20,000.
Recognising the long term benefit for NSW, Arts NSW programs support artists to have viable careers in the arts. Aligned with the goals of the NSW Cultural Policy, Create in NSW, and in response to the needs of the sector, this fellowship has been structured to address what visual artists might need in the mid to later stages of their career.
Recently Arts NSW hosted a panel of arts industry professionals and leading practitioners at the Art Gallery of NSW to discuss issues of career sustainability in the arts. The panel was facilitated by independent curator Bec Dean with visual artist Daniel Boyd, Jacqui Hemsley, Director of MAMA, Dr Daniel Mudie Cunningham artist/curator and Assistant Director & Head Curator at Artbank, Ursula Sullivan, co-Director of Sullivan + Strumpf Gallery and Isobel Parker Phillip, Assistant Curator of Photographs at the AGNSW. Panellists gave accounts of their personal experience as artists, curators and writers and offered professional advice and strategies to a diverse audience. Flexibility, nimbleness and perseverance during times of financial and creative uncertainty were identified as key factors to 'keep on creating'.
Jacqui Hemsley outlined the important role that regional art galleries and centres can play in offering opportunities for career development, support and audience engagement for mid-career artists. Jacqui stressed the openness of regional audiences to contemporary art practice and spoke about the benefits of relocating to a regional community. The regional placement that forms part of the NSW Visual Artist Fellowship aims to build on this understanding of regional areas as rich places of artistic development and career expansion.
Daniel Boyd discussed the importance of mentorship and networks in sustaining an art career as well as the precarious conditions faced by most artists such as unstable income and a shrinking art market. Panellists suggested various strategies to tackle these issues. Dr. Daniel Mudie Cunningham cited the Artbank Roadshow as a chance for unrepresented artists to access acquisition opportunities; Isobel Parker Philip suggested emailing exhibition invites to curators and galleries in your network; representatives from MAMA and Tamworth Regional Gallery encouraged artists to seek out regional galleries and museums that hold relevant collections and artefacts.
The 2017 NSW Visual Artist Fellowship recipient will be announced at a shortlist exhibition at Artbank's galleries in Waterloo on Thursday 24 November. Arts NSW offers a range of professional development opportunities available to artists and arts and cultural workers in NSW through the broader Arts and Cultural Development Program. You can find further information at www.arts.nsw.gov.au.

Kelly Doley is Program Officer for Visual Arts, Museums and Literature at Arts NSW, the NSW Government's arts and culture policy and investment body. Arts NSW invest in the success and future of arts and culture in NSW through our strategy, infrastructure and funding programs. Kelly has ten years' experience working in the arts sector as an independent artist and curator. She has directed several artist run companies and initiatives including Firstdraft and BC Institute (formally Brown Council) and presented curatorial projects and exhibitions internationally and nationally.