Navigating the Summer
Jess Day selects the best of exhibitions around the country this summer.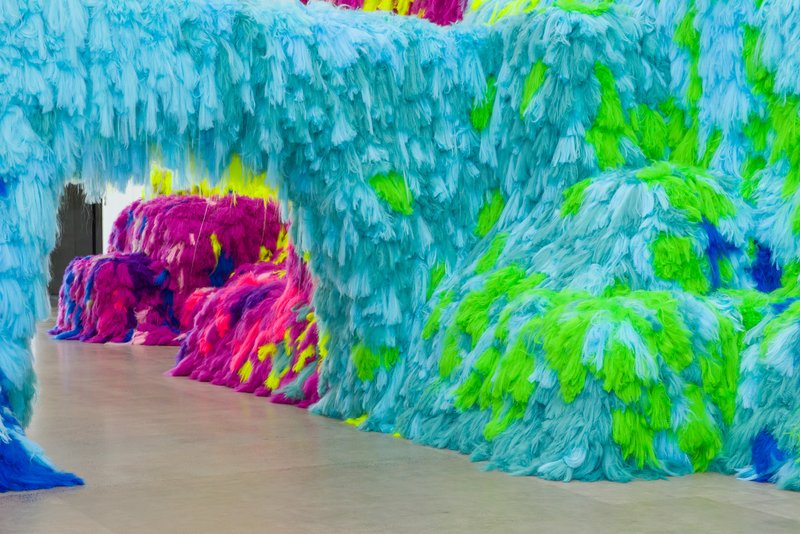 The Australian summer with its heat, cool night breeze and plethora of locally grown fruits, brings a smorgasbord of excellent exhibitions across the states. It's almost impossible to handpick which shows you shouldn't miss this season, however I've pinpointed below an outstanding exhibition in each state, from which you can discover a raft of other fantastic local offerings.
Wukun Wanambi is recognised as one of Australia's leading contemporary Aboriginal artists. An ongoing exploration into clan, ancestral story and land are coupled with incredibly detailed mark making to create Larrakitj, stunning standing wooden poles gallery viewers can navigate, like the thousands of tiny fish painted upon their surfaces. Wanambi's exhibition Larrakitj: Memorial Poles can currently be visited at Buku-Larrŋgay Mulka Art Centre at Yirrkala in North-east Arnhem Land, NT and runs until 2020.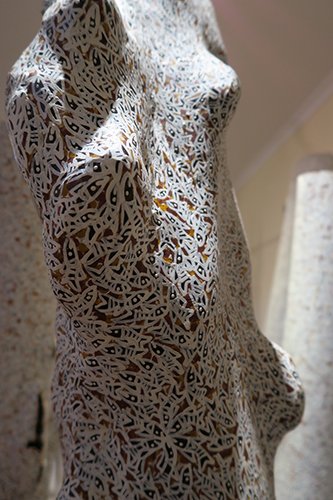 Queensland Art Gallery is celebrating GOMA's 10th anniversary in style with Sugar Spin: you, me, art and everything. Featuring Nervescape V, a vibrant and vast multicoloured array of synthetic hair by Icelandic born artist Hrafnhildur Arnardóttir, a.k.a Shoplifter, coupled with American performance and sculptor Nick Cave's HEARD. Returning amid a swirl of celebration and colour is Carsten Holler's Left/Right Slide cascading visitors from GOMA's top floor to bottom, where Ron Mueck's In bed, Olafur Eliasson's The Cubic Structural Evolution Project and Celeste Boursier-Mougenot's sounds from here to ear v.13 can be discovered. Sugar Spin is currently open to the public and runs until 17th April 2017.
Similarly immersive and focused on connecting patrons directly with the gallery space, MCA in New South Wales invites you to chart a course through the starlit world of Japanese contemporary Tatsuo Miyajima's Connect With Everything. Miyajima employs vast light-emitting diode (LED) arrays to pulse numerical patterns from one to nine in a cyclical repetition, offering a reflection on the importance of time. The Museum of Contemporary art is currently showing Connect With Everything until March 5th 2017.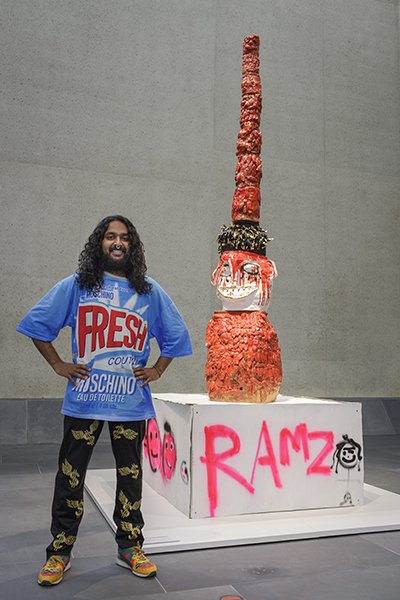 Commissioned specifically for the National Gallery of Australia, ACT, Ramesh Nithiyendran's Mud Men strut their expressive and rich sculptural forms until February the 26th, 2017. Drawn from an extensive study into Australia's national visual art institution and collection, Mud Men takes ceramics to an extreme scale, figures throw their arms into the air and grin wildly as their gaze seems to follow you around the room. Unnerving, humorous and pre-vocational, Mud Men engages the viewer in discussions of expanded Australian contemporary art.
The National Gallery of Victoria hosts David Hockney Current, an exhibition comprised of over 1,200 works, including painting, photography, digital drawing and video. Featuring Hockey's largest painting Bigger Trees Near Water, the 50 panels of oil on canvas and mirrored by a 1:1 scale digital version of the same work, a mirroring between more traditional painting methods and digital rendering which continues throughout the gallery. David Hockney Current is open until March 13th, 2017.
On The Origin of Art at MONA, Tasmania, offers a luxuriant visual and philosophical rumination on some of the biggest questions surrounding the origin of art. Combining guest curators Steven Pinker, Geoffrey Miller, Brian Boyd and Mark Changizi with a wide range of established national and international artists, MONA provokes reflections on why art production and exhibition has become such an essential part of the cultural calendar. On The Origin of Art can be visited until the 17th of April 2017.
Adelaide artist Zoe Kirkwood presents a compelling break from Western painting tradition at the Art Gallery of South Australia. Collections Project: Zoe Kirkwood expands the concept of painting via three-dimensional non-representational forms that instead articulate a rich Australian colour scheme, theatricality and eclectic installation. Collections Project can be visited until March 5th, 2017.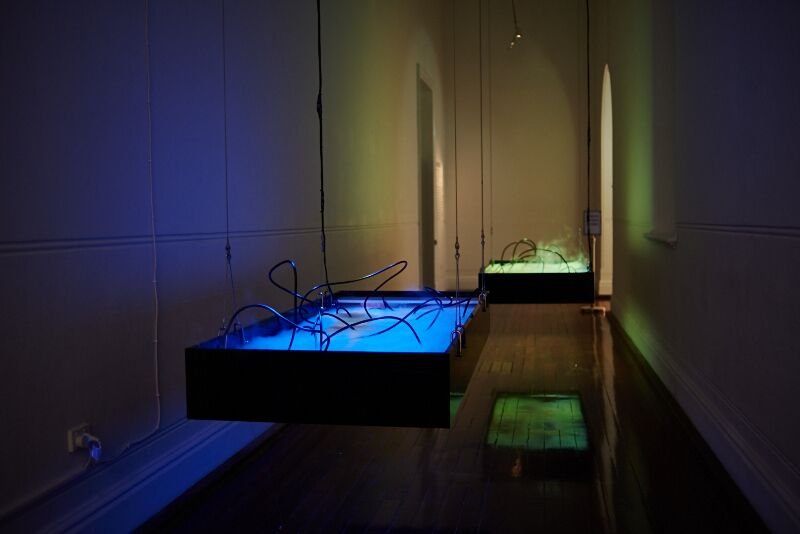 Light Geist envelops the viewer in sound, shadow and luminescence as they travel through multiple installations at West Australia's Fremantle Art Centre. Featuring mesmerising fiery landscapes, suspended lakes cascading with thick plumes of fog and intricate pulsating projection mapping Light Geist acts as a portal into the realms of four Australian artists, Sohan Ariel Hayes (WA), senior Martu artist Ngamaru Bidu (WA), Ella Barclay (NSW) and Sam Price a.k.a NAIK (WA). Light Geist is currently open to the public and runs until January 22nd, 2017.
Jess Day is an emerging writer and artist based in Perth, Western Australia.
Top Image: Hrafnhildur Arnardóttir aka Shoplifter, Nervescape V 2016, Installation view, Gallery of Modern Art, Brisbane. Commissioned for 'Sugar Spin: you, me, art and everything.