Q&A with Women's Art Register
Interview with Danielle Hakim and Sally Northfield, Co-Convenors of Women's Arts Register.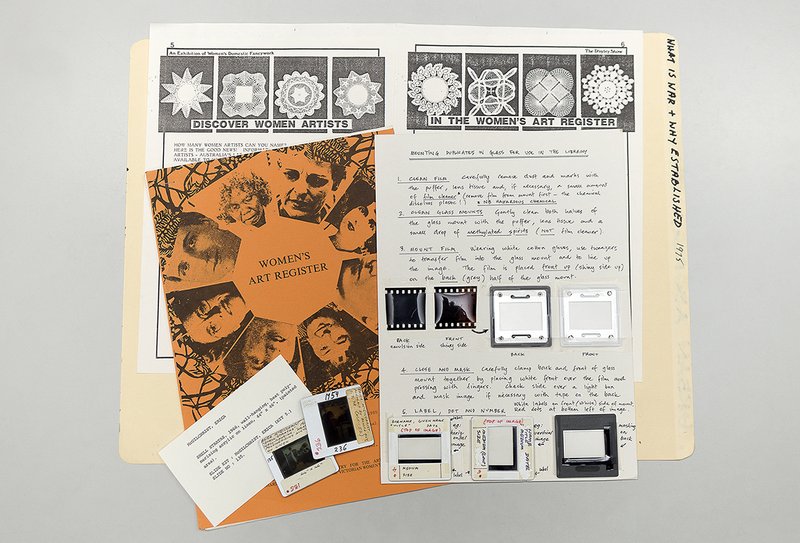 Image: Ephemera and slides held in the Women's Art Register collection circa 1975, photograph courtesy the Women's Art Register.

How has the Women's Arts Register continued and been managed to the present day?
The Women's Art Register has been an active arts organisation for over 40 years and is entirely volunteer run. We are the co-conveners (as of 2016) and there are a committee of women who help with the running of the organisation such as archiving, finance, membership etc. We also host internships.
WAR has survived on a grass roots level with minimal financial backing mainly through donations and the support of our members and arts community. Occasionally some grants too - when we have the time to write them! It makes it really difficult for us to run day to day without any paid staff but we achieve a great deal with little.
We have always had an open collection policy which means our collection of women's art making is diverse and has many voices. Included in the collection are women artists from a large array of media including ceramics, textiles, photography, new media, painting and sculpture.The documentation of the works by these artists shows a large variety of social conditions and social comment. Our collection is still growing and we still have the same collection policy as when the organisation was founded in 1975!
Do you feel the Register is as important today as it was when it started?
Absolutely! If not more so. Women are still fighting for equity and in a way not much has changed since 1975 when WAR was founded. For us at the Women's Art Register we are fighting for equity in the arts by supporting female artists. Similar feminist activist projects like CoUNTess make this inequality very clear when you see that women still aren't receiving the same exposure or rates of pay as their male counterparts. It's important to challenge the patriarchy to fight for equality so that women artists are not forgotten and their significant contributions to culture live on.

Testament to the importance of the WAR archive is that we often hold collection material such as slides, old CVs and exhibition ephemera, that artists have since lost or even forgotten existed and that does not exist anywhere else. WAR has also been recognised as a Collection of National Significance by the National Library of Australia and is one of only two such collections in the world, the other being the Women's Art Library in London, now part of Goldsmith's Library, University of London. Interest in the Register is currently high as we hosted a festival called AS IF: 40 years beyond to celebrate our 40th Anniversary. This AS IF festival, a series of 13 curated events, won the best Visual Arts category in the 2015 Melbourne Fringe Festival.
How can people engage with the Women's Arts Register today?
The collection is used as a teaching aid and reference resource by artists, curators, students, teachers, researchers, designers, educational institutions and the general public and archival material has been loaned out for exhibitions. Appointment to view the archive can be made by emailing us at womensartregister@gmail.com
Becoming a member is another way you can engage and support us as well as receiving member benefits and e-newsletters.
Occasionally we host events and exhibitions most recently the AS IF festival to celebrate our 40th Anniversary.
You can submit material to the archive if it is by or about Australian women artists; artists/curators can submit images of artworks and exhibitions as well as related ephemera (exhibition invites, catalogues etc), writers can submit articles/books/catalogues and gallerists can send us information about exhibitions.

We have an online presence through social media (Facebook, Instagram and Twitter) so you can follow us online too!
What have been the key activities/actions of the Women's Arts Register?
Our key activities/actions are to document and preserve the artistic contributions of Australian women and to support and promote them. Since 1975 many women have contributed sets of slides of their artwork, along with paper documentation, articles and ephemera. Articles about Australian women artists in the print media have been continually collected, collated and filed for access by the public. The Register also publishes a feminist journal the "Bulletin" and has done since 1988.The Bulletin has kept the members informed about art events, news and provided analysis by peers. We have also organised exhibitions, forums and workshops and advocate for female artists. Most recently we have been involved in campaigning for the defaced Women's Mural: Bomboniere to Barbed Wire to remain a space to celebrate the lives of women

Where would you like to see the Women's Arts Register in the future?
We would like to see WAR fully funded and perhaps in new premises that accommodates expansion. To have a new space with a research lab, library and a gallery to hold forums and showcase exhibitions by female artists and ephemera from the collection. To have archivists rehouse the collection so that it is conserved in the best possible manner, copyright clearance so that digitised images can be viewed online and a searchable database of items in the collection accessible online. Setting up a residency for feminist artists, curators and researchers is also a dream.
WAR has an incredible amount of potential, we want to see it realised. We are ambitious and know it might take a while but this is the future we want to see!