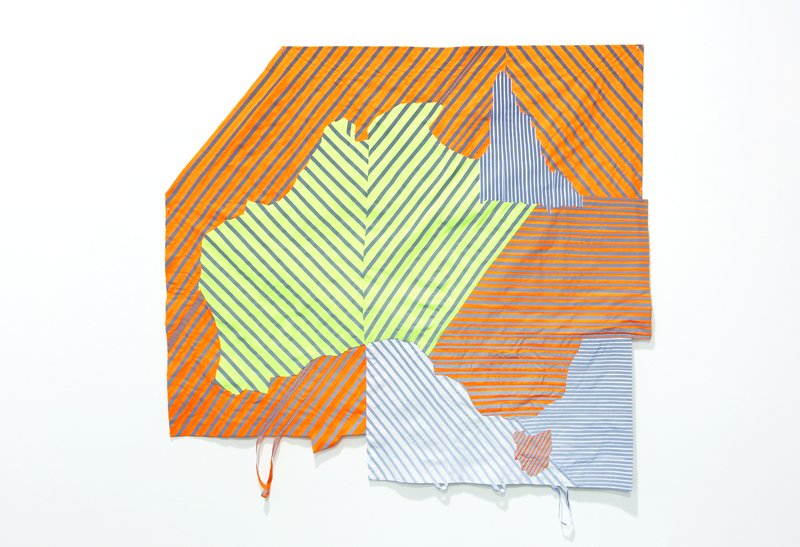 Image: Raquel Ormella, Golden Soil #3 2016, Acrylic hi-vis and poly cotton, 186 x 186 cm (irreg). Courtesy the artist and Milani Gallery, Brisbane. Photo: Sam Cranstoun.
Contemporary art in Australia exists within a complex ecology of social, economic and organisational relationships. The strength of this ecology depends on diversity – diversity of practice, diversity of audiences, and diversity of interaction between artists and the organisations that support them. Small to medium organisations play a fundamental role in facilitating such diversity.
Contemporary Art Organisations Australia – or CAOs – is a 25-year-old national network of 14 independent art spaces, until recently all funded by state and federal governments. Each art space is an engine of innovation, supporting living Australian artists and developing new audiences for art and culture in Australia and globally. CAOs member organisations play a fundamental role building capacity in the visual arts sector – providing crucial exposure for artists and curators who have become leaders at the forefront of contemporary art in Australia and internationally.
The qualitative and quantitative impact of CAOs organisations within our Australian cultural landscape can be evidenced through the volume of visitors, exhibitions, commissions and programming generated. Between 2012 and 2014 (and despite static funding during this period), CAOs member organisations were accountable for over 3,900,000 visitors to exhibitions at CAOs galleries and offsite venues, including regional, interstate and international galleries. Equally, they commissioned over 900 new works, and supported over 6,500 Australian artists through exhibitions and programs (including 230 Indigenous artists).
CAOs organisations are pivotal in ensuring the sustainability of a rich and vibrant arts sector. Two weeks ago, 5 out of 14 CAOs received notification that beyond 1 January 2017 they will no longer receive 4-Year Funding, previously called Key Organisations Funding. One of the most surprising outcomes from this recent round of announcements was that the four organisations in three states and territories, including South Australia, the Northern Territory and the ACT, would no longer receive operational funding. Specifically, this decision also saw non-renewed funding for both the media-specific organisations working with photomedia (one of the most popular media of the 21st century), which leaves all these organisations working in a space of increased compromise and risk.
While these organisations can apply for project funding, it is important to state clearly that project funding is not the same as operational funding and the support of the Visual Arts & Craft Strategy (VACS) was never intended to replace operational funding. There is an increased obligation for small to medium organisations to be more responsible, in terms of diversifying sources of revenue through self-generating by building philanthropy, benefaction and partnerships. In turn, while CAOs organisations are absolutely appreciative of this necessity to be more entrepreneurial in this regard, the resounding message being felt at the moment is that these media-specific and the smaller organisations in the least populated states and territories, are non-essential and dispensable.
These cuts will not only impact on small to medium sized organisations but will result in long-term implications for the larger arts organisations, affecting their ability to program, interact internationally and have general impact on audiences for contemporary art in Australia. Equally, the impact on individual artists will be great. For those organisations affected, it will be difficult to keep pace with NAVA recommendations for artists' fees and to continue to provide innovative opportunities for artists. Aside from placing pressure on the visual arts industry across the board, this decision also neglects the fact that creativity is not a top-down process. Indeed, artistic development and ambition directly benefit from being nourished and developed at its roots.
Previously, it was inconceivable that there would ever be a time where there was not a Contemporary Arts Organisation in every state and territory of Australia. As such, last week the CAOs network felt compelled to stand up and make a statement, supported by over 38 signatories from leaders across the sector. This act of solidarity was underpinned by a collective understanding that a review process is to take place in the wake of these events, and although these organisations may yet endure, we want them to succeed. However as it stands, this unfortunate outcome renders an already challenging situation much more difficult, and places the reach and impact our arts ecology at risk.
Alexie Glass-Kantor, Chair of Contemporary Arts Organisations of Australia and Executive Director of Artspace, with Chloe Gunn, Development Assistant, Artspace.