The Freedman Foundation Travelling Scholarship Recipients 2017
Media Release - Four emerging artists receive travel scholarships of $5,000.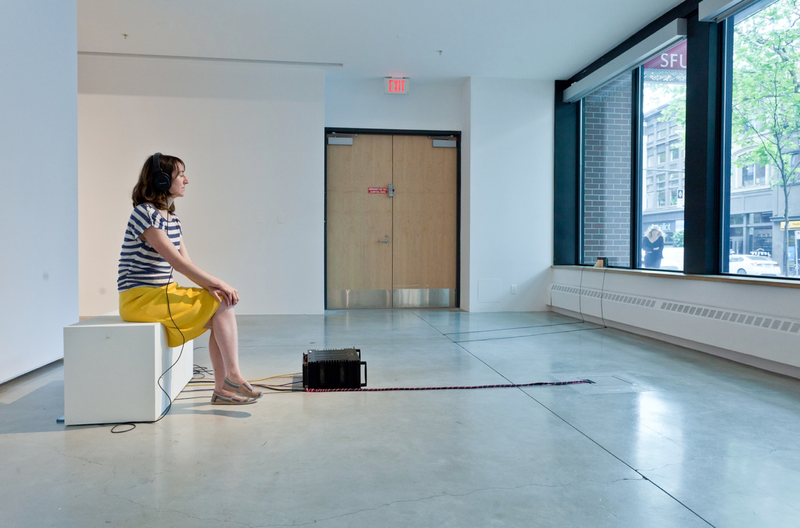 The Freedman Foundation and the National Association for the Visual Arts (NAVA) are pleased to announce this year's recipients of The Freedman Foundation Travelling Scholarship for Emerging Artists.
Alexandra Spence (NSW) will undertake a mentorship with seminal sound-artist David Toop and a workshop with sound-recordist Chris Watson, exploring how notions of place and identity are shaped and mediated through everyday sounds.
"I feel honoured, excited and grateful to have received The Freedman Foundation Travelling Scholarship for Emerging Artists 2017. Receiving this Scholarship will allow me to fulfil a long-term goal, as well as the chance to focus on, challenge and develop my practice in new and exciting ways. It is also very inspiring to see sound-art represented by a major Australian visual arts award." – Alexandra Spence (pictured: Every space is constantly trembling, 2016, audiovisual installation, custom-made contact microphone, transducer, bench, window, amplifier, headphones, dimensions variable.)
Roberta Rich (Vic) will undertake self-directed research exploring the history of the South African Race Relations Institute and tracing slave African ancestry in Cape Town and Johannesburg.
"Receiving this award is very exciting and has come at a time that will allow me to continue the great momentum of my research in South Africa and to shape my practice's future aesthetic developments" - Roberta Rich
Sara Retallick (Vic) will travel to Limpopo, South Africa to take part in 'Sonic Mmabolela', a two-week residency with sound artist Fransisco Lopez developing site responsive creative works using recordings gathered from the landscape.
"I am thrilled to be awarded this generous scholarship from NAVA and The Freedman Foundation which will enable me to take part in the Sonic Mmabolela artist residency. This unique experience will prove invaluable to my practice as I engage and learn with a dynamic group of artists from all over the world exploring new creative methods for developing sound works." - Sara Retallick
Spence Messih will undertake a mentorship with New York based artist Gordon Hall, followed by self-directed research trips to The Chinati Foundation and various LGBTQIA archives throughout North America and Canada.
"I believe that this opportunity will greatly assist to locate my practice within an international context, expand my professional networks and strengthen my artistic process through an analysis of the intersections between transgender and gender variant histories and abstract and reductive art practices. This research trip will have a significant impact on the development of new work for my solo exhibition at Lismore Regional Gallery in mid-2018." - Spence Messih
Now in its 17th year The Freedman Foundation Travelling Scholarship is one of the most prestigious grants offered by the National Association for the Visual Arts (NAVA), providing talented young artists with $5,000 to build their emerging careers internationally by undertaking formal study or participating in a residency or mentorship. Since the program's inception in 2000, the scholarship has enabled over 80 emerging artists to expand and enrich their studio practice abroad.
An exhibition featuring works by this year's recipients is being curated by Dara Wei, who has received a Curatorial Scholarship from The Freedman Foundation through the Masters of Curating and Cultural Leadership program at UNSW Art & Design. The exhibition opens at UNSW Galleries on 11 August 2017 and will also showcase works by the returning scholars from 2015: Claudia Nicholson (NSW), George Egerton-Warburton (WA), Jason Phu (NSW) and Jorgen Doyle (Tas).
The Freedman Foundation Travelling Scholarship and Curatorial Scholarship are administered by the National Association of the Visual Arts (NAVA) on behalf of The Freedman Foundation and assessed by Jacqueline Millner and Nick Vickers.
For media enquiries please contact Yu Ye Wu, NAVA on 02 9368 1900 or ywu@visualarts.net.au