NAVA welcomes copyright amendment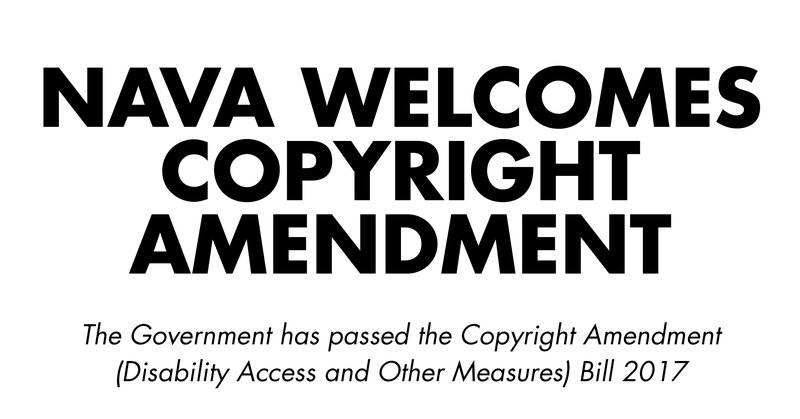 The National Association for the Visual Arts (NAVA) welcomes the Government's passing of the Copyright Amendment (Disability Access and Other Measures) Bill 2017.
Tamara Winikoff OAM, Executive Director of NAVA said, "We commend the Government's decision to improve access to copyright materials for people with disability without compromising respect and remuneration for the work of Australian artistic creators."
As part of this reform the Bill also amends the Copyright Act making exceptions for libraries and key cultural institutions to make copies of copyright material for preservation and archival purposes.
Winikoff continued, "We have no argument with this, however, the contentious decisions are still to come on copyright safe harbour provisions and whether to adopt a US-style 'fair use' system."
"NAVA is very concerned that these separate copyright reforms could relax Australian copyright laws and create havoc in our copyright system particularly for individual artists and creators. These 'fair use' reforms could allow bigger players like the US tech giants, and individuals and organisations with commercial intent, to use artists' work without proper licensing, fair payment or respect for artists' moral rights."
Winikoff continued, "We believe that Australian artists have a right to receive fair payment for their work - work that tells the story of our country, our people and our community. We call on the Government to rule out these proposed changes until independent research assesses the impact they would have on Australian artists and creators," Winikoff concluded.
For media comment and enquiries please contact:
Tamara Winikoff OAM, Executive Director, NAVA, (02) 9368 1900

Yu Ye Wu, Marketing & Publicity Coordinator, NAVA (02) 9368 1900 / ywu@visualarts.net.au