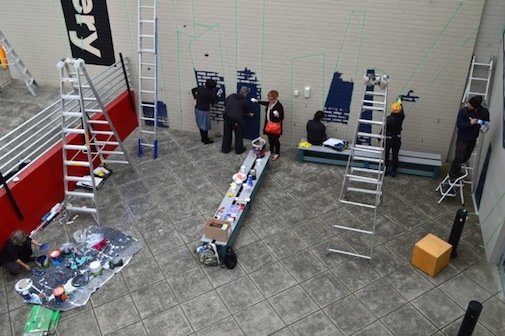 In Tasmania, of eleven public galleries with professional staff, two organisations generally charge artists to exhibit, one organisation pays a small Artists' Fee to 'recognise the principle of valuing artistic practice,' six pay fees subject to project grant applications, and only two organisations pay these fees from operational funding at the NAVA Code of Practice rates. In crude terms, that is marginally less than 20% of arts organisations meeting the latter benchmark, and I suspect that national figures would not have the advantage of this small sample. Australia Council leadership, funding and Schedule of Artist Loan Fees introduced this organisational practice in the early 1990s; a fee provided in recognition of an artwork being temporarily unavailable to the market.
Some years ago, this 'one-size-fits-all' schedule was deemed inflexible and unsuitable for the national complex of arts organisations and to the shifts in artistic practice. It was then that NAVA took on developing an artists' payment schedule. Contemporary Art Tasmania has only been able to maintain these payments through commitment and change (reducing programs and redirecting savings through new technologies). In 2016, 20.7% of turnover ($670K) was paid as fees directly to artists, curators, writers and technical support, with a further 20.8% paid as indirect support (travel, materials, installation assistance, freight, etc). Expressed this way it appears a positive recognition of the value of our core constituency, but in reality it is meagre recompense for the time, expertise, skills and material that comprises our annual program.
Over time, artists come to know that the gallery staff, the freight companies, builders, engineers, etc, are all paid at a level that provides a living wage or acknowledges their expertise. After years of training most artists must maintain other or part-time employment to subsidise their professional practice and by mid-career the payment situation can begin to gall.
In Australia public galleries do aspire to best practice. Many galleries are collection-based and their professional practice models are traceable through a hierarchy of gallery and museological associations, through Museums Australia to the International Council of Museums (ICOM) and all the way to the 'C for culture' in UNESCO. In this rarefied structure, the cultural object is central, inert and quite unlike living artists. Perhaps it is exactly here where change needs to be made, as museums and major galleries transition into audience-savvy, experiential sites where, increasingly, living artists and contemporary artworks animate their programs.
Of course gallery professionals are wont to say 'Artist Fees are a good idea, but…' The model they know has served them well. As the cultural objects of today become harder to grasp and keep still, more than ever the cultural sector should recognise and pay for the work provided by professional artists against an industry standard. This could be ameliorated if artist remuneration is instituted as a key indicator of industry best practice, against an agreed 'scale-responsive fee schedule' for public institutions, where contributions to contemporary culture are measurable in annual profit & loss statements. And importantly, the collective voice of these institutions can resonate powerfully in support of individual artists to do away with our national cultural blind-spot; where those years of training, intellectual and artistic labour are recognised as a legitimate professional activity, and not another unpaid opportunity to perform pro bono publico.
Michael Edwards is the Director of Contemporary Art Tasmania.
Image: courtesy Contemporary Art Tasmania.